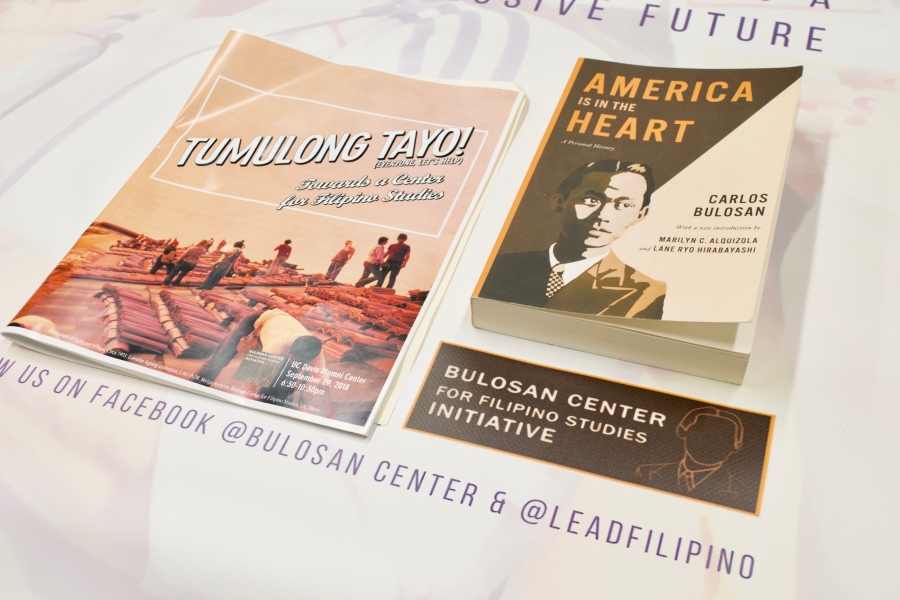 Housed in Asian American Studies Department, The Bulosan Center is product of grassroots volunteers
On Sep. 29, a fundraising dinner marked the opening of the Bulosan Center for Filipino Studies. Formed within the Asian American Studies department and located on the third floor of Hart Hall, the center will serve as a space for undergraduate and graduate research and advocacy.
The Bulosan Center — named for Filipino writer Carlos Bulosan —  was initiated and completed under the leadership of Asian American Studies Department Chair and Professor Robyn Rodriguez. After completing her undergraduate studies at UC Santa Barbara, Rodriguez went on to graduate school at UC Berkeley where she and her peers noticed a need for Filipino representation among faculty.
Rodriguez, who became a professor, was recruited by UC Davis for her work with the Filipino diaspora.
"Having had the experience I had at graduate school and knowing the state of the field, knowing that I was probably one of only a handful at any UCs to do this kind of work, I thought this could be an opportunity to form a center," Rodriguez said.
The Bulosan Center is also a result of the department's work on the preservation of Filipino-American history.
Assemblymember Rob Bonta, the first Filipino-American California assemblymember, proposed Assembly Bill 123, mandating the inclusion of Filipino-American curriculum in K-12 history and social studies. In response to the need for corroborated accounts, the Asian American Studies department began a grant-funded project for an archive of the Filipino contribution to the 1960s farm workers struggle titled the Welga! Digital Archive.
"The problem was there isn't a whole lot of scholarship or research on that topic and as a community we didn't have any central archive where our experiences have been recorded and preserved," Rodriguez said. "Even if teachers wanted to include this history there was very little to work with."
In 2017, according to the UC Office of the President's Disaggregated Data, there were 12,623 Filipino students in the UC system. Of those, 1,759 were from UC Davis. The Bulosan Center is the first of its kind as a space for Filipino-American Studies at a research university.
"It was about time … to have a specific space catering to not just our history but also issues facing our communities locally as well as nationwide as well as back in the Philippines," said Wayne Jopanda, a Ph.D. student in the Cultural Studies Department and a volunteer at the Bulosan Center. "It's not just a place for research. It's a place for community engagement and to build those bridges between academia [and] our community, as well as other marginalized communities."
In the summer of 2018, Rodriguez and a community of graduate and undergraduate students formed a coalition of volunteers interested in expanding the work of the Welga! Project. The idea became the conception of a center for Filipino studies on campus.
Volunteers collaborated with the National Alliance for Filipino Concerns, Migrante, LEAD Filipino, Philippine National Day Association and UC Davis Filipinx undergraduate student organizations to raise funds and lead up to the center's launch on the Sep. 29.
"It wasn't until I came to UC Davis and started taking Asian American Studies courses and joined the [Filipino-American] community did I begin learning just how rich Fil-Am history was. I learned what an integral role our predecessors played in shaping my present," said Leigh Bagood, third-year communication major and one of the center's social media volunteers.
The effort was composed of a core group of volunteers that collected donations internationally and nationally, from the Davis community and from their own personal contributions to amass an amount of approximately $30,000. Their goal is to sustain their donorship for a consistent intake to fund their work in research and expansion.  
"We want to serve not just the UC Davis community on campus, but the UC system as well," Jopanda said. "Whether that be through workshops, whether that be through Know Your Rights campaigns, whether that be through connecting with students in Public Health or the medical school and bringing folks around to provide potential health care services for folks who may not have health care or have access to that care. It's really going to be reactionary to what's needed in our community."
Future projects for the Bulosan Center include expanding the Welga! Project to archive Filipino contributions to politics and activism, researching the consequences of trafficked Filipino immigrant workers and the funding for a national survey on Filipino health and mental health.
Rodriguez attributed the distinctiveness of the Bulosan Center in its capacity for research and its focus on Filipino-American history, compared to other collegiate Filipino centers of study who focus primarily on the Philippines.
"If you don't have representation or support for research for your community from research institutions, and this is true for all minorities, then there's a real risk that people's histories and experiences won't get preserved," Rodriguez said. "People in the field of Filipino Studies recognize that this is huge even to have a tiny little space at a major research university where you have a center of gravity of people who are working hard and promoting this field of study."
Written by: Elizabeth Mercado — campus@theaggie.org