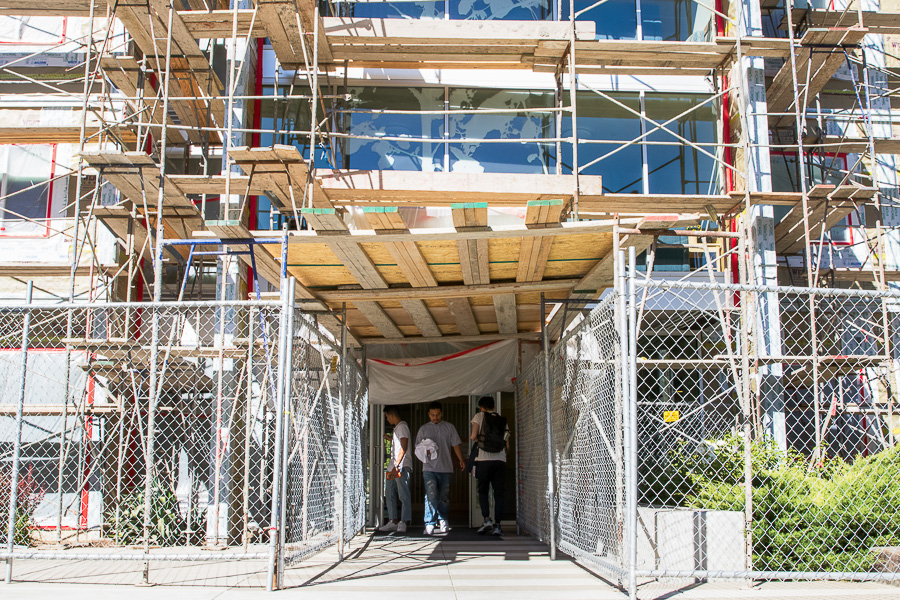 Pine, Currant Hall residents compensated with Aggie Cash for inconvenience
Two residence halls in the Tercero housing area remain under construction while students occupy them.
Scaffolding surrounds Currant Hall and Pine Hall while the buildings are being retrofitted for a water-intrusion issue that causes windows to leak when it rains. There is no stucco on the outside of the buildings and access to windows is cut off from students by plastic coverings.
"The plastic sheeting covering the windows is required to protect them, and to provide students with privacy while the work is in progress," said a notice posted on students' doors in each of the buildings.
Currant and Pine Halls were first occupied by students in 2014 and the water-intrusion issue was noted during the first winter rain season, according to Mike Sheehan, the interim executive director for Student Housing and Dining Services, via email.
"We began systematically addressing the water intrusion issues starting summer of 2017 when we worked on four of the seven buildings," Sheehan said. "During the summer of 2018 we began work on Pine and Currant."
Students were notified about the work being done on their buildings, but only shortly before they were due to move in. It was anticipated that work could continue into Fall Quarter, Sheehan said.
Even with the notice, the construction did not deter students like Grace Chitoures, a first-year undeclared major and resident of Currant Hall.
"I was sent an email maybe a week before I moved in, so it was after all housing things were made final — after roommates, etc.," Chitoures said. "I didn't really want to not live in Currant because it's the [University Honors Program dorm]."
Because of the construction, special considerations were made to get feedback from the students who are living in the buildings.
"During opening weekend, a number of staff made themselves available to residents and family members to answer questions and hear any feedback," said Branden Petitt, director of the Office of Student Development, via email. "So far, there have only been a couple of e-mail inquiries about the early start of some of the work being done. Overall, the residents have been understanding of the situation and we have had very few complaints."
The site is safe and noise is the largest impact on students, according to Sheehan.
"Dust is minimal," Sheehan said. "The contractor may start setting up at 7:30am but construction does not begin until 8am and ends at 4:30pm. Bike parking is available on the site but locations right at the building entry points have been blocked off."
Chitoures spoke about the work being done early in the morning. She said that work does start around 7:30 a.m., but that it isn't necessarily a bad thing for her.
"It's kind of good I think because if I wake up at 7:30 a.m. then I start doing my stuff and I don't sleep in until like 9, 10 o'clock," Chitoures said. "So in some ways it's really helpful to remind yourself to get started on your day, start doing your homework etcetera."
Students were given $50 dollars of Aggie Cash to compensate students for the inconvenience. They also received UC Davis-branded Tupperware-type containers. According to the statement posted on student's dorms, there will also be special events held, like ice cream socials and coffee carts, to mitigate the burden of the construction.
Most recently, Sheehan said it was just finalized and agreed that all Pine and Currant residents will receive a $300 credit on their November bills.
"We also notified them that there will be some work happening on occasional Saturdays," Sheehan said. "This is to ensure that the project gets completed as soon as possible and prior to the winter season."
When it comes to the cost of living in the dorm, however, the price has stayed the same, according to Chitoures.
"Our bill is the same, which kind of sucks, but I think they are supposed to be giving us coffee carts and various events over the quarter, but I don't know, they might be on the schedule," Chitoures said.
When asked if she had seen any of these special events, Chitoures responded, "Nope!"
Written by: Kenton Goldsby — campus@theaggie.org