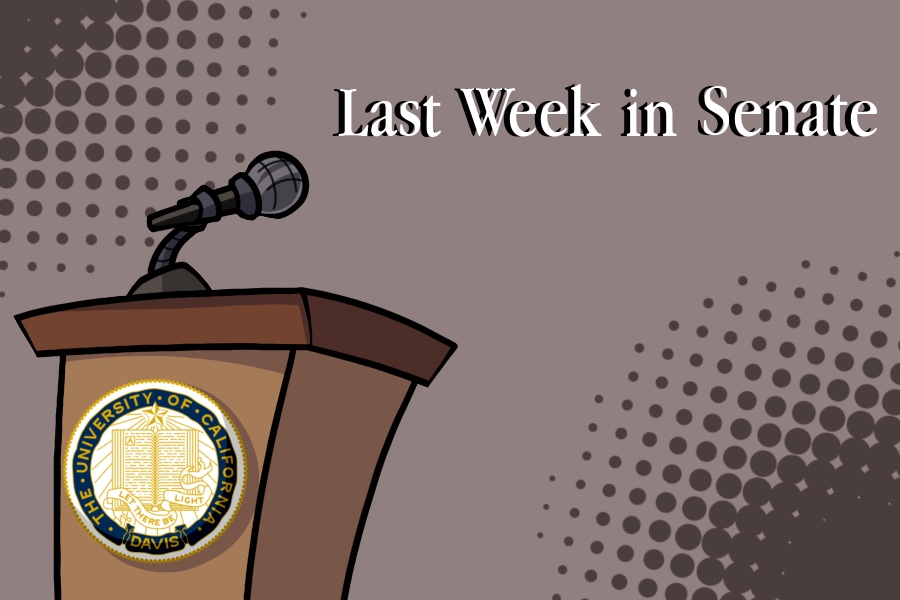 Students from Jewish, Muslim communities voice support for legislation
ASUCD Vice President Shaniah Branson called the Oct. 11 Senate meeting into order at 6:10 p.m. in the Mee Room on the third floor of Memorial Union.
The meeting began with a presentation from Davis City Council Representative Dan Carson. Carson serves as a liaison between UC Davis and the City of Davis. He asserted the city's intent to continue moving forward to build more student housing as stated in the university's Long Range Development Plan.
"Our intention is never to discourage campus growth," Carson said.
Carson addressed the American Federation of State, County and Municipal Employees, Local 3299, the UC's largest union, and the lawsuit it filed against UC Davis and the UC Regents for the possible negative environmental impacts of such construction. He believes the lawsuit will be won in UC Davis' favor and construction will continue.
ASUCD President Michael Gofman followed with his two nominations for interim senators. Maria Martinez, first-year political science — public service major, was chosen partly due to her experience with advocacy in her high school. Martinez pushed for a free SAT to be administered and plans to continue serving in community outreach.
Martinez's nomination was confirmed.
Sydney Hack, a second-year international relations major, was next nominated. She previously served on the Judicial Council and stated that her platform would strive to fix inconsistencies in the bylaws to make them more user friendly.
Hack's nomination was confirmed.
The Gender and Sexuality Commission confirmed a new chair after a quarter without one. The External Affairs Commission also confirmed a new chair.
Senate Bill #2 which calls, "to recreate International Undergraduate Student Committee [as] a permanent committee of the ASUCD Senate," passed as amended.
There was a long discussion over SB #10 and SB #11. SB #10 would "formally recognize and define the default staff positions of the ASUCD Executive Branch." SB #11 would "change the name of the Office of Advocacy and Student Representation (OASR) to the Office of the External Affairs Vice President (OEAVP)."
Debate ensued over whether the name change of OASR and its addition to the executive office would diminish OASR's relationship with students. Ethnic and Cultural Affairs Chair Rina Singh voiced her concerns, stating that OASR's name resonates with students as a space with their best interests in mind. Changing its name and absorbing it into the executive office may lose its resonance with students, Singh said.
SB #10 was withdrawn.
SB #11 was tabled for next week's Senate meeting.
A vote to review emergency legislation was conducted. In a vote of 11-1, the table reviewed Senate Resolution #1. This resolution would adopt and endorse the non-legally binding "working definition" of anti-Semitism that the International Holocaust Remembrance Alliance uses and would condemn all groups and individuals who have expressed or committed acts of anti-Semitism.
The resolution was written in response to anti-Semitic fliers posted across campus. The definition reads:
"Anti-Semitism is a certain perception of Jews, which may be expressed as hatred toward Jews. Rhetorical and physical manifestations of anti-Semitism are directed toward Jewish or non-Jewish individuals and/or their property, toward Jewish community institutions and religious facilities."
Dozens of students from the Jewish and Muslim communities on campus were present, waiting outside the doors of the Senate meeting, to voice their opinions on the resolution and to condemn anti-Semitism at UC Davis.
"The Muslim community is here to support the Jewish community," a member of the public said. "[Anti-Semitism] goes against our faith and the human rights we believe."
The resolution passed as amended.
A break began at 8:34 p.m.
The meeting reconvened at 8:50 p.m.
Three students were confirmed as members of the Sexual Assault Awareness Advocacy Committee. All three are members of Greek life and stated they wanted to integrate programs of awareness into sororities and fraternities.
During public discussion, a student spoke as a member of the disabled community. He noticed "not very welcoming areas," on campus — some sections of sidewalks are rough and do not descend into the street, which makes it difficult for students with assistive scooters to cross. The student also recommended changing pool hours at Hickey Gym to consider students who require access to a pool for their physical therapy regimen.
Constitutional Amendment (CA) #58 would "create the position of Student Advocate within ASUCD." UC Berkeley has such a position. A student advocate would be an elected position exempt from Senate. Students could call upon them regarding housing troubles, financial aid issues or other disputes.
CA #58 passed as amended.
The meeting adjourned at 11:39 p.m.
Written by: Elizabeth Mercado — campus@theaggie.org