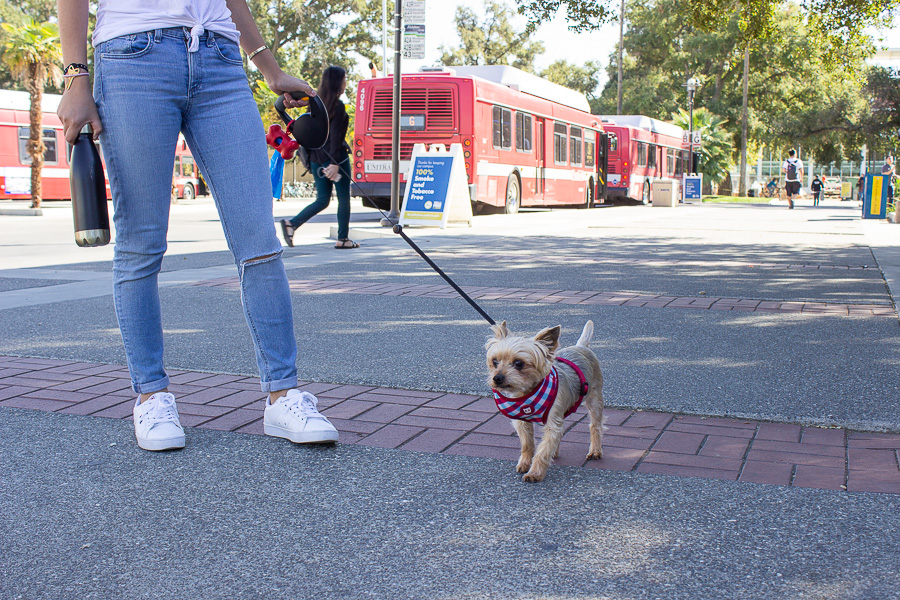 Students talk about owning and taking care of a pet
Having a furry friend by your side may sound appealing, but it's good to know both the good and the bad when it comes to making decisions about taking on the responsibility of another life. UC Davis students spoke about the positives and negatives of owning an animal while taking classes.
Bianca Estrada, a fourth-year sociology major, talked about her pet, Kota, a Yorkshire terrier.
"I wouldn't change anything about my situation with Kota," Estrada said. "I absolutely love the fact that she's at school with me and [and acts as a] support system when I have had tough days at school or simply need company while studying. However, the other end is sometimes I do feel sorry that I have to leave her for hours at the apartment alone because I am busy on campus."
Having pets comes with huge responsibilities, according to third-year theatre and dance major Katie Halls.
"I think having pets is a tremendous responsibility because you're in charge of caring for another living thing," said Halls. "It may not be as big of a deal as raising a child, but pets still need to eat, do their business and get cleaned often."
Third-year anthropology major Ashdale Pierre shared their thoughts on whether or not having a pet adds stress to a student's life.
"I think that having a pet both adds to and relieves the stresses that come along with being a student," Pierre said. "If there are no unforeseen medical expenses, and if your animal doesn't have any behavioural issues that need tending to, I would say that if you have the money to buy food and the requisite materials, having an animal is not stressful. They can be very helpful in relieving the stress of being a student."
While a pet's presence may be nice and comforting, students contemplate whether or not a college apartment is a nice home for an animal, which is another thing to consider for those planning on getting a pet.
"[Pets are] nice but I don't think college apartments are a good environment for animals," said fourth-year cinema and digital media and theatre and dance double major Riley Smith. "But I feel that multiple people can easily take care of [a pet]."
Bringing a pet from back home to college and getting a new pet altogether are two distinct choices that result in different experiences.
"Being honest, it is not the most realistic choice to have a pet while in college if it is a new pet," Estrada said. "I have had Kota for so long that I've been in so many situations where I already know how to juggle her in my life."
Pierre had to make some crucial decisions for their dog's health and well-being, and discussed their experience of having to give him to another family.
"He started to take up so much time that I could not dedicate that time to school, and it would have been unfair of me to bring him to Davis with me, where I would have less time to dedicate to his well-being," Pierre said. "Being that my priority was having him be in the best situation for him and not necessarily the situation wherein I could keep him, I felt that my best bet was to find a family who I knew would be able to handle him. As hard as it was to give him up, I know that he is thriving now."
As young adults in college, students work hard to manage their finances efficiently. There is a general consensus among students, that having another life to financially provide for is another aspect which should be considered.
"Pets require a lot more than just having them there," Estrada said. "They need food, leashes, brushes, toys, beds, doctor visits and anything else you can possibly think of. It adds up. They eat my bank account!"
Managing a budget to make space for pet expenses is another piece of advice offered by Halls to potential or current pet owners.
"Pet owners should know that having a pet can be costly, depending on the pet," Halls said. "For dogs, you'll have to take them to the vet and groomers on occasion, pay for giant bags of dog food, as well as other goodies. Make sure you have this money in your budget before you get a pet."
Smith offered some advice to anyone debating about what pet they should get.
"I would recommend a Betta fish since they are affordable and easy to take care of," Smith said. "I don't think college is a good place for cats and dogs."
Halls had similar views.
"A dog needs attention, walks, to be cleaned often and of course, food and water every day, but a pet fish doesn't need as much attention as a dog, just food and a tank clean every so often, but definitely less time and responsibility," Halls said.
It is well known that being a pet owner comes with a lot of emotional and financial responsibility, and so students provided advice on making the decision of whether to bring a pet into a collegiate life or not.
"Unless you have the time to take them out and give them the physical and mental stimulation that they need everyday, whether the weather is nice or not, then you should leave the animal at home with your parents," Pierre said.
Estrada suggested that students manage their schedule and time well, and ask themselves certain questions before they decide to be a full-time pet owner.
"Truly think of your schedule, not in present time but in the future," Estrada said. "Having a pet during the beginning of the quarter might seem easy but think about how you are during the end of the quarter juggling a lot of units. Are you overly stressed with classes? Will having a pet only add to the stress or relieve it? Also think about your living, traveling situations."
Lemann spoke about understanding and catering to your pet's behaviors and needs.
"Getting a pet while they are young is important so that you can better establish yourself as the alpha," Lemann said. "When a pet is behaving badly it is your own fault, not theirs. Understand this and correct your own behavior towards them."
Halls advised students to take control and ownership while taking care of a pet.
"Don't rely on your roommates, this is your responsibility," Halls said. "Make sure you're home enough so you can spend time caring for them."
Owning a pet comes with huge financial and emotional responsibilities and requires good organization and time management skills. Are you ready to bring a furry friend into your home?
Written by: Rabiya Oberoi   —  features@theaggie.org