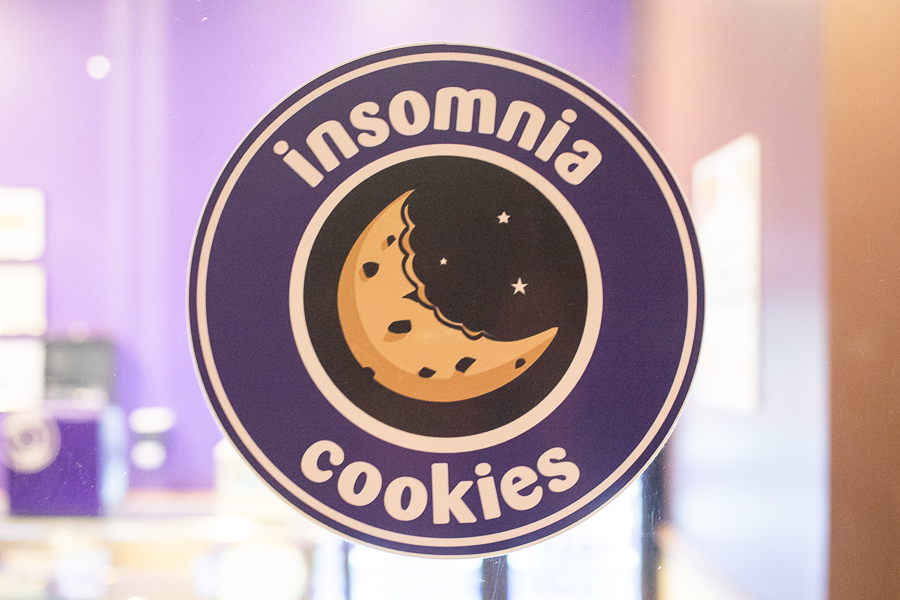 New, late-night cookie delivery doesn't disappoint
The city of Davis, notorious for quieting down by 9 p.m., has been gifted with Insomnia Cookies, a cookie shop which is open until 3 a.m., seven days a week. The Davis location opened its doors on Oct. 1 and is the company's first store in California.
Insomnia Cookies, which was created in a dorm room at the University of Pennsylvania in 2003, now has over one hundred stores across the United States. Located in the heart of downtown Davis, Insomnia Cookies offers a selection of cookies, ice cream, brownies, cookie cakes and milk that are sure to satisfy any sweet tooth.
The cookies are served warm and practically melt in your mouth. I ordered one of the Deluxe cookies, which are significantly larger than the traditional offerings. I paired my chocolate peanut butter cup cookie with a bottle of cold milk, a classic combo. Combining Reese's peanut butter cups with a cookie made for the perfect ratio of gooey, chocolatey goodness to alleviate my midterm season stress.
The "Cookiewich" is also a must-try. It is great for those who like to customize their dessert. Any flavor of ice cream can be sandwiched by your choice of cookies and satisfies any sugar craving.
Quite the intimate setting, the store has a modern, youthful feel. What Insomnia Cookies lacks in seating, it makes up for with its delivery service: the company delivers warm cookies right to your dorm or apartment. Ordering is made simple through the Insomnia Cookies website, making it easy to satisfy those late-night munchies. Delivery is available until 3 a.m., which is perfect for long nights of studying (or partying), or if you're just not feeling up to maneuvering through the crowds of cyclists and increasingly horrific downtown traffic.
While Insomnia Cookies definitely has competition in Davis in the form of other cookie and ice cream shops, the company's late hours and unique delivery approach appeal to college students and families alike. During the sleepless nights of midterms and finals, Insomnia Cookies is a welcome study break.
Written by: Cheyenne Wiseman – arts@theaggie.org