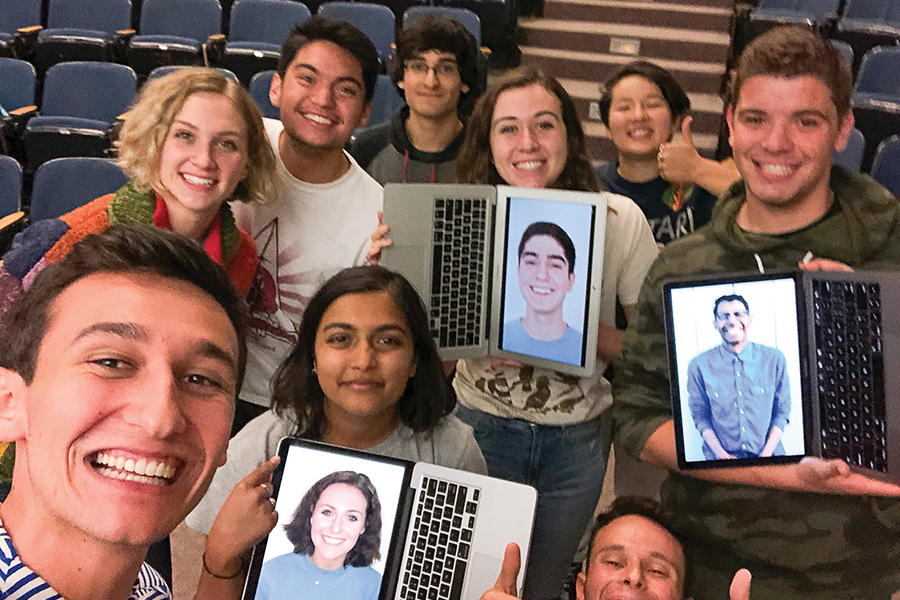 Birdstrike Theatre hosts first performance with new troupe members
Birdstrike Theatre has endured as UC Davis' premier improv group for 15 years. The group consists of 12 members who come together to perform every other Friday. As one of the only improv groups on campus, Birdstrike welcomes campus and community members to attend, asking for a $1 donation as an entrance fee.
Recently, Birdstrike held its annual auditions on Oct. 13 from 9 a.m. to 6 p.m. About 50 people tried out and three were asked to join the team. Less than a week later, Birdstrike's second show of the quarter also doubled as a debut for these three newbies as they performed for the first time in front of a Davis audience.
Before attending the show, those interested in going could view the Facebook event for the performance, titled "Birdstrike Presents: Some Birds are Born." There was a comical cover photo on the page that photoshopped the three new members into various movie posters with a banner beneath it that read, "in partnership with the student voter coalition." This show already offered two new exciting aspects: they would be registering people to vote at the door and the three new members would be performing.
Sam Tick-Raker, a fourth-year psychology major on the team who joined as a first year, enjoys the first show with new members.
"It's always an exciting process getting new members because we always get so much talent and it's always fun to see how those new people are going to fit into our team dynamic," Tick-Raker said. "It's so cool seeing them go out onto the stage and doing a scene because we picked those people and now they are doing great and they're funny. It feels like when you're a parent and you see your kid go off to bat at t-ball or something. So yeah that's the analogy, improv is t-ball."
The enthusiasm of the Birdstrike team was apparent to the audience as they entered the Science Lecture Hall. As the Birdstrike members ran down the aisles screaming, it was clear that it didn't matter if you came alone or with friends because Birdstrike had created an energetic and welcoming atmosphere. After calling in the new members with a Birdstrike style introduction the team began their show.
The group divided themselves and competed in a rap battle that mimicked the Beastie Boys' rap structure. Each member approached the game with an originality that highlighted their own comedic style.
Chloe Wasil, a first-year theatre and dance major, is both a new member and the only first-year on the team.
"My favorite part of the show was probably the rap battle game we played at the beginning, just because it was really laid back, stress free and fun," Wasil said.
After the rap battle, the members turned to the audience, asking for "things that make you think of fall quarter," "things that make you extremely angry" and "the last popsicle you had," validating every answer they received and encouraging all participation.
Jack Brady, a fourth-year managerial economics major in the audience, had only been to one previous Birdstrike show.
"I feel like it's a very happy environment," Brady said. "My favorite part of going to Birdstrike is that it's very easy to get into the characters and enjoy the performance. They have a great group dynamic. It seems as if they're a group of friends or even a family just performing on stage. They really click and it seems as if they know each other to the point of where their performance is seamless."
For the audience, attending Birdstrike feels like a fun insight into the friendships and real-life relationships of the team. Although they're putting on a show, their degree of comfort with the audience and with those around them is  positive and inclusive so that everyone who attends bonds through laughing and engaging with the Birdstrike team.
Regardless of seniority or age, Birdstrike is a genuine group of friends and members whose passion and love for their team is apparent in every scene and activity that they do.
"I love the team bonding aspect and I'm really looking forward to becoming close to all of the amazing people on the team," Wasil said. "Improv is also something that's out of my comfort zone and I'm looking forward to continuously pushing my boundaries and taking more risks."
A type of performance that seems to synthesize a variety of different styles of acting and comedy, improv provides an outlet for creativity and individuality.
"We use a lot of our own experiences in improv and that shows a lot, whether that's monologues or actually in the scenes," Tick-Raker said. "That's the weird thing about improv, it's all made up. It's only in that moment and it's all fleeting and goes away and it can go crazy and you can play whoever you want but at the same time [our scenes are] grounded in reality."
As the show ended and the audience dispersed, the room felt cheerful and jovial, with everyone chatting in banter and mimicking the types of jokes that Birdstrike had performed on stage. By the end of the show, the enjoyment that the Birdstrike members had while performing had spread to everyone, and it was clear that both the audience and the team were leaving in good spirits.
Birdstrike Theatre's next show will be on Nov. 2 at 8 p.m. in the Sciences Lecture Hall.
Written by: Rosie Schwarz — arts@theaggie.org