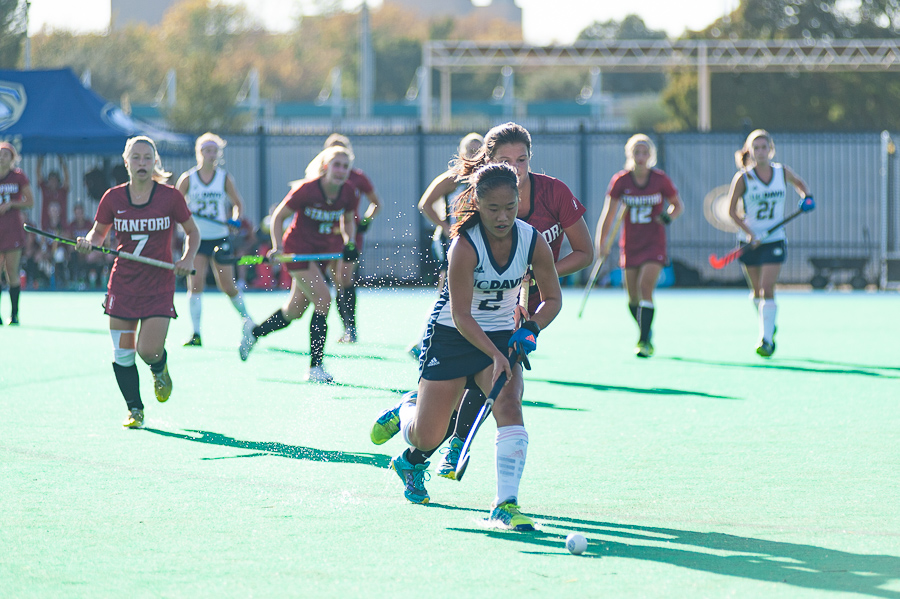 Aggies fall 3-0 in regular season finale, focus shifts to upcoming tournament
The UC Davis field hockey team lost its regular season finale to visiting Stanford by a final score of 3-0 on Wednesday afternoon, pushing its overall record to 6-12. The Aggies, who went winless in league play, will now advance to the America East Championship Tournament, held at Stanford, for a date with Albany on Nov. 1 at 3:30 p.m.
On Wednesday, the Aggies fought hard against a tough Stanford side that holds a spotless 5-0 record in conference play. UC Davis had multiple opportunities to get on the scoreboard in the first half. Junior forward Lauren Gengarella nearly ended the Aggies' four-game scoring drought on the first shot of the game, but the ball struck the left post and carried out of bounds. With under 10 minutes remaining before halftime, sophomore midfielder Madison Theodore fired a backhand shot that flew just wide to the right. The Aggies tallied three more shot attempts in the second half and even had a pair of corners early on, but the team failed to capitalize on the opportunities.
"Stanford is strong, powerful and experienced, while we're still a young team," said UC Davis Head Coach Britt Broady. "We've been inconsistent in our general play. Some games we are outstanding and in other games we're slightly off in our timing and connection. Today, we absolutely brought it and took it to them. I'm really proud of the performance."
The Cardinal jumped out to a quick lead with a goal in the ninth minute, as three attackers crowded in front of the UC Davis net and managed to slip the ball through junior goalkeeper Chelsea Bigelow.
Early in the second half, the visitors added a pair of goals in the span of two minutes to push the lead to 3-0. Both plays involved a long cross coming from the outside to an open attacker in front of the goal.
"There were two really unfortunate goals," Broady said. "Who knows if we would've had video referral, if they would actually be goals or not."
Overall, Broady was encouraged by the effort from her team on Wednesday and has reason to believe that they will put up a strong fight with everything on the line next week.
"If we come out with that kind of performance and connection, then it's going to be a game and a battle," Broady said.
Despite what the team's record may indicate, it has been a season of growth and progression for the Aggies, a squad filled with 17 underclassmen.
"We're trying to take it game by game, rather than looking at the season as a whole," Broady said. "If we play that way, we'll put ourselves in a position to win no matter who we're playing."
Written by: Brendan Ogburn — sports@theaggie.org