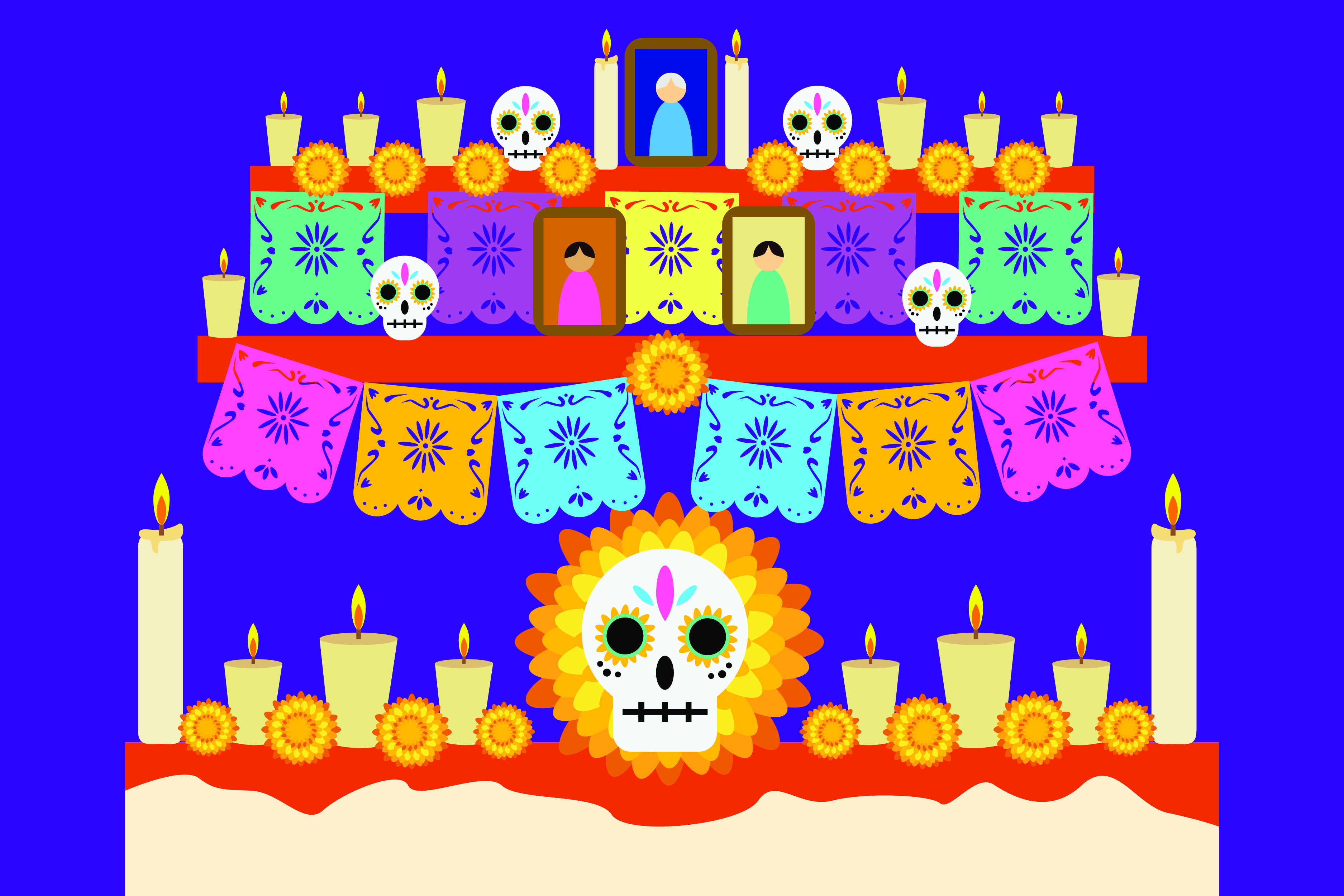 What the holiday means to Davis students and faculty
As the air gets chillier and leaves start changing color, Davis students are buzzing with excitement for upcoming holidays and festivities. Between frantic party searching for Halloween night and gorging on mashed potatoes and stuffing on Thanksgiving, Latinx cultures will be celebrating Día de los Muertos, the Day of the Dead.
From Oct. 31 to Nov. 2, Día de los Muertos will be celebrated not only in its origin country of Mexico, but all around the world. Although the holiday's traditions differ depending on where it's being celebrated, the overall purpose of the holiday is to honor the memory of deceased family members and loved ones.
Many people within the Davis community will be taking part in Día de los Muertos festivities. Because it is such a widely celebrated holiday, its meaning and significance tends to be different for everyone.
The Director of the Chicanx and Latinx Academic Student Success Center at UC Davis, Cirilo Cortez, said that the holiday is a celebration of life.
"It's a time to reflect, a time to celebrate the passing of those we loved, and a time to remember," Cortez said.
While this holiday may center around death, Cortez stressed that the gatherings are full of joy and happiness. Families join together to recall happy, humorous, or tender memories of their loved ones, as well as to honor their passage into the afterlife.
"It can be sad — passing away — and it is. But I think [the holiday is] almost a celebration of new life," Cortez stated.
Cortez described the traditions he has with his own family. When at home in Mexico, he cooks specific foods and makes drinks that the deceased family members enjoyed during their time on earth.
"We embrace family," Cortez explained. "We get together, eat dinner. A time to reflect. [The whole celebration is] really family oriented."
Luis Mendoza, a second-year undeclared life sciences major, discussed his family's way of celebrating the holiday. In Northern Mexico, where he grew up, his family would put up a picture of a deceased family member and place their favorite foods around it along with the calaveras (decorated sugar skulls). Once the decorations were set up, Mendoza's family gathered, regaled in fond memories and made tributes to their loved ones who had passed.
"You make like an altar and then you put like religious figures, pray to them, put their favorite foods … just like remember them for who they were," Mendoza said.   
Remembrance is an important theme for this holiday. Mendoza explained how putting up altars, often referred to as "ofrendas," and recounting old stories is meant to preserve the life of the deceased person within the hearts of their family and friends.
"You know the saying, you die twice? First when you actually die, then when they stop saying your name? This is the way of keeping that name alive," Mendoza said.
For fourth-year psychology and Spanish major Andrea Ramirez, the holiday serves as a way to keep family traditions alive.
"For me, it's a celebration that takes me back to my roots in Mexico," Ramirez said. "My family and I migrated here when I was around seven years old or so. So most of what I know and my culture has been through my parents and what I've learned through them and each time I visit Mexico."
By celebrating the lives of her ancestors who lived in Mexico, Andrea is able to stay connected to her Mexican heritage and identity. Ramirez and her family begin decorating an altar around Oct. 28, which is when they start to celebrate the holiday. On Nov. 2, she gathers with family and friends and celebrates the lives of her loved ones.
"We have very typical food or traditional food," Ramirez said. "We have like bread, the favorite drinks of the people we're celebrating. Flowers are very traditional as well."
For students on campus who wish to celebrate among their peers, there is a student event on Nov. 1 from 6 to 8 p.m. The Department of Spanish and Portuguese will be hosting a Dia de los Muertos event in Sproul Hall. The event will include poetry readings and art exhibitions. They will also be serving horchata, a traditional Mexican drink, and other traditional food.
Written by: Alyssa Ilsley — arts@theaggie.org