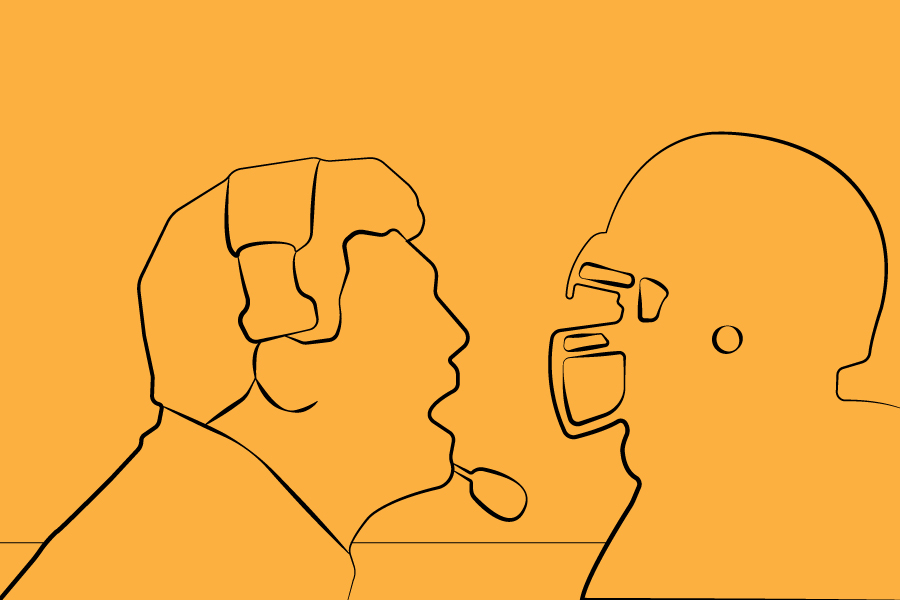 Coaches look to bring youth sports culture to a positive place
From an early age, American youth are often inclined to view their coaches as a moral authority akin to teachers, preachers or even parents. Amateurs and professionals often forge relationships with coaches that last for years thereafter.
Every coach has their own style. Former NFL Head Coach Tony Dungy was known for his collected, clean-cut style. Former baseball manager Tommy Lasorda was known for a quickly-triggered, often amusing temper. San Antonio Spurs Head Coach Gregg Popovich has built a reputation for a sarcastic, occasionally profane, but righteously indignant brand of coaching, while former NCAA basketball Coach Bobby Knight, whose theatrical brand of anger included throwing chairs and accidentally head butting a player, has become more synonymous with his actions than his on-court successes.
Coaching can be a wildcard. A child's experience with coaches can shape the way they view the occupation going forward. Diante Lee has been a football coach at Bonita Vista High School in Chula Vista, Calif. for the last three years as both the safeties coach for the varsity team, and the head coach of the junior varsity team. As the son of a former coach, Lee tries to instill the lessons that he learned growing up upon his players.
"A proper coach understands that teaching, communication and relationship maintenance is key to success," Lee said. "My father was a coach on every team I played on, so my experience with coaching is an extension of the guidance I was receiving from home, and my view on coaches was colored by that perspective in a lot of ways."
Like Lee, Nate James, who is currently in his ninth year as a football coach, was the son of a coach. James uses what his father taught him to make sure that his coaching goes beyond the X's and O's, the motivational speeches and the wins and losses, making sure that his impact can stretch far beyond the football field.
"[My father's] definitely a big part of why I became a coach," James said. "I don't think I would be in it otherwise. He took the approach of being harder on me and making it more difficult for me to get opportunities, as opposed to spoon-feeding me stuff. He has always been the type to be extremely hard on his players and expect a lot of them, but he's also been very involved in the lives of his players."
Chris Kokell, who currently coaches at Jenson Beach High School in Florida, sees the potential long term effects that his actions could have on his kids. Over the past 12 years, Kokell has coached baseball, basketball, volleyball and football. He has learned to adjust his style to both fit the sports he's coached, and make sure that his impact goes much further.
"Life lessons are what sports should be used to teach," Kokell said. "The team is your family, what type of person will you become when the chips are down. Will you be a me person or the one that looks out for the rest of your family. You can learn a lot of these lessons in sports."
In terms of adversity, every coach has different means of handling whichever situation may unfold. Though tempers can flare, and things won't always go the way that players and coaches want them too, all three agree that it is up to the coach to set the example when these situations arise. In a world which often holds sports to a different standard of character than it would most other situations, Lee tries to display the same behavior on the field that he would off.
"One of the most important parts of this job is the way in which you present yourself to children, especially in times of distress and tests of one's character. Much in the same way parents must learn as they raise their families, the kids are always watching you," Lee said.
Tempers fly when things don't go the way a team desires. A referee's call, an opponent's antics or a lapse in the team's play can often bring things to an emotional boiling point. Here, a coach's actions often dictate whether or not the event will be extinguished or enflamed. It is here where one can often see just what a coach's intentions are. The line can often be blurred in the heat of the moment, and James sees this as the perfect time to show his players how to handle any adversity which is thrown their way.
"Sports can give all of us an opportunity to unchain our absolutely worst impulses," James said. "Ideally we wouldn't have higher expectations for ourselves than that. If we demonstrate for kids that compartmentalizing our behavior is both necessary and acceptable, we can easily find ourselves in Meyeresque situations where we're excusing and perpetuating horrible things."
At the end of it all, all three coaches acknowledge that it's important  to remember who it is they're coaching for.
"Too many [high school coaches are] trying to relive their own glory or a glory they never found," Kokell said. "It gets overstated, but it has to be about the kids!"
Many focus on the negative actions of coaches. The media is far more likely to cover those who are doing something wrong in lieu of those who are doing the best that they can. It takes coaches like James, Lee and Kokell to change the stigma that surrounds youth sports. A coach doesn't always know what's going on at home, but they can control what happens on the court. James sees this as the perfect opportunity to make a positive impact in the lives of the kids he coaches.
"We aren't drill instructors, we're not tacticians, we're not a promotional team or salesmen," James said. "We're teaching and learning. All those approaches lead to kids getting caught up in the wash. They aren't commodities, they're people that probably need our help, and if they don't get it from us, they might not get it all."
Written by: Bradley Geiser — sports@theaggie.org