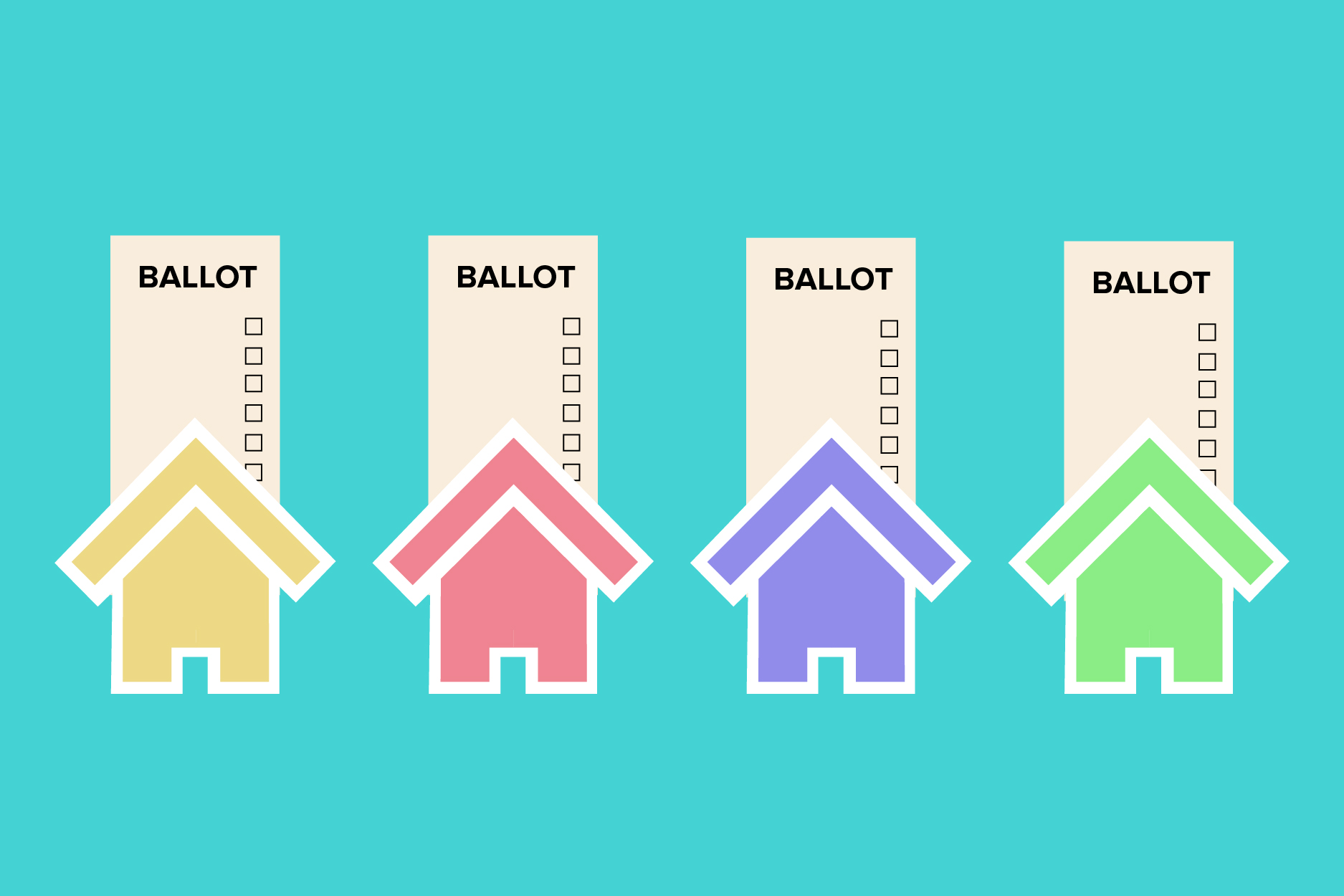 A guide to housing props on midterm ballot
On Nov. 6, Californians will vote on 12 statewide propositions, four of which attempt to confront the state's growing housing crisis. Davis voters will also decide on Measure L, a land development proposal that will impact housing within the city.
For Davis students and city residents, affordable and available housing is an even more pressing concern. Rental prices in Davis, according to a 2017 report, have gone up 6 percent. In addition, the current vacancy rate in Davis is 0.2 percent, which is well below the 4.2 percent statewide rate.
Though there's widespread agreement among Californians about the severity of the problem, there's less agreement on answers. These ballot measures represent solutions from different political camps, from those who support stronger government intervention in the housing market to those who believe the crisis is a product of strict housing regulations.
Here's a quick rundown of what Davis voters will be confronting at the ballot box:
Proposition 1: Veteran and Affordable Housing Bonds Act of 2018
Proposition 1 seeks to expand public funds to house veterans and low-income families. If the measure passes, it will authorize the sale of up to $4 billion in bonds to fund housing-related projects.
Those who support the bill, including the California Democratic Party and the City of Davis, hope that the proposed measure will reduce pressure placed on those hit hardest by the crisis. Supporters believe that Prop. 1 is a step in the right direction, though most believe that further action is needed to tackle the housing crisis.
Opponents, such as The California Republican Party, however, claim the measure will dig the state into deeper, long-standing debt. Ryan Gardiner, the chairperson for Davis Campus Republicans, argued his party's position on the measure.
"It's just a band-aid bond to pay for government-subsidized housing without tackling the real problem, which is government over-regulation of the housing market," Gardiner said.
Proposition 2: There's No Place Like Home Act
Proposition 2 attempts to direct government funds to house another at-risk group: the homeless in need of mental health services. Unlike Prop. 1, it simply redirects funds already approved by voters. Because the bill redirects money set aside for services and programs into housing, the measure requires voter consent.
Supporters say that Prop. 2 is a no-brainer, and will be making use of funds that have been sitting unused since the passage of the 2004 "millionaire tax" to produce as many as 20,000 new homes for California's growing homeless population. Detractors, however, argue that the money would be better spent on its original purpose of services and programs.
Proposition 5: Property Tax Transfer Initiative
Proposition 5 is an amendment to Proposition 13 put forward by the Realtors Association of California. Under Prop. 13, property taxes that would normally go up over time are limited to 1 percent — or up to 2 percent for inflation. This means that when people move, they often take on a much higher property tax rate than the limited rate they paid on their previous house.
Prop. 5 would allow disabled persons and those over 55 to transfer their old tax rate to their new home. Though it's a small change, supporters argue that the savings could be significant enough to encourage seniors to move into a new home. This incentive could free up housing for younger generations and remove an unfair moving penalty placed on new homebuyers.
Opponents say the measure is likely to cost local governments billions of dollars in taxpayer revenue. They argue that the measure will take funds away from public services which would then go toward realtors and wealthy homeowners.
Proposition 10:Affordable Housing Act
Perhaps the most far-reaching, Proposition 10 is also one of the most hotly debated measures on this year's ballot. Prop. 10 seeks to repeal the long-standing 1995 Costa Hawkins Rental Housing Act, which limits the rent control laws that cities can place on new apartments. It also exempts single-family homes and condos from rent control.
Supporters of Prop. 10 say that the measure will protect tenants from rising rent costs. Under Costa-Hawkins, landlords are free to increase rent on vacant apartments, rewarding them for evicting tenants and causing rent market rates to rise. Prop. 10 will also provide stability for renters and curb California's skyrocketing rent prices.
Opponents argue that repealing Costa-Hawkins will do the exact opposite of its intended purpose, making rentals more expensive and harder to find. Gardiner spoke on his opposition to Prop 10.
"Rent control disincentivizes new development," Gardiner said. "It's contrary to what needs to occur to end the housing crisis. That's why over 90 percents of economists say rent control is the wrong way to address the housing crisis."
Measure L
For Davis residents, one of the most significant midterm ballot decisions will be Measure L. It would allow for the development of agricultural land just west of Sutter Hospital into the West Davis Active Adult Community. The new community will be targeted for senior living, with 80 percent of the units reserved for buyers and renters ages 55 and up.
In an argument on the City of Davis website, supporters of Measure L claim that the development provides housing for Davis' large population of baby boomers near retirement age. Proponents also argue the new community will allow seniors to move out of existing homes in Davis, freeing up housing for "a new generation of Davis families." Mayor Brett Lee, who signed the argument in favor, echoed this support in an interview.
"Measure L builds about 400 of houses and about 150 units of affordable apartments for seniors," Lee said. "I think it will free up some space for people, faculty, staff, as well as students."
The argument against the bill, however, claims that the WDAAC is "the worst example of suburban sprawl proposed in Davis in 25 years." It argues that the project strongly favors wealthy seniors. Alan Pryor, the chair of the Yolano Chapter of the Sierra Club,  spoke out against Measure L.
"I don't think it really meets the needs of seniors of ordinary means, and certainly doesn't meet the huge demographic need we have in Davis for affordable workforce housing," Pryor said.
Opponents also take issue with the WDAAC's "Taking Care of Our Own — Davis-Based Buyer Program." Of the new homes, 90 percent will go to buyers with pre-existing relationships to the Davis community: current residents, those with family here or those who have worked or attended school in Davis. This condition is the focus of a lawsuit filed against the city by civil rights Attorney Mark Merin, who claims the program violates the Federal Fair Housing Act.
"The problem with this is Davis is the whitest community by far in the region,"  Pryor said. "Mr. Merin's lawsuit alleges that these buying restrictions — these illegal buying restrictions — will perpetuate this demographic imbalance in Davis and will serve to keep a predominantly white community predominantly white in the future."
Written by: Tim Lalonde – city@theaggie.org