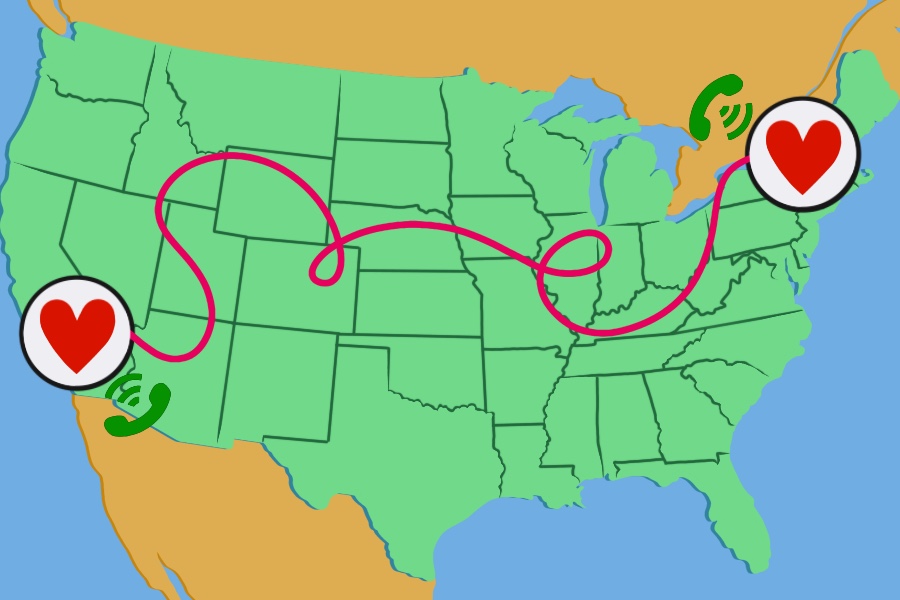 Students talk about their experiences with long distance relationships
"Distance makes the heart grow fonder" or "out of sight, out of mind"?
Sustaining and nurturing a relationship in itself can be a difficult process for young adults, and when the one person you want to spend the most time with turns out to be the one you can't physically be next to, a new dilemma is encountered.
Communication and cinema and digital media double major Lani Tice talked about her experience in her current long-distance relationship.
"They can be really difficult and scary," Tice said. "Navigating relationships is difficult enough, and throwing in some hundred or thousands of miles doesn't help the cause. However, if that person is someone you really want to keep in your life, you'll keep them."
While it can be easy for some people to talk and have real conversations over text and phone calls, others may not feel quite the same way.
"Honestly, in my relationship, we didn't fit into each other's schedules very well," said Sophie Brubaker, second-year human development and theatre and dance double major. "I wish we would have scheduled a weekly phone call or FaceTime so we had something consistent. Texting is lovely and everything, but it's not enough on its own."
Second-year computer science major Eric Zhou thinks regular communication is definitely an important part of any long-distance romance.
"I think if I had to go long-distance, regular phone calls would definitely have to be a thing," Zhou said. "That way, we could keep in contact and update each other on what's been going on in our lives. I'd probably also try and go visit her via car or plane or whatever."
It's easy to keep the relationship exciting and alive when in the physical presence of a significant other, but what about when a person is miles away and the closest their partner gets to seeing them is on a Facetime call on their way to class?
"Surprising them with sweet things in the mail or handwritten letters to give them something tangible," said second-year English major Matthew Pimley.
Unlike Pimley, Tice relies more on using social media to keep her relationship alive and exciting.
"Lots and lots of cute puppy videos," Tice said. "Especially Golden Retrievers, that gets him really excited."
Brubaker encouraged more in-person quality time.
"Schedule a few day-trips together," Brubaker said.
Being away from the one person you would want to spend the most time with, if not all of your time with, does not seem appealing to a lot of people, which is why long-distance relationships may not be for everyone.
"LDR's [Long Distance Relationships] lack appeal to a lot of people because instead of sharing life with someone, it's filling each other in on what's always happening," Brubaker said. "I missed being in their physical presence, and experiencing the same things at the same time."
For some, distance doesn't really matter as much.
"I think it'd be cool to go into a long-distance relationship if you and your partner really love each other," Zhou said. "I think if that someone is really worth it, then distance really shouldn't matter."
But why are LDRs so hard? Is it because of individuals' physical needs, a general lack of communication or both?
"Obviously for many people sex is a huge part of a relationship, and also a strong human vice, so with long distance there is a big risk of people seeking sexual satisfaction from another source," Pimley said. "If this is previously agreed upon, then it can be very painful for the person who gets cheated on. Also, togetherness is such an intrinsic part of a relationship that to be separate is a huge barrier to feeling valued and loved. It makes communication difficult. Like out of sight, out of mind, people in LDRs may find that they don't give their partner the attention they deserve."
For some couples however, long distance relationships might be just what they need.
"A lot of couples are so stuck together they stop becoming individuals," Zhou said. "That might sound nice to some people, but to me, that's kind of terrifying— I'd want my own time and space, you know? So yeah, LDR might be good for that but hopefully there are a lot of other things you could do to avoid that."
What people think they're missing out on by being in a long distance relationship varies from person to person.
"Making out or just holding her hand, or getting to hug her from behind, or [observe] what she smells like. I don't know, I'm cheesy like that," Zhou said.
Physical touch and actions are important for quite a few people.
"Probably cuddling," Pimley said. "Physical touch is one of my strongest love languages."
For Tice, it's spending quality time and just doing little, everyday things together that she misses the most.
"It's always just the really simple things, like having someone to make dinner with or
watch a movie," Tice said. "Especially for our relationship, because we are usually always traveling together and experiencing new things. So when we have a few days in one place where we can just cook and chill and go to the grocery store and act like we're normal, we
really appreciate it in those moments."
However, if LDRs are that hard to sustain and require so much effort and hard work, why do people stick around with it? Students believe it can be worth it.
"Long-distance is worth it if you are both relatively low-maintenance romantic partners, and you are down for celebrating your partner's experiences even if they aren't always with you," Brubaker said.
Others argued that geographical barriers were not enough to sway their love for their partner.
"To me, long distance was worth it because I really invest in [those] relationships, they aren't something [of which] I'm willing to let geography stand in the way," Pimley said.
There are also some students who aren't too sure about it, which is alright as well.
"I really don't know if it is [worth it], but for right now I really enjoy the lives we have
together and separately, and I'm not looking to change that," Tice said.
Written By: Rabiya Oberoi — features@theaggie.org