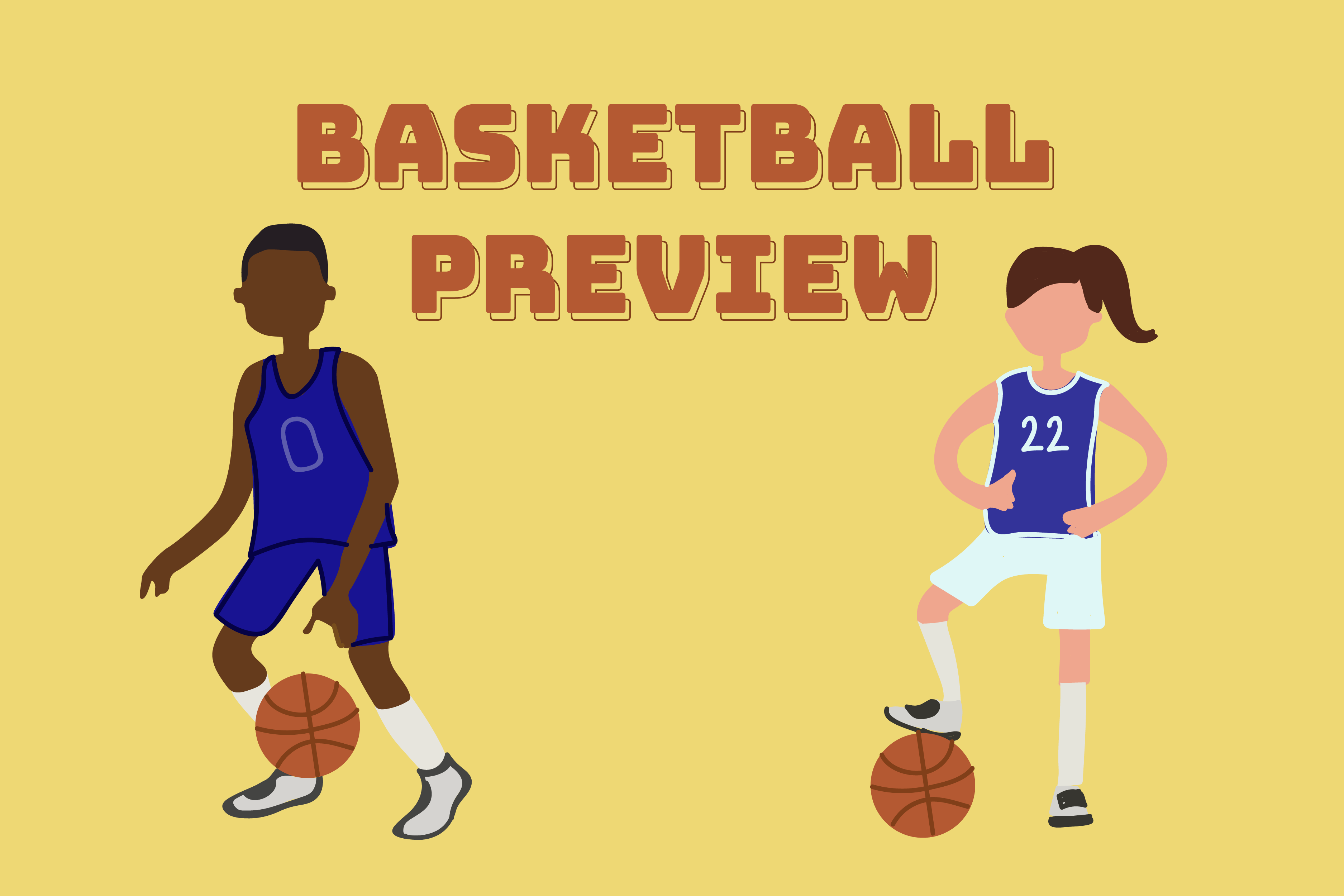 Men's, women's basketball motivated to build on previous sens of success
Men's Basketball
UC Davis men's basketball started off its 2018-19 season with an exhibition game victory, 87-59, against Dominican University at The Pavilion last Thursday.
Although the Aggies ended the 2017-18 season as back to back Big West conference champions, Cal State Fullerton dashed UC Davis' postseason hopes of a NCAA tournament berth in the Big West tournament semifinals. Fullerton went on to the NCAA tournament but lost in the first round to Purdue.
"We still have that bad taste in our mouth from last year," said senior forward Garrison Goode. "It was a good year, but it definitely wasn't where we wanted to be. It's always a good thing, just trying to get better, so we're definitely trying to make it to the [NCAA] tournament again, and it starts right now, just taking it day by day."
As the team transitions from preseason practices to regular games, Head Coach Jim Les said he liked how the team's defense was shaping up. The Aggies held opponents to .425 from the field last year, and held Big West opponents to .433, fourth in the Big West.
Les noted that team defense will be a priority as the Aggies move forward into the season.
"Just continuing to build on our defense," Les said. "We have a group that has  athleticism and versatility […] when we get those five guys on the floor engaged and working in sync with each other, it's pretty impactful. We have some good team speed, a good mix of shooters and now we can get out in the open floor and play offense off of our defense."
In UC Davis' exhibition on Thursday, the Aggies recorded 13 steals against Dominican. The Aggies averaged 7.1 steals per game last year.
After senior forward Chima Moneke, who was putting up an impressive 18.4 points per game, was suspended indefinitely, the path was clear for the then junior point guard and 2017-18 Big West Player of the year TJ Shorts II to lead the Aggies throughout the rest of the season. Shorts, whose head coach described him as a natural leader, averaged 14.8 points per game and in the last four weeks of conference play averaged 5.8 steals per game.
The Aggies lost senior guards Michael Onyebalu and Arell Hennings after the two graduated in the Spring, as well as Moneke who went on to play professionally in France for Rouen Metropole.
This season's roster features an experienced squad with five seniors: guards Shorts and Siler Schneider and forwards Goode, A.J. John and Colin Fuller.
"Siler and Garrison, who have been here, have had really impactful roles for three years," Les said. "Those guys set a good example every day for the work ethic that's needed, they're a group that really understands how we want to play, they spread the message better than [the coaches] do."
The matchup against Dominican gave some of the newcomers on the team a chance to get on the court. Most notably, junior guard Stefan Gonzalez, who transferred to UC Davis from Saint Mary's, played 22 minutes in his debut against Dominican. He thinks that even though it's his first year playing for the Aggies, he brings experience that could be valuable on the court.
"I feel like I bring a lot of leadership to this team," Gonzalez said. "There's a lot of guys that lead this team, but I think I could bring by voice and my energy on and off the court."
Redshirt freshman guard Gio Nelson and freshman guards Damion Squire, Caleb Fuller, B.J. Shaw and Cameron Ba all got some playing time as well.
Although their role is unclear at this point in the season, Goode thinks the young players are on the right track.
"We got some great freshman, Damion, Caleb, B.J. and Cameron," Goode said. "You saw them coming in fearless and getting their shots up, they're very comfortable.".
Goode noted that the freshman came into practices comfortable and with a fiery mentality without the older players needing to teach them.
Matt Neufeld, a junior center transfer from Saint Louis, did not play. Les told the Davis Enterprise that he expects Neufeld and Gonzalez to play an important role on the team.
After the Aggies make a quick trip across the Causeway to the Golden 1 Center in Sacramento for a game against Sacramento State, they're looking at a monster schedule at The Hardwood Showcase. UC Davis is set to take on premier college basketball teams like Indiana, University of Arizona and USC.
Before then, the Aggies take on San Diego at the Pavilion on Friday.
With this being a good chunk of the team's last year to make it to the NCAA tournament, Goode hopes to build on previous success. It should provide The Pavilion with some entertaining Big West basketball.
"We're definitely going to play our hearts out, it's our last year here and we definitely want to leave with a bang."
Women's Basketball
The UC Davis Women's Basketball team kicked off the 2018-2019 season at home against Cal State East Bay in an exhibition game, winning by a whopping score of 94-41. The Aggies returned from a season in which they took home first place in the Big West and made a quarterfinals run in the Women's National Invitation Tournament.
Head Coach and UC Davis alumnus Jennifer Gross entered her eighth season as the leader of the Aggies, looking to lead her team to another year of home dominance. Last season, the team only lost a single game inside the Pavilion, boasting a home record of 14-1.
This season's first exhibition game began Thursday evening with a bang, as sophomore forward Cierra Hall controlled the first five minutes. After scoring the first basket of the game, Hall hit two more shots and contributed a steal, pushing the Aggies to a quick eight point lead.
The remainder of the first half was centered around last year's lead scorer and redshirt senior forward/center Morgan Bertsch, who had full command over the offensive and defensive paint. After leading the Aggies much of last year, Bertsch took full control over their first game of the season. At the half, UC Davis led Cal State East Bay, 52-18.
The second half of play featured sharpshooting junior forward Nina Bessolo, who finished the contest with a team-high of 21 points and six made threes. Bessolo also added in a block in the second half, further bolstering her team's strong defensive performance.
The senior twin duo of Kourtney and Karley Eaton led the way in handling the ball on offense throughout the game, contributing 11 out of the team's 24 assists.
Gross was pleased with the "energy and effort" her team displayed in its first performance of the season, after winning the game 92-36.
"Sometimes [you can be] so juiced up and emotional and excited and sometimes that works a little bit against you but this group came out pretty focused, played with energy, but played pretty smart basketball through the remainder of the game," Gross said.
In this coming year, Gross is hoping to establish consistency "from [all] different players."
"We lost some seniors to graduation who provided that consistent energy and play, and I thought we got that tonight from players like Nina Bessolo, Cierra Hall and Karley Eaton, players who are now going into starting roles," Gross said. "If you look at the stat sheet, everyone contributed, and that's what this team's going to be about."
Written by: Bobby John and AJ Seymour — sports@theaggie.org