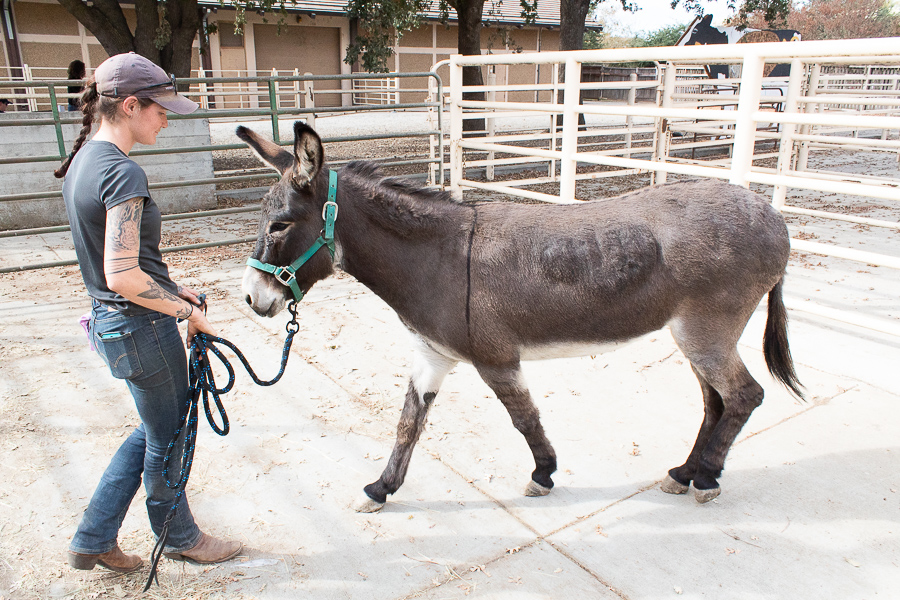 UC Davis sparks a global discussion to improve the quality of life and social status for donkeys everywhere
For six years, the annual Donkey Welfare Symposium has brought donkey researchers, equine experts, veterinarians, enthusiasts, undergraduate and veterinary graduate students and companions together for a three-day experience highlighting the donkey's importance for communities across the world. This year's symposium was organized by Eric Davis, a veterinarian at the UC Davis School of Veterinary Medicine International Animal Welfare Training Institute, his wife Cindy Davis and Amy McLean, an equine lecturer at the UC Davis animal science department, UC Davis Global Affairs and the non-profit Donkey Sanctuary.
When most people think of donkeys, they think of Donkey from "Shrek"– a hyper, talkative and annoying animal companion.
"Eddie Murphy's character in Shrek is not a donkey character," Eric Davis said. "Actually, most donkeys have the complete opposite behavior."
While donkeys generally don't get a lot of respect, they are vital to human well-being across several national and international communities. In countries like Mali and Tanzania, donkeys are important for carrying water and for the well-being of families. They have social and economic impacts on many communities.
Researchers came from over 14 countries through the UC Davis Global Affairs "Global Education for All Initiative" to create a space for global curiosity and opportunity for animal welfare.
"There aren't that many veterinary-skilled people that look after the welfare of donkeys, an important animal particularly in Africa and other areas across the world," said Ermias Kebreab, the associate vice provost of Academic Programs Global Affairs. "Being exposed to the Donkey Welfare Symposium could create opportunities for vet students who would want to have a career in animal welfare as an intern for future Summer or Quarter Abroad programs."
Attendees came with a variety of donkey needs they wanted to address in donkey sanctuaries, donkey rescue spaces and in their own personal encounters with donkeys. Some concerns included how to maintain behavior after buying a donkey from another trainer or how to design engaging programs and environments for donkeys with different individual expression habits.
The first day of the symposium was dedicated to understanding behavior science and shaping donkey behavior, providing strategies to train, handle and become a donkey companion. Donkeys have their own individual personalities and perspectives shaped by experiences beyond their character and species, including previous interaction, environment, pain and medical conditions, genetics and evolution. As a result, long-term training must be thoughtfully adjusted to meet each individual donkey's needs in a way that meets the trainer's personal principles.
"Most apply strategies to training horses to the way they train donkeys," said Donkey Sanctuary Equine Expert Ben Hart who led the behavior and training discussions on the first day of the symposium. "Donkeys are not small horses with big ears." Better donkey training starts by understanding their behavior as a tool for problem-solving their needs.
The second day of the symposium involved two separate tracks for enthusiasts and veterinarians. For enthusiasts, the day was filled with strategies and discussion to change attitudes and perspectives of donkeys in communities, while veterinary-focused attendees addressed medical needs such as hoof lesions, cognition and ophthalmology.
"You feel the energy and vibes from the guests' participation," McLean said. "It's one of the few conferences where you have veterinarians, researchers, people from academia, people involved in rescue and donkey enthusiasts participating in wet labs and training demonstrations."
The third day hosted a series of demonstrations including trimming donkey feet and freezing donkey semen. Although there are diverse donkey species across the world, several donkey species are at risk of going extinct. The symposium provided a space to preserve gene pools and information of at-risk species.
"Some of the biggest issues that we have, climate change or animal welfare, is not something that one country can solve for itself," Kebreab said. "If we join forces, then you can come up with solutions that work for everybody and the impact is much greater than if you work with one university."
During the symposium, all of the speakers were invited on tours to show guests donkeys in nature and where they evolved in the desert. On one day, speakers and symposium organizers went up to Susanville, California with Amy Dumus, the manager of the Bureau of Land Management-California Wild Horse and Burro Program, to visit donkeys in their natural habitat. The visit was the first for many guests from Mali, Pakistan, Egypt, Spain, Italy and Tanzania who had never seen donkeys in the wild before.
Another tour involved seeing the first mule and donkey industry at a farm in Lincoln, California. At the farm, speakers saw mules used for racing and cloned mules worth over $130,000.
"They got to see mules and donkeys in a completely different perspective in place of animal abuse, dairy production or an animal that is kept as a pet or companion," McLean said.
The Bureau of Land Management and UC Davis have a student-learning project where donkeys are gathered from the wild, placed into holding facilities and trained by UC Davis students. Domesticating the donkeys improves their welfare, shapes students' perspectives about donkeys and improves students' equine knowledge. At the end of the Donkey Welfare Symposium, attendees were able to see the progress of the UC Davis student-learning project through a donkey adoption event.
Eight donkeys were directly adopted at the Donkey Welfare Symposium, while eight more donkeys wait for the completion of their adoption process before they are transferred to a better home with new adventures to come.
"My favorite part is working with the donkeys, but also we've had people who've been coming every year for six years from Canada and many different places," Cindy Davis said. "I always enjoy visiting with them and asking them about their donkeys. They come back because they learn so much and as do I."
Next year, there will more donkeys to learn from and more experiences to share.
Written by: Foxy Robinson — science@theaggie.org