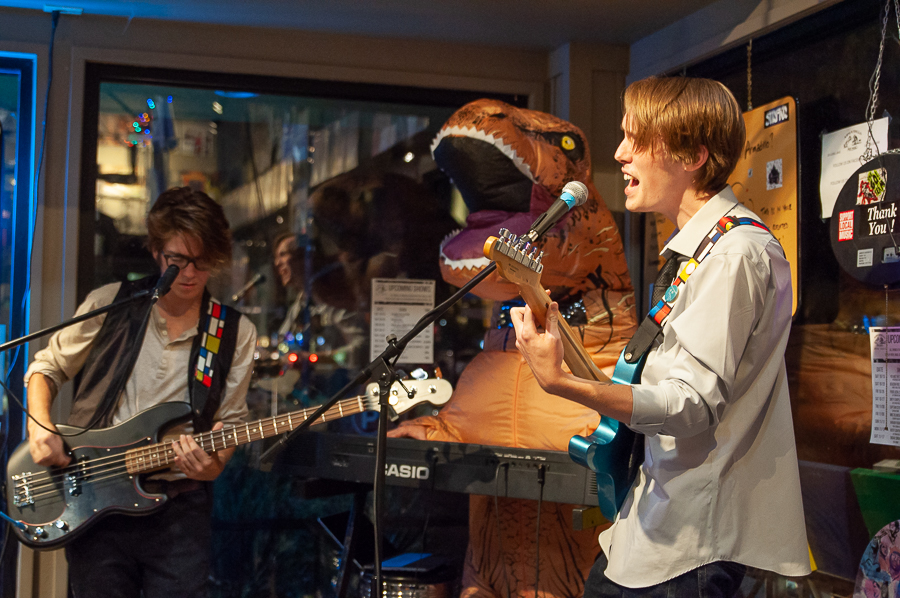 Armadillo Music hosts benefit concert with Your Local Cemetery, Kelly Jean
Downtown record store Armadillo Music presented a Halloween-esque benefit show featuring live music from Your Local Cemetery and Kelly Jean on Oct. 26. The event raised awareness and money for the organization of Kids in Need of Defense (KIND).
Clad in a Han Solo ensemble, an inflatable dinosaur costume and an outfit inspired by Jim from the TV show "The Office," the band members of Your Local Cemetery took the Armadillo Music stage after singer Kelly Jean's opening performance. The band performed original songs and publicized that all donations and proceeds from their t-shirt sales would go toward KIND.
"Our goal is not only to raise money, it's really to bring awareness and to provide a safe space for people to come to connect with each other and support each other openly," said Chloe Breaker, Armadillo Music's booking agent and fourth-year Spanish major. "It's really just hoping to provide a platform or an environment that's welcoming and secure for anybody."
After a collaborative benefit show for the Transgender Law Center last year, Breaker reached out to Your Local Cemetery for another performance this fall. The band members decided on the organization KIND, which specifically works to provide legal representation to children appearing in immigration court in hopes of reuniting families separated at the border.
"We try and benefit organizations for people who need the help at that time," said Jacob Sutherland, a singer and guitarist of Your Local Cemetery. "Last year, we did a benefit for the Transgender Law Center because after the Trump administration started kicking into effect, we felt like trans people's rights were at stake and we wanted to do something. And then, over this last year with [Trump's] policies on immigration and separated families at the border, we felt it was important to do something about that."
In April of 2018, the Trump administration issued a "zero tolerance" policy, which referred adults for prosecution for crossing the border and, as a result, took their accompanying children away. While justified by supporters as protecting children from human trafficking, the policy was opposed by many and ultimately suspended; however, young individuals are still at a higher risk of deportation without legal representation. KIND trains pro bono attorneys and helps unaccompanied minors obtain green cards and other legal services.
"I think it's a really honorable cause," said Vanessa Bernal, a first-year economics major at UC Davis, who passed by the concert. "[The band is] doing it basically nonprofit and lending [their] time for a really important cause and current event that not a lot people are willing to take action for."
Not all Armadillo Music shows serve a cause; in fact, most feature touring or local groups stopping by in the downtown nook. Your Local Cemetery challenges how music can influence and inspire the community.
"It's nice to experience live music in a record shop because you're surrounded by so much history and so much development in music, and you're seeing it being created in front of your eyes," Breaker said. "I think it's definitely fair to say you can expect to feel a connection to people and hear some great music and see talented artists — maybe meet people and get more involved in the music scene here in Davis."
Bernal noted the welcoming environment of Davis, expressing her excitement that a shop such as Armadillo Music hosted this event.
"I've only been here since September, but I can already tell that Davis is a really tight-knit community and everyone cares a lot about each other," Bernal said. "Even in the storefronts, you see a lot of posters in support of immigrants. It creates solidarity."
Your Local Cemetery planned for an easygoing and lively environment for the benefit show, encouraging event-goers to dress up and browse the store, which promoted their lasting message to be friendly and kind to one another.
"It's very easy to get overwhelmed by everything that's going on –– I know I do sometimes as well –– but all you can do is try and be good to people," Sutherland said. "Even in your own everyday life, try to do that as much as possible."
Written by: Renee Hoh – city@theaggie.org