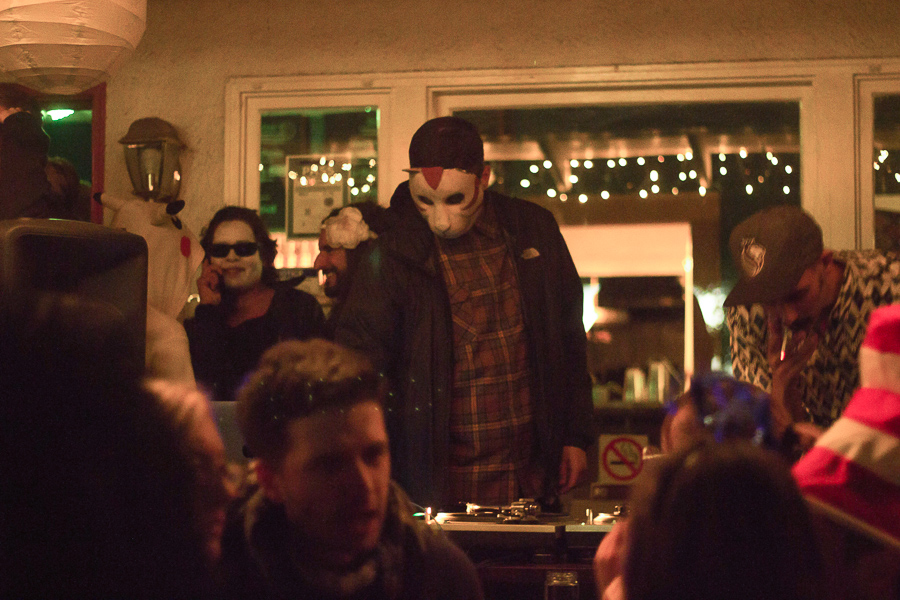 Delta of Venus' Halloween show was anything but scary
While Delta of Venus offers great coffee, scrambles and sandwiches, anyone who has spent time there can testify that it's more than just a cafe. According to its website, Delta of Venus was founded in 1993 with the goal of "providing a comfortable space for the creative and active downtown Davis community to meet up and relax peacefully, eat and drink good food, and inspire each other to love, laugh and live together." Since then, Delta of Venus has provided a space for a multiplicity of creative events and artistic mediums.
A space that encourages creativity and expression, Delta of Venus is located on B Street right across from campus. It welcomes passersby with its bright yellow entrance, generously sized front patio and cottage-like appearance. With events almost every week, Delta of Venus transforms from a cozy study hub to a lively atmosphere inviting all people to celebrate and appreciate the art and creativity that is being shared.
This Halloween, Delta of Venus hosted an event called "Geist: Halloween Party" that took place from 8 p.m. to 12 a.m. in which resident D.J. OrthoJax performed for an audience of students and Davis locals. On Facebook, 655 guests marked going to this event, and while there were not as many people there the night of, the number of people interested reflects Delta of Venus' reputation within the Davis community as a space where people can come together. In addition, the Facebook event invited those attending to dress up and partake in their costume contest. However, it was included that "costumes are encouraged but not mandatory," thus inviting creativity from its audience but not forcing or expecting it.
Sofia Meola, a fourth-year psychology major, who had only been to Delta of Venus during regular business hours, enjoyed seeing the transformation of the cafe.
"There were a lot of different types of people here; there was a big range in age and because of how wide the music selection was, it seemed to attract many different music tastes as well," Meola said. "I saw some really good homemade costumes that you could tell were close to people's hearts. You could really see what they were interested in from the detail and creativity in their costumes. In general it seemed that there was a lot of appreciation of creativity."
Anyone passing Delta of Venus on Halloween would have seen the large crowd of people standing outside, chatting, smoking cigarettes or simply stopping by to listen to the music. The atmosphere of Delta of Venus was so contagious that even those who didn't feel like dancing or partaking still sat outside of the restaurant to observe and enjoy the entertainment. On the other side of the yellow entrance, those who wanted to dance to DJ OrthoJax's set stood in the courtyard close to the DJ booth, while those who wanted to chat with their pals or nod their heads to the beat stood in various places throughout the courtyard. Inside, the cafe was darker with house music blaring from its speakers, a scene that was different from the one outside but still contributed to an atmosphere of celebration and friendship over a shared appreciation of the arts.
Chris Alam, a second-year English major who had never been to Delta of Venus before, enjoyed the wide range of music that was played.
"It's a very relaxed vibe," Alam said. "They played a pretty eclectic set, with some older hip-hip and halloween classics it was definitely a more retro Halloween vibe that you wouldn't hear on the radio. I think if you are looking for a scene that has a lot of different types of people to enjoy music in, this is the perfect one."
As a space that prides itself on appreciating creativity, Delta of Venus ensures that all creativity and varying expressions of it are welcomed. While the Halloween party advertised live music, Delta of Venus' consideration and efforts in providing a space that was positive for everyone extended beyond a typical concert.
Nicolas Dinito, a second-year environmental policy major, had been to one other Delta of Venus concert before the Halloween show.
"I really like these settings with music because it always attracts a cool, chill group of people from Davis that you can come and meet, it's awesome," Dinito said. "This time there are a lot more people, which is nice, but it's definitely similar vibes in terms of cafes and business that you can go to to support local music."
Overall, the genuine appreciation and respect for the arts that Delta of Venus was founded on echoed through its diverse and comprehensive music selections, its consideration in creating different ambiances both inside and outside of the house and its general atmosphere of comfort that people felt when interacting with each other. Unlike most places, Delta of Venus creates a genuine space for people to meet and converse, welcoming all ages and people to comfortably appreciate the arts.
Written by: Rosie Schwarz—arts@theaggie.org