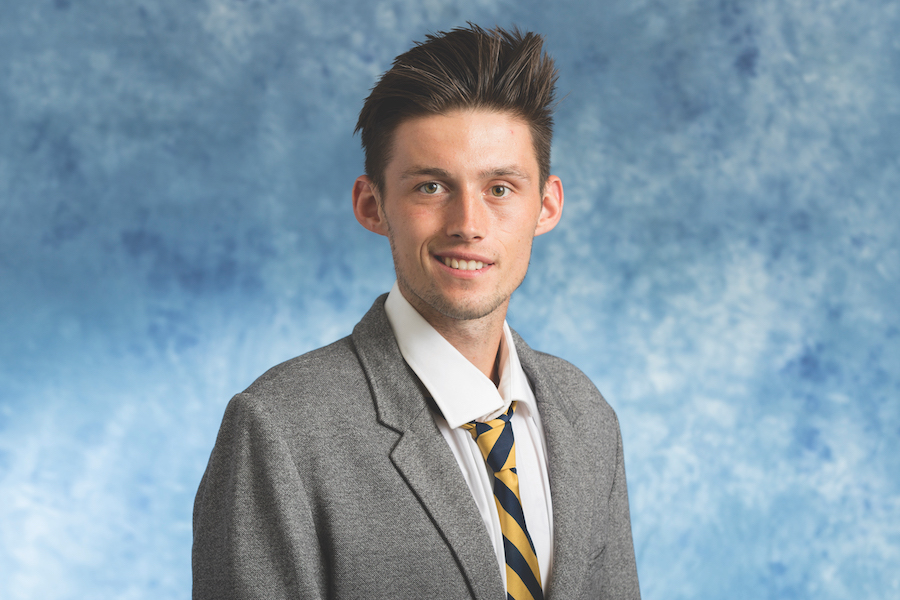 A look into the New Zealander's transition to the U.S.
Transitioning to a new school can be challenging. Leaving home, adjusting to a new environment and dealing with a new curriculum can be hard for anyone going to college. But what if your home was 7,000 miles away from school?
That is the case for junior midfielder for the UC Davis men's soccer team Dylan Wood. Wood came to the U.S. from Wellington, New Zealand after high school. In Wellington, he was named to the extended squad for the New Zealand U20 National Team in 2017 and has previously played with the Wellington Olympic Amateur Football Club in one of New Zealand's top leagues.
Before coming to Davis, Wood played for two years at Metro State University in Colorado, earning second team All-Rocky Mountain Athletic Conference honors in both seasons. The California Aggie had the chance to talk with Wood, discussing his transition to the U.S., why he chose to come to Davis and the differences between playing soccer in New Zealand compared to playing in the states.
Aggie: What age did you start playing soccer and what got you into the sport?
Wood: I've pretty much played soccer all my life. Probably starting when I was like four or five. I actually originally really wanted to play rugby and play first five because I was really good at kicking, but at that young age they dont kick at all so that's how I just fell into soccer.
Aggie: Being from New Zealand, how popular was soccer there? Did it's popularity help shape your love of the game?
Wood: Soccer in New Zealand is definitely not as big as rugby but probably sits in second. This is because a lot of parents would rather see their kids growing up playing soccer rather than rugby. I think my love for the game came about through all of my friends loving it too, I just enjoyed playing and competing with my friends at school so I just grew to love it!
Aggie: Why did you choose to come to UC Davis and play soccer here?
Wood: When it came down to making my decision on where to play, the main thing that sold UC Davis for me was the academics, being one of the best academic schools in the country means that being able to graduate with a degree from Davis will help me out a lot in life. The second thing that I found out more once I got here is the college town vibe that Davis provides, I like the atmosphere and people around Davis and has made my time here so enjoyable already.
Aggie: What was the first feeling like when you stepped on the field to play your first game at UC Davis? Was it any different than normal?
Wood: It was against Bakersfield and it was awesome. Playing [Division I] soccer is an extreme honour and should not be taken lightly. It was also a moment of relief for me, transferring schools is a stressful process and at times I had questioned whether it was the right choice or not. But once I stepped on the field I felt so much relief after such a long wait to get here and play.
Aggie: Is there a difference between how people in New Zealand play soccer versus in the states as far as speed of play and physicality? If so, what are those differences and how did you adapt your play style coming to the states?
Wood: Yes there certainly is a difference. In the states the emphasis is mainly on physicality, Americans play a very fast and physical brand of soccer even if sometimes it means lacking technique etc. Back home because of the different populations I had been playing in means leagues since I was 15, this means it is a much more tactical emphasis in the play with the variety of ages that would play.
Aggie: You were previously named to the extended squad for the 2017 U20 New Zealand National Team, and you have  played for various clubs. How has playing for these high level teams matured you as a soccer player? How did these experiences help the way you play soccer?
Wood: Similar to the last question, playing against full grown men as a teenager makes you have to work out things quickly. I feel I learned a lot from the older players which I wouldn't have if I continued playing against high school kids, those players have been around a long time and played in many different teams. As for getting the chance for being around the national age group teams it was an awesome experience! I am obviously guttered that I didn't make the final squads but to be training with the best kids in the country in front of the best coaches in the country is unreal. I learnt a lot from my time there and hopefully can be considered in the future at the national level too.
Aggie: What is the thing you like most about playing soccer at UC Davis? In the USA?
Wood: My favorite thing about playing over here so far is by far all the people that I have met. I have met a wide variety of people from so many different backgrounds and it is really interesting to hear all their stories. Also though the US is a very interesting place to live, there are so many different sights to see and I have thoroughly enjoyed experiencing everything I have so far.
Written by: Ryan Bugsch — sports@theaggie.org