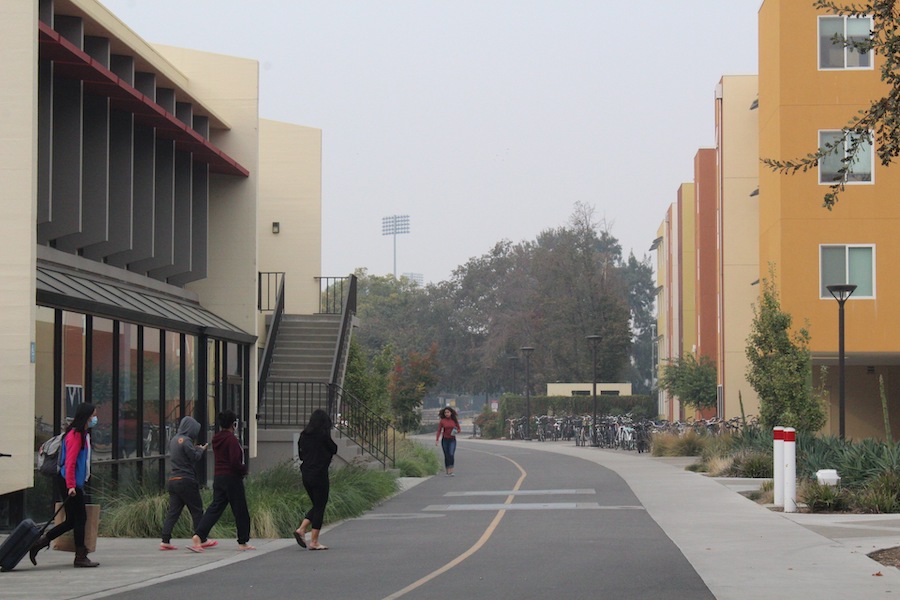 UC Davis, Sac State cancel classes
UC Davis students and staff were informed early Tuesday morning that classes would be cancelled for the day "due to poor air quality as a result of the Butte County fires," an official email sent by the UC Davis WarnMe system stated. The campus remains open, and the email states that UC Davis employees should report to work. Employees who work outdoors should limit their outdoor activity.
The air quality index in the Sacramento region is at 174, as of 9:30 a.m. Tuesday morning. This AQI level means the air quality is unhealthy for all groups.
"Everyone may begin to experience some adverse health effects and should limit prolonged or heavy outdoor exertion," explains the Spare the Air website, adding elderly individuals, pregnant women, youth and individuals with pre-existing lung or heart conditions should avoid "prolonged outdoor exertion."
The ASUCD Senate Debate, scheduled for Tuesday, was cancelled by Elections Committee Chair Rodney Tompkins. The Bylaws require a public debate for candidates be held, however Tompkins said in an email sent to The California Aggie "these are special circumstances."
"I do not feel right in asking individuals from Entertainment Council, Aggie Studios, Senate, CoHo staff, and my committee to fulfill their part in this event," Tompkins wrote.
Nearby Sacramento State also cancelled classes due to the Camp Fire in Butte County.
The Yolo-Solano Air Quality Management District has issued an Air Quality Advisory due to the Camp Fire.
The Camp Fire, which started last Thursday, has become the state's deadliest and most destructive fire in California history. There are 42 reported fatalities, with over 220 people still reported missing.
The fire, which has raged through the town of Paradise, situated near Chico, has now reached 117,000 acres and is 30 percent contained. Over 7,100 structures have been destroyed.
A second fire, the Woolsey Fire in Southern California, has burned over 96,000 acres at 35 percent containment. Two people have died and over 430 structures were destroyed.
President Donald Trump, who tweeted that the state's poor forest management was the cause of California's fires, approved a major disaster declaration for the state after a letter sent to the president from Governor Jerry Brown requested he do so.
A statement released by ASUCD officials Tuesday, including President Michael Gofman and Vice President Shaniah Branson, thanked the university for cancelled classes due to unhealthy air levels, adding effective face masks can be picked up at local hardware stores.
"The ASUCD Executive Office extends our deepest sympathy to the victims of the fires raging throughout our state this week," the statement reads.
A special page for wildfire relief fundraising was created by GoFundMe and can be accessed here: https://www.gofundme.com/cause/californiafires
Written by: George Liao and Hannah Holzer — campus@theaggie.org