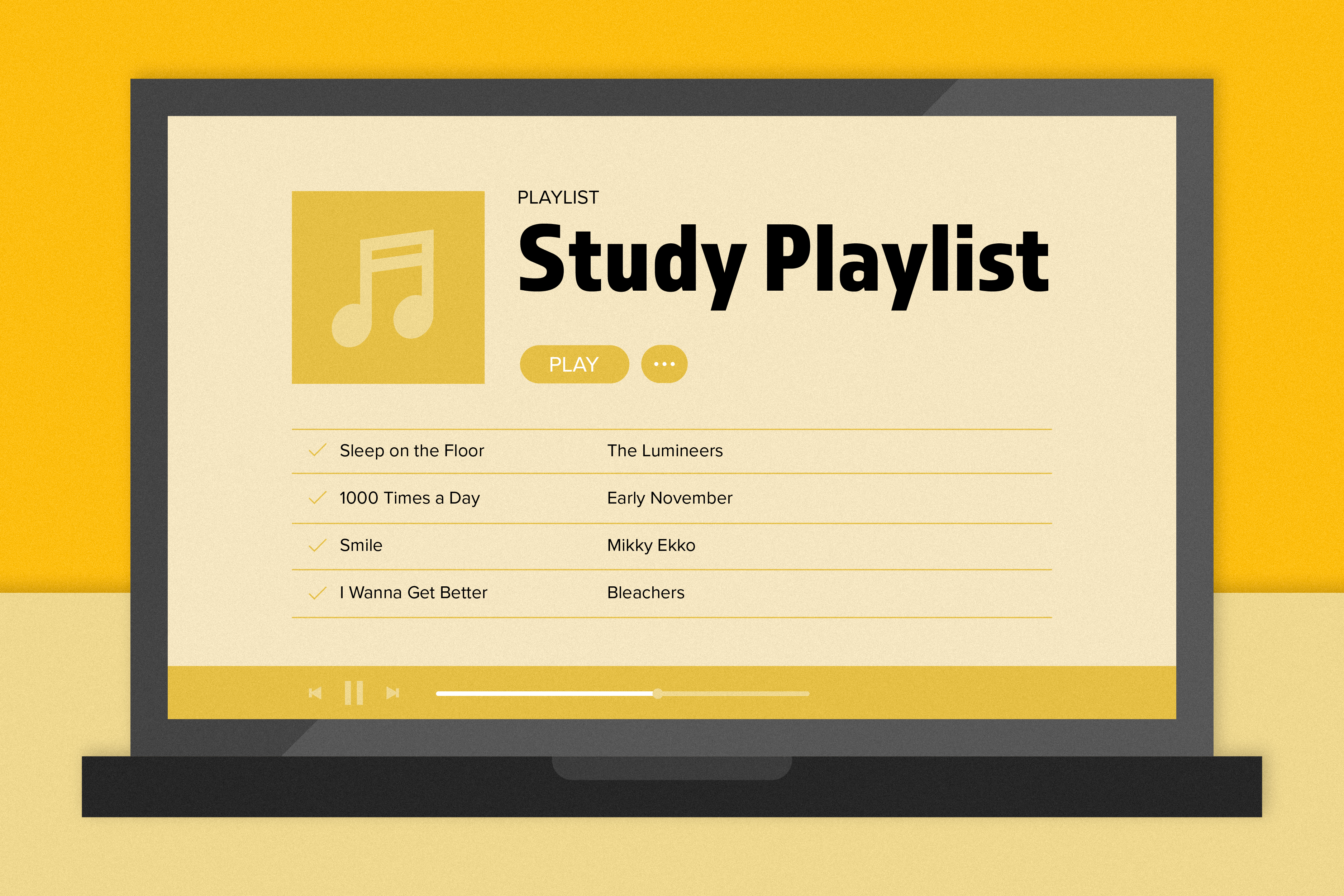 A curated list of songs, advice for studying
Everyone experiences those days where they just can't wait for the weekend, and during midterm season, every day is one of those days. Here's a few songs to get you through those late night study sessions.  
"Ready to Start" — Arcade Fire
The music drowns out the lyrics, which is actually the best part of the song. When you need to study for midterms, the hardest part is getting started and this song's upbeat rhythm will push you to write out those flashcards or start filling out that study guide. Either way, once you start, you're that much closer to finishing.
"Sleep on the Floor" — The Lumineers
In an interview at the iHeartRadio Concert, the band explained the meaning of the song: "You're gonna go [to big cities], and you're gonna fulfill that promise, you're gonna catch that dream that you had in your head. And when you go there and it doesn't happen, that's sort of a reaction to that." Having midterm after midterm can fry your brain, and in the end it can often feel like the promise of post-college life is too far away to grasp. But no worries, midterm season will pass and winter break will soon arrive.
"Smile" — Mikky Ekko
Ekko's song is perfect for the midterm season. Whether you're cramped up in a dorm with roommates or in a library with dozens of struggling students by your side so just breathe, smile and keep going.
"Warrior" — CHLOE X HALLE
With CHLOE X HALLE's recent rise to fame, first starring on the Freeform original show "Grownish" and then opening for Beyoncé, the duo's album was bound to catch attention. Their message makes anyone listening feel empowered and able to tackle any test that comes their way.
"High Hopes" —  Panic! at the Disco
You're in the middle of studying and feel like you've been doing it for days on end. You want to call it a day and neglect every responsibility that's been placed on your shoulders. College is hard, but as Brendon Urie put it, don't give up. You're here, so you might as well keep going. Because if you don't, there will be debt to pay.
"Hey Look Ma, I Made It" — Panic! at the Disco
And again, another Brendon Urie song made specifically for college students with a busy schedule and a midterm without a study guide. But as Urie puts it, you already showed your mom that you've made it into college. Show her you can make it through the crying and the 15-minute naps that go along with it too.
"Trouble" — Cage the Elephant
Every once in a while you need a calm song, like "Trouble." This song's slow tempo and thoughtful lyrics allow me to take a second to breathe, so hopefully it does the same for you. Just close your eyes, listen and keep going.
"Someday" — The Strokes
"I ain't wasting no more time," is all the song needed to say to make it on this playlist because honestly, studying for midterms comes with a lot of wasted time when there are distractions everywhere. In order to avoid these distractions, take a drink of water or eat a small snack and go back to studying once you've had your breather.
"I Wanna Get Better" — The Bleachers
When college is stressful, students often forget that mental health should be a top priority. College comes with a huge amount of stress and that stress can get to your head. If you've been listening to this playlist while studying, this song means it's time for a break. Those five minute breaks really do make all the difference.  
"Float On" — Modest Mouse
Modest Mouse's song talks about the setbacks that people face, and as a student, setbacks are inevitable. There will always be a bump in the road, there will always be that one question on a test that has you stumped and there will always be that one essay you didn't get quite right. It happen but ultimately you just have to float on.
"Shots" — Imagine Dragons
Heed lead singer Dan Reynolds' advice, "In the meantime we let it go." When you are taking those breaks, learn to actually take them. Learn to laugh with your friends and have a snack without having the near future of the dreaded tests on your mind — it won't help.
"Anna Sun" — Walk the Moon
This song was a favorite of mine when I was a middle schooler walking home everyday at 3 p.m. It's no different now as I'm walking from Rock Hall to catch the bus at the Silo. The catchiness is sure to make you tap your feet when you're in the library or on the bus. Many college students can relate to the line, "we got no money, but we got heart."
"How Far We've Come" — Matchbox Twenty
Let's see how far you've gotten on that study guide. Do you feel okay? How long has it been since you've taken a sip of water? Staying hydrated while studying is essential. Don't ignore what your body tells you.
"Ain't It Fun" — Paramore
This is college. Professors say you're supposed to study one hour for every unit  and you most likely didn't. But it's life and honestly, that's college in a nutshell. Ain't it fun?
"1000 Times a Day" — Early November
This song is one to finish off your studying. Listen to it when you decide to take a break, eat a Snickers or take that well deserved nap. Good luck on those midterms, Aggies!
Written by: Itzelth Gamboa — arts@theaggie.org