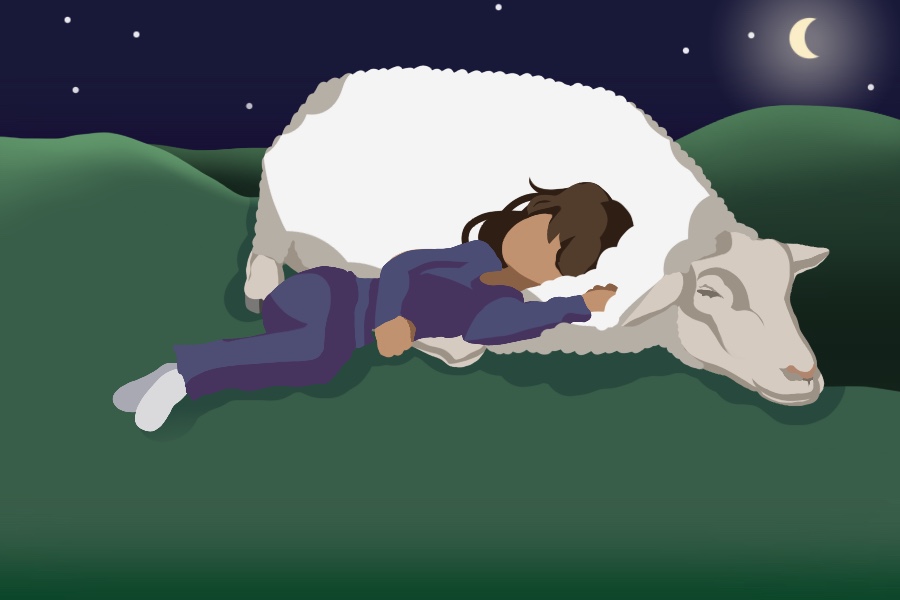 Students work at different animal barns on campus in exchange for free living at the facility
Instead of being residential advisors for freshmen at dorms on campus, some students work as "RAs" for livestock at animal facilities on campus.
Through barn residency programs, students can live rent-free for a year at one of nine animal facilities on campus in exchange for 10 hours of weekly work. These programs are offered at the beef barn, dairy barn, feedlot, feed mill, goat barn, avian facility, horse barn, sheep barn and swine barn, according to the UC Davis Department of Animal Science website.
At most of the animal facilities, basic student resident responsibilities include feeding the livestock, cleaning the facility and making sure everything runs smoothly when the facility managers are not there, according to second-year animal science major Rayann Eaves who works at the dairy facility.
"It's not always the easiest, but it's worth it for sure," Eaves said. "You get to learn different things here that most people never get to experience, so that's pretty awesome."
Second-year animal science major Tara Falt, who works at the horse barn, said that student residents are responsible for checking on the horses.
"[We are the] first responders if anything goes wrong, " Falt said.
Second-year animal science major Joseph Terry said he wants to be a large animal veterinarian, so living and working at the feedlot has helped him gain a lot of hands-on experience in the field.
"You get to apply what you are learning in animal science classes to your work, so it really helps out," Terry said
Even though residents are only required to work 10 hours a week, students can work additional hours. Fourth-year animal science and management major Carissa Garrity, who lives and works at the beef barn this year and lived and worked at the swine facility the previous year, said that she usually works around 15 hours a week.
"Any extra hours that you work you can either be banked to use in case there is a slow time in the season and you can't get in all your hours […] or you can cash them in," Garrity said.
Since barn residency programs begin in June, Terry said that he worked more hours over the summer since he was able to devote more time to working and less to school work.
Garrity said that she has not had difficulty balancing school with work at the beef barn since her shifts start early in the morning, so she has lots of time for her other job and schoolwork.
"It's a difficult transition learning how to wake up early in the morning to feed the horses," Falt said. "Morning chores need to be finished by 8 a.m. so that includes feeding and cleaning out the barn. So whatever time we need to get up in the morning to accomplish that, it can get pretty early."
For Falt, she said that the job has a duality of working hard and gaining experience in her intended field which she appreciates.
"Balancing classes and the residency, it's like balancing any other job," Falt said. "We have our hours that we need to commit to. And we are getting experience and racking up those hours that are going to job applications or vet school applications while we are getting paid."
Part of gaining all of the experience working with the animals comes from living in rooms in the actual barns at the facilities.
"As far as living in a barn, it has its ups and downs," Garrity said. "We contact facilities management all the time because we either have light bulbs that go out, or our wifi is down. For the most part, the living quarters are not that bad, it just gets dirty really quickly."
Since Falt lives in the horse barn, she said when their air conditioning is not on, she can hear horses in the stalls next to the room they live in.
"The walls are thicker than you would think they are which is a good thing, because our donkey likes to bray very loudly at random hours of the night and we can't hear him unless we are really trying to," Falt said.
However, Falt said that living at the facility has major perks since she never has to worry about commuting to work.
"I think it is nice being able to roll out of bed and be at work already," Falt said.
Fourth-year animal science major Janna Davis said that she likes the convenience of living at the barn in addition to the one-on-one work with the horse barn manager.
"I love just whenever I am stressed out I can just go outside and snuggle [the babies] and they all remember me," Davis said. "It feels really nice, like they'll all walk up to you and just get to scratch them."
To become a barn resident, the animal science advising center releases applications during winter quarter. According to the UC Davis animal science website, applicants must be currently enrolled students, should be enrolled in animal-oriented majors since they get priority, have appropriate animal experience, willing to work holidays, weekends and evenings, possess a valid California driver's license and have the ability to lift a bale of hay.
"You submit your interests in which facilities you want to look at," Eaves said. "You rank them in order and write small little essays with prompts."
Since the application process is competitive, Eaves recommends that the best way to get involved is to first get an internship at your desired animal facility, talk to the facility manager and take an animal management course.
"Make sure that you really like what you are doing because sometimes it is really difficult," Eaves said. "You have to really love the animals and, put your best into it and it should work out from there."
Regardless of which facility someone wants to work at, Falt said that she thinks the residency position is not for everyone.
"It's a very routine job that you have to stick to," Falt said. "It's non-negotiable as far as your chores need to get done. These animals have to get fed; they have to get cleaned up after. You are looking after their well being and general health."
Additionally, Davis said that residents are scheduled to work all year including holidays, weekends and school breaks.
"If you are used to going home every weekend or [leaving] for every holiday or three-day weekend, [this job is] probably also not for you because you have to work or get coverage for 365 days a year, 7 days a week," Davis said.
Written by: Margo Rosenbaum – features@theaggie.org