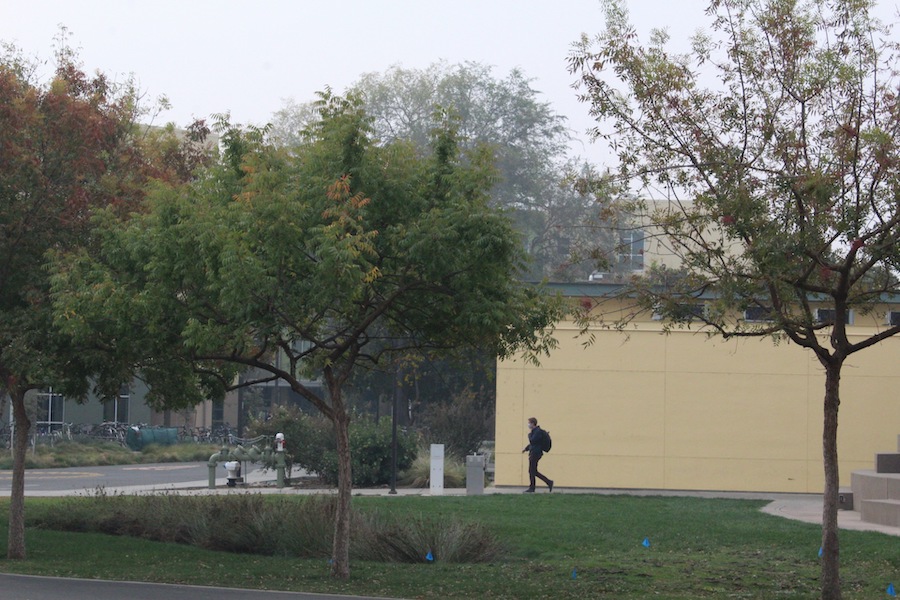 City, residents, homeless affected by smoke
Update (15 Nov. 2018, 7:33 p.m.): AQI in Davis has risen to 323.
The Butte County fire has affected students and residents alike, as the air quality index in Davis has reached up to 305 as of 6 p.m. on Thursday. Sacramento's AQI has reached up to 311. Both Davis and Sacramento's air qualities are categorized as "hazardous."
Several college campuses, including UC Davis; California State University, Sacramento and San Francisco State University closed the past few days and will close again Friday, Nov. 16 due to the health concerns associated with the poor air quality. Davis Joint Unified School District, along with other school districts in Yolo County, have closed schools and all offices for Friday as well.
"We anticipate the conditions to improve significantly over the next week and look forward to a return to normal school routines, outdoor activities and athletics after Thanksgiving Break," according to the DJUSD website.
Josh Buren, a Sacramento resident who sells laboratory equipment to UC Davis, explained that he has to work from home all week since campus is closed.
"I actually ended up having to tell several coworkers to cancel their flights for different events on campus this week," Buren said. "Although I have barely left the house, I have noticed that [there are] plenty of people who still think it's safe to bring their dogs to the dog park across the street. Thoughts and prayers go out to all of those affected across the state."
Several other events were canceled, including the annual Davis Turkey Trot. Sacramento Metropolitan, El Dorado, Feather River, Placer and Yolo-Solano Air Districts advised to "stay indoors and avoid outdoor activities.
UC Davis and the City of Davis are offering a limited amount of N95 masks at the Memorial Union and the fire department. Boxes of free masks were stationed outside of the Davis Fire Department downtown on Fifth St. Local stores that usually sell the masks were completely sold out as a result of residents stocking up.
Not all people, however, have the means to purchase the masks. Many homeless people around the city are without masks, breathing in the hazardous air. The California Aggie called several homeless shelters to see if the homeless were being provided masks, but did not receive any response. It is unknown if they are currently open. Family Promise of Sacramento, a nonprofit organization in Sacramento, said that it was not providing masks.
It is recommended that residents remain indoors as much as possible and take precautionary measures when stepping outside, such as wearing masks. Conditions are expected to improve over the weekend.
Written by: Kaelyn Tuermer-Lee — city@theaggie.org