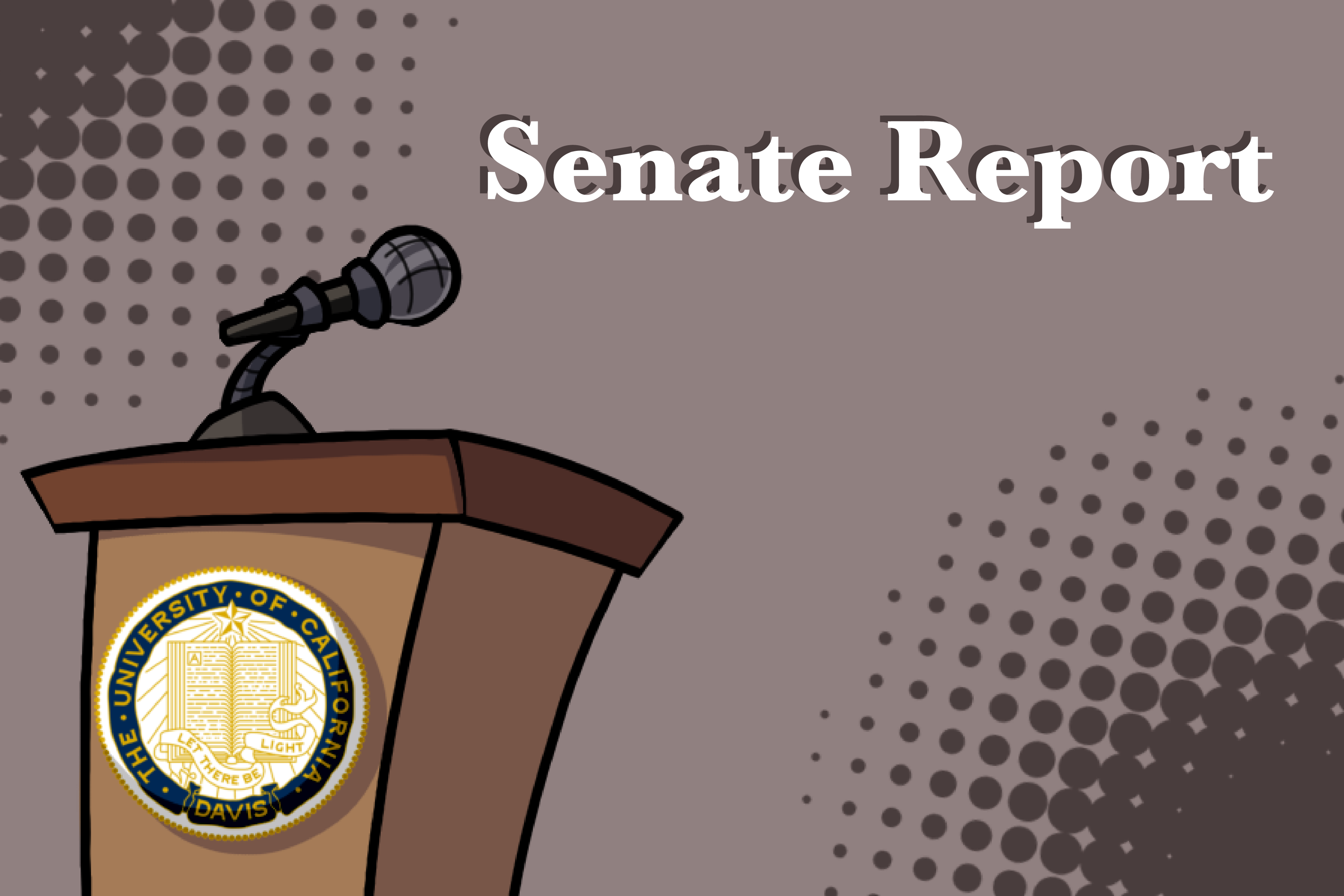 President discusses targeted attacks within association
The Nov. 1 ASUCD Senate meeting was held in the Mee Room of the Memorial Union and was called to order at 6:10 p.m. Absent on the roll call were Senators Devo Leichter, Daniella Aloni and Brandon Clemons. Senator Alisha Hacker had to leave early, and Senator Simran Kaur sat in as senator pro tempore in her place.
The meeting opened with a moment of silence for the victims of the Tree of Life synagogue shooting in Pittsburgh, Pennsylvania.
After the moment of silence, the Senate meeting began. The meeting consisted of quarterly reports by ASUCD units, held association member confirmations, voted on existing legislation and introduced new legislation.
Emily Stack, the editor-in-chief of The California Aggie, delivered the newspaper's quarterly report. Stack highlighted the completion of fall hiring for the newspaper and confirmed that the the staff is at full capacity. She also mentioned that the newspaper was now being printed at The Sacramento Bee as a logistical and cost-saving measure.
Stack also said that the digitization project to scan past editions of the newspaper online received full funding and the effort should be completed by the spring of 2019. Stack also announced the inclusion of video features to further foster the publication's online presence.
Regarding Stack's report, Rina Singh, the Ethnic and Cultural Affairs Commission chair, asked about the process in which the newspaper's editorial board opinions are written and approved. Singh then inquired whether the minutes are read beforehand when an opinion piece is written about the Senate.
Stack responded and said that the editorial staff meets four times a week where editors each give two ideas, and then the board decides on the most important topic to write about. She then said that the editors generally read minutes before writing a Senate-based editorial.  
Senator Ko Ser Lu Htoo asked if the video service will have any overlap with Aggie Studios. Stack said that she is working closely with the Aggie Studios director, and hopefully the work will generate "discrete enough content so we won't step on their toes."  
Up next was the Bike Barn's quarterly report. The Bike Barn is an ASUCD unit that repairs, rents and sells used bicycles on campus. Co-directors Jacob Wagner and Oscar McBain delivered the report and said that the Bike Barn's move-in weekend event was a record-breaker for the shop. They also highlighted that in October 483 flat tire repairs were made as compared to 293 during the same period in 2017.
Senator Alisha Hacker asked the two co-directors if the cost of wages affected their pricing. They replied, saying the increased minimum wage has affected their labor costs. They hope that the increases haven't affected students, however, and they are trying to make processes more efficient to maximize the budget.
Up next was the Refrigerator Services' quarterly report. The director of the unit, Mohammed Qayum, gave the financial and rental results, outlining that 326 microfridges and 83 mini refrigerators were loaned out. Microfridge deposit refunds totaled $12,780 and mini refrigerator deposit refunds totaled $830, with total sales at $48,420. Qayum, who is leaving the position, expressed a concern for warehouse safety as refrigerators are stacked three-high, and said that the next unit director will need to issue a plan to get a forklift.
Next came the quarterly report for the Mental Health Initiative Committee. Co-directors Milly Judd, a third-year animal science major, and Katrina Manrique, a fourth-year English and history double major, delivered the report. They expressed concern about health providers not accepting students covered under the UC Student Health Insurance Program, as well as the providers receiving SHIP decreasing.
They said that in Student Health and Counseling Services (SHCS) there were long lines and wait times for counseling appointments. Judd and Manrique announced that the Health Awareness Week held earlier in the fall was successful.
They also promoted the upcoming Mental Health Conference which will be held from Jan. 12 to 13 at the UC Davis Conference Center. Conference registration will be free and the event will feature 12 workshops. The workshops will feature a range of speakers and topics — representatives from Saint James Infirmary will focus on the health and safety of sex workers in the U.S., there will be presentations by the Gender Health Center on how to ally with the transgender communities and The Happiness Project will focus on personal self-care.
Senator Jumoke Maraiyesa asked about efforts to create a buddy system to check how people are doing. Judd said that during a meeting this fall, a Google form was posted seeking individuals who may need help and support, and they matched people up as a result. Singh asked about their current outreach efforts. Judd said that though they do not counsel people because they are not health care professionals, they distribute handouts listing resources where people can find help. Judd also mentioned that during the conference there will be panels and professional workers on hand to provide information.
The Senate then moved to unit director and unit member interviews and confirmations. Jose Benito Martinez, a third-year political science major, applied for the Refrigeration Services director position that was to be vacated by Qayum. Martinez was endorsed by Gofman who said Martinez "stood out for his good work ethic" and mentioned his previous experience with refrigerator services. Martinez was confirmed without objections.
The Gender and Sexuality Commission (GASC) member confirmations came next. Deirdra Bradley, a fourth-year international relations major, Rebecca Canfield, a third-year biology major and Daniel Tillman, a fourth-year political science and history double major, were interviewed for the position. The GASC commission chair Joelle Barnard offered her support for the candidates, saying "they were all knowledgeable about the issues and really cared."
Htoo asked the candidates about what leadership and outreach meant to them. Canfield said that a leader needs to be a good listener. Bradley said that a leader needs to know when to be a follower and "know when to step back and also know when your idea is valid and stand by it." Tillman added that GASC must be representative of the communities they serve, so therefore "listening is important." All members were confirmed without objection.
Consideration of new legislation came up next.
Senate Bill #18 to create the Transfer, Reentry and Veterans Committee was sent to the Internal Affairs Commission for review. And Senate Bill #17, which would allocate $7,313 for The Pantry to purchase solid steel shelves, was sent to the Business and Finance Commission.
Up next was the discussion and approval of old legislation.
Senate Bill #7 looked to make grammatical edits to the description of the Ethnic and Cultural Affairs Commission and Gender and Sexuality Commission in the Bylaws. The measure was passed with amendments.
Senate Bill #15 aimed to define and structure the meaning and intent of "urgent legislation" language. After a protracted discussion, the bill was passed with amendments.
Senate Bill #16 aimed to reduce paper waste by eliminating paper copies of Senate meeting minutes. After discussion, the bill was passed with amendments.
Status of Previously Passed Legislation was approved and signed.
Also during public discussion, Gofman addressed concerns within the association.
"The same people that accuse others of being divisive do the same thing they're accusing others of doing," Gofman said. "It's completely inappropriate to go around the table asking my friends to join their ludicrous attempt to slander my reputation. What good does it go to go behind my back?  … Trying to target members of this association and saying they're corrupt or colluding secretly behind backs for the sake of your own personal political gain doesn't help students in this university. Do your job. Don't engage in petty politics."
Ex-officio Reports and Elected Officer Reports were given. The past meeting's minutes were approved and the meeting adjourned at 9:30 p.m.
Written by: George Liao — campus@theaggie.org