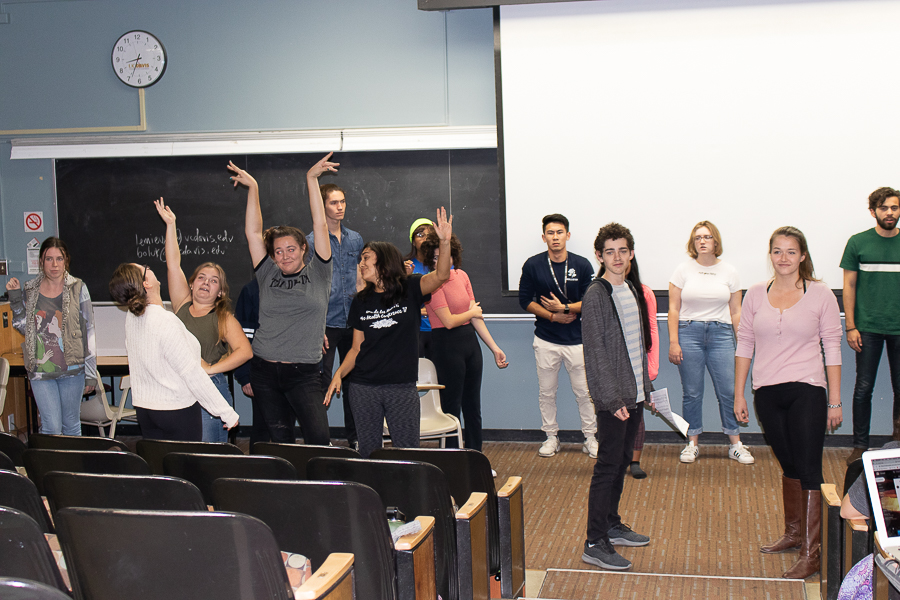 Fall production to feature compilation of musical staples
In the basement of Wellman Hall there's a cluster of undergrads singing their hearts out in preparation for the upcoming fall review: "Movie Musicals!" The small classroom does not stop them from running lines and practicing their choreography.
With directions being shouted from the entrance of the hall as the students run their numbers, the group takes the instructions as they go, which goes on for two hours. Studio 301's fall production will be a review, directed by Myah Daniels, a fourth-year communication major. Stage manager Jillian Yong, a second-year international relations and theatre and dance double major, explains what a review is.
"It's basically like a concert of sorts," Yong said. "It's cabaret style, meaning they're just going to be performing a bunch of different songs not necessarily in conjunction with each other. It's a lot of fun, it's just a feel-good show. It's not going to make you question life afterwards, which is great for midterm season."
The review will feature numbers from "Hairspray," "Little Shop of Horrors," "West Side Story" and many other popular musicals. The list of songs was chosen by Daniels, but there was a bit of flexibility to the selection process. Julie Torres, a third-year managerial economics major and actor in the show, discussed the process of how the review's songs were chosen.
"There were some [songs] that people auditioned with, and [Daniels] was like, 'Oh that person is good for that song, maybe I'll consider adding that song in,'" Torres said. "So, typically for reviews, the director chooses the songs."
This year's review is guaranteed to be one for the books. There will be songs from old musicals and new dance moves to go along with it.
A member of the Studio 301 Board Gracie Unger, a second-year psychology major and one of the show's choreographers, talked about her castmates, along with having to deal with the responsibility of choreographing nine of the 13 numbers in the review.
"I think that this cast is just spectacular," Unger said. "There's actual choreography, which is really something that we haven't done for a review before, like having choreographers and actual movements, so I think that this is a step up of where it's normally been in the past."
As the students rehearse, Unger can be found showing the steps to the number in the middle of the classroom.
"I think it always helped me having someone visually there," Unger said. "Especially when you haven't run something for a while, having someone guide you through it for that first time is super helpful."
"Movie Musicals!" marks the first time Unger has been a choreographer for Studio 301.
"It's one of the great things about Studio 301 — you can try out anything that you haven't tried out [before]," Unger said. "Like if I wanted to do tech for the first time ever, they'd be like, 'Sure!'"
Nicole Richer, a first-year animal science major, is excited to be part of the production.
"Right now, I'm in two numbers," Richer said. "My solo number is called 'Still Hurting' from 'The Last Five Years' and it's such an emotional, in-depth number. I love the show 'The Last Five Years,' so I was really excited for that, and then I'm singing as part of The Dynamites in 'Hairspray.'"
Studio 301 was founded in 2007 and is currently run by undergraduate students from a variety of majors. This club targets students who enjoy theatre but don't necessarily want to pursue it as their major. Studio 301 performs many different types of shows, from reviews to musicals to plays.
"I did theatre a lot growing up," Unger said. "And there's nothing like a group of theatre kids that accept you for whatever you are and whoever you want to be and are just such an inclusive environment."
Studio 301 gives students the opportunity to be either in the production, in the club or in both.
"It's kind of fun to be part of the group that brings everybody together," Yong said. "I personally am not much of a performer, but I enjoy the arts, so it's fun to still be a part of that whole process, but in my comfort zone."
For some, "Movie Musicals!" will be their last production with Studio 301.
"This show means a lot to me because there's a lot of people that I know in this show that will be leaving next year," Torres said.
This review is a light-hearted one, mixing different genres of music into one night for people to enjoy.
"Movie musicals just make people so happy and it brings non-theatre people into the theatre world and then they want to learn more," Richer said.
"Movie Musicals!" has exciting musical numbers that are fun to watch and the kind of entertainment that would make for a perfect night. In rehearsal, the students laughed at themselves when they got the lyrics wrong and this friendly environment is sure to be exemplified during the review itself.
"Movie Musicals!" will be playing Nov. 16 to 18 at Lab A in Wright Hall. Tickets are $8 for students and $10 for general admission. More information can be found on the production's Facebook event page.
Written by: Itzelth Gamboa — arts@theaggie.org