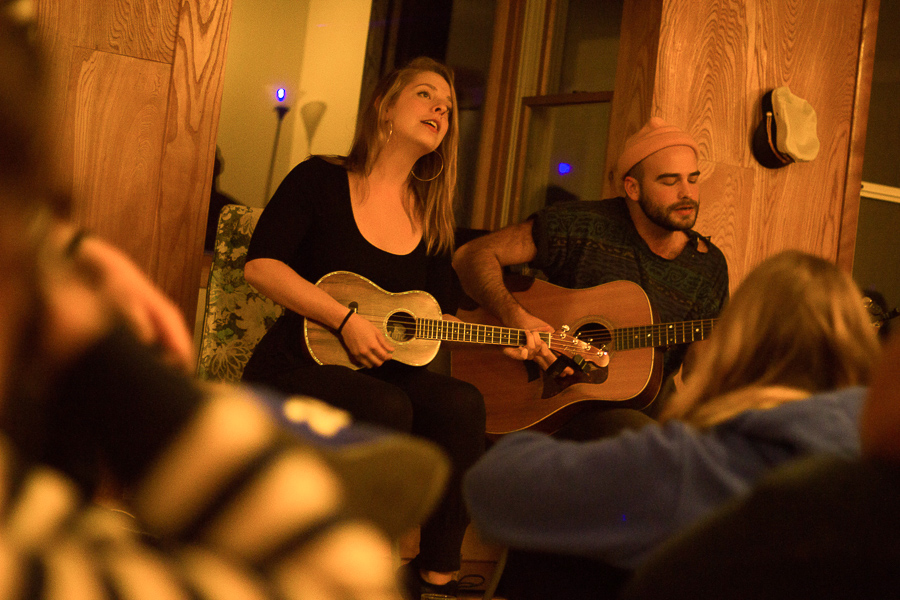 An evening with Julia Nunes
On Nov. 7 at 7 p.m., my housemates and I hosted a living room concert for Julia Nunes, a musician with over 230,000 Youtube subscribers who is known for her heartfelt covers, incredible voice and talented songwriting. As the house bustled with excitement for Julia's upcoming arrival and performance, the intimate nature of the "living room show" was reflected in the friendship and connection that everyone in the house had established.
By 8 p.m., when the show began, everyone had met each other, shared stories about how they had found the concert and bonded over their connection to Nunes' music. The various degrees of familiarity with Nunes' music didn't matter. Some people had never heard her music before, some had attended previous shows and some had never seen her but had been following her music since her start.
The varied makeup of the group created a special atmosphere of diverse relationships to the music that was about be performed. Everyone understood that they were about to share an experience that could only be shared in that living room, embracing the vulnerability and irreplicable nature of the present.
When Nunes arrived with her bandmate Chase Burnett, the energy of the house rocketed. As she walked in with the same humble demeanor of someone attending the show, set up her merch on our kitchen table and sat on one of our rickety chairs, she introduced herself and Burnett in the same friendly manner that everyone in the audience had done with one another for the last hour.
This concert marked Nunes' third stop on her living room tour.
"I love living room shows because I actually get an answer to my questions that I ask instead of just the 'woo' that you get at bigger shows,"  Nunes said. "It's my favorite way to play music and see music."
Between each song, Nunes explained what inspired her to write the song she was performing, connecting each audience member to her music in personal ways as she described honest feelings of happiness, heartbreak and self-reflection. With each introduction the audience laughed, nodded in agreement or looked around at one another, affirming that Nunes had just sung or said something that related with an experience that everyone could understand.
Austin Carroll, a fourth-year human development major who had never been to a living room show before, enjoyed Nunes' song explanations.
"I think this was one of the most real performances that I have been at because I really knew what the songs were about and what they meant to her because she got to talk more," Carroll said. "I think when you go to a bigger show they still perform vulnerable and real songs and even sometimes explain them, but it's always in a much bigger setting. Here, I felt like she was having an open conversation with us when she explained everything behind each song."
Before the show ended, Nunes hosted a question and answer portion, engaging the audience, urging them to ask her anything they wanted.
"We can talk about any number of things, it doesn't just have to be about music," Nunes said, further encouraging openness and honesty.
When an audience member asked Nunes if she still felt nervous before releasing songs, Nunes answered, "Yup," taking a pause before expanding on her answer in a comical and authentic manner that mirrored her incredible personability.
"The songs that are about about my heart being, you know, pulverized, those are scarier to release, and I honestly think that a big portion of why this next record is taking me so long is because I'm just not ready yet," Nunes said, testifying to the raw vulnerability and emotion behind her music.
J.J. Flax, a fourth-year design major who had only started listening to Julia Nunes after she bought her tickets, reflected on Nunes' honesty.
"I liked when she was talking about her current headspace and how she can't put up a preformative front right now," Flax said."I could tell she didn't seem like she had put up any wall or mask at any point of the show, which I think set the tone for the rest of the concert because we all settled into this chill realness."
This "chill realness" continued throughout the night, as she ended her show and welcomed everyone who wanted to take pictures and chat with her. As everyone stood up and looked around, it was apparent that they had all been emotionally moved by Nunes' music, and moreso her ability to connect with those sitting in the living room.
After everyone left, only my housemates, Nunes and myself remained. We turned up the music as Nunes led an impromptu dance party. For Nunes to stay and hang out with us, even for a few minutes, was a testimony to the type of person she is. As Nunes laughed and danced with us, she became our friend, leaving us and everybody who attended her show with a role model who embodies comfort, creativity and honesty.
Written by: Rosie Schawrz – arts@theaggie.org