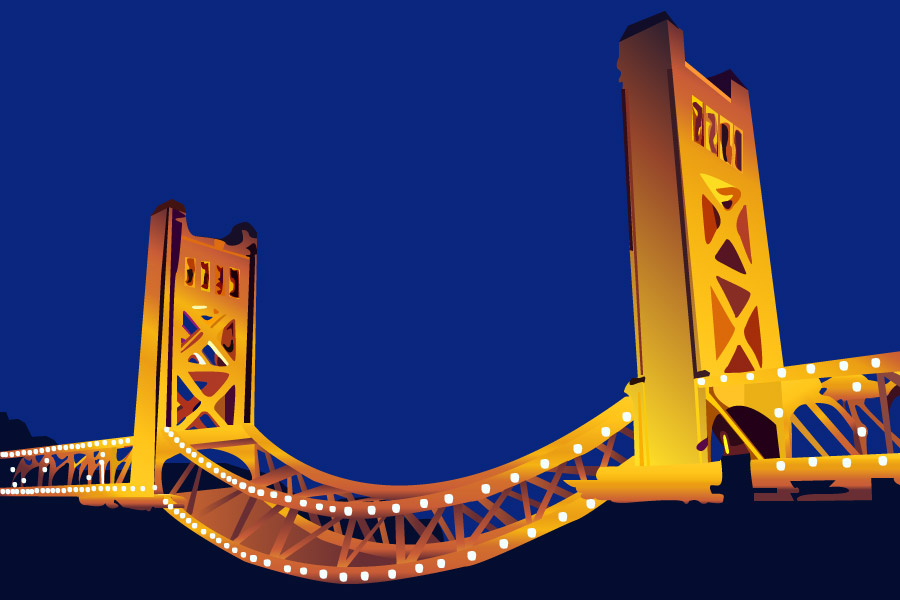 Tower Bridge replacements in progress in Sacramento
Tower Bridge in Sacramento is under repairs and will receive new suspenders as a safety precaution. California did not want to wait any longer on taking precaution against possible accidents so the maintenance projects have been in effect. Caltrans confirmed, however, that the bridge itself is not sagging.
Mike White, a Caltrans engineer, said that the bridge's two-inch thick cables will be replaced because of the potential for future deterioration.
"They've never been replaced before, as far as we can tell," White said to The Sacramento Bee. "They're actually in pretty good shape. But it's good to be prudent. Nothing lasts forever."
Dennis Keaton, a Caltrans public information officer, emphasized that the bridge was not sagging, and that the state was simply taking care of the bridge.
"What happened is that those were the original supports, [and] the bridge is 85 years old," Keaton said. "What they have are these suspension supports that need to be replaced."
Caltrans had specific measurements in mind and went ahead with starting the project.
"They had to do testing, and they wanted to make sure that everything that is in place still conforms to the measurements or they had to be replaced," Keaton said. "At some point, they made a decision to go ahead and replace that."
The project served as maintenance for the bridge, which is expected to be complete in December. Not only will Caltrans consider the suspensions, but other forms of maintenance will be done as well.
In the project's description, Caltrans noted that "the work will upgrade the existing security/communications system, replace 48 incandescent lights with energy efficient LED lighting, replace the traveling cable system, conduct NDT testing and maintenance of the counterbalance chains, and replace the 96 counterweight wire ropes, required to operate the bridge opening."
Even though the maintenance project has been ongoing, traffic has not been significantly affected.
"The traffic has been reduced to one lane in both directions," Keaton said. "In doing so, it typically backs traffic up specifically in the morning and afternoon. But regular times are normal — no major disruptions."
The estimated repair costs for Tower Bridge total $5.8 million.
"The project started late September and has been ongoing," Keaton said. "They had to do some nighttime closures — complete closures — but during the day times, they kept it to one lane opened in both directions."
Caltrans also warned that motorists will have to be on the lookout for the closures.
According to Caltrans' press release, they are "alerting motorists to expect continuous lane closures on the Tower Bridge."
In addition to motorists having to watch out for the closures, bridge access is more limited than before. The press release also stated that "waterway traffic must contact the U.S. Coast Guard for clearance approval and bridge access."
There are multiple changes being made on the bridge in terms of maintenance like upgrading the electrical and mechanical systems. While the expected deadline will be in December, there is some leeway due to other variables — such as weather — that may affect the work.
Written by: Stella Tran — city@theaggie.org