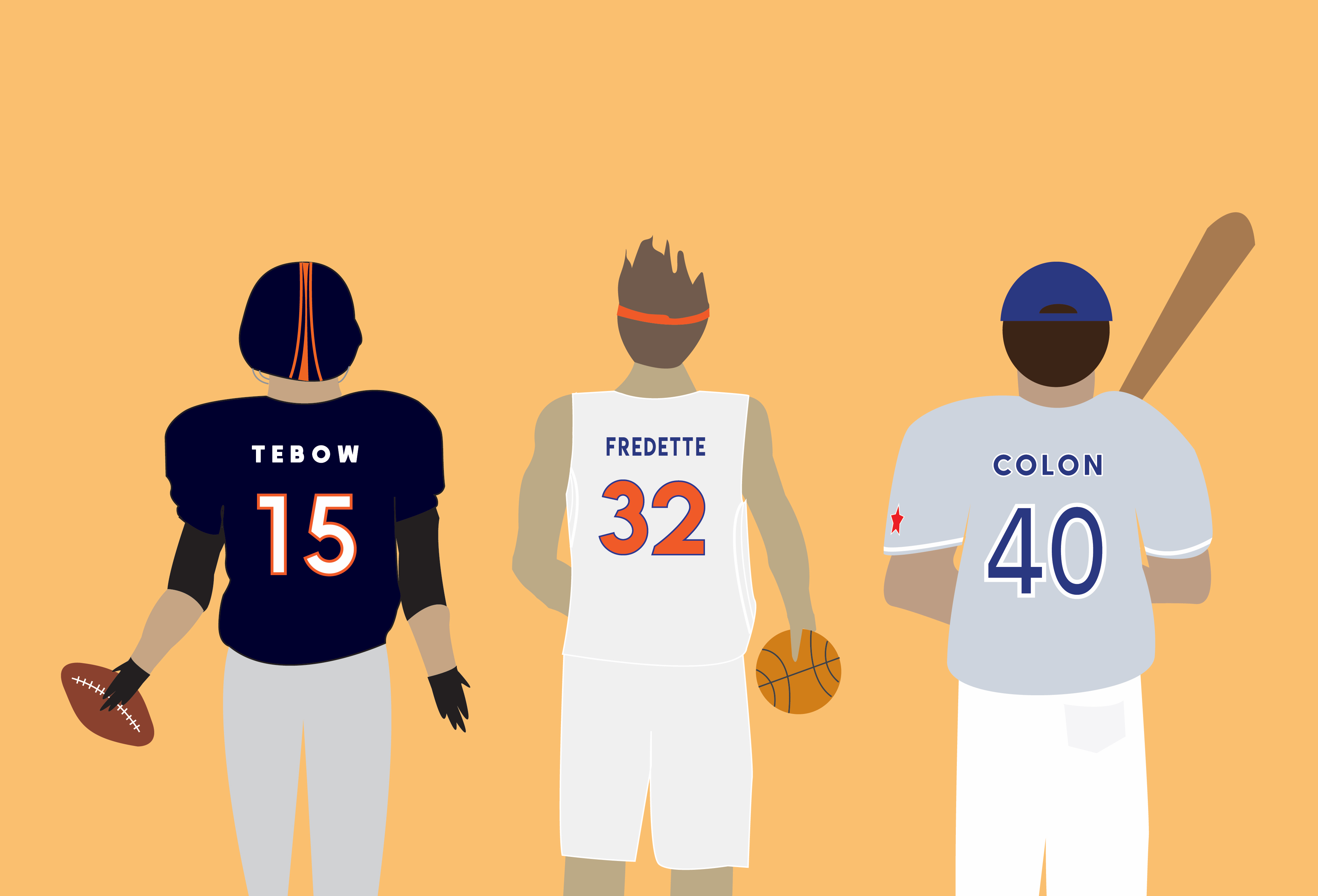 In the cutthroat world of sports, fame finds some in ways they don't expect
Throughout history, folk heroes –– both real and fictional –– have occupied a special place in the lexicon of human society. Some, like Paul Revere, whose largely embellished ride across the colonies screaming, "The British are coming! The British are coming!" have become household names. Other heroes are fictional and serve as representations of a specific time in history. But unlike these traditional figures, the heroes of American professional sports are much more contemporary and are very real indeed.
While most athletes accrue a larger-than-average following with their on-court play, every sport has athletes who have made their mark on popular culture through means other than all star performances. Like Ernest Lawrence Thayer's classic poem "Casey at Bat," where fictional baseball player Casey strikes out in epic fashion as 10,000 crazy fans cling to every pitch, some athletes have forged a tale which is equal parts folklore and performance. They have become synonymous with the fanfare and the legends which attached themselves to their legacies, which may have otherwise been different without the attention.
Some of these players, such as former college football star and NFL quarterback Tim Tebow, build up a cult-like following in their college days, which carries over to professional careers. For Tebow, who made his name in college as a Heisman winning quarterback for the University of Florida, his college success never truly carried over to the NFL. His signature celebration, Tebowing, became a national sensation. Despite a moderately successful sophomore season in which he started 11 games and led his team to a playoff victory over the Steelers, Tebow only lasted three years in the NFL.
Some claimed that Tebow's inability to secure another chance to build off his successful season was in part due to the fanfare he attracted. Outlets around the country theorized that the media blitz surrounding his every move and his outspoken religious views were too much of a distraction for the team to justify keeping a quarterback with his limited skill set around.
After a series of failed comebacks with both the New England Patriots and the Philadelphia Eagles, Tebow followed in the footsteps of another folk hero in his own right: Bo Jackson. Jackson famously played professional baseball and football in the late eighties and early nineties, with far more successful results on both ends. Since 2016, Tebow has played baseball in the New York Mets farm system. Despite a less-than-spectacular post-college career however, Tebow continues to be a household name, analyzing games for ESPN, writing books and even selling products in commercials.
Like Tebow, former NBA point guard Jimmer Fredette had a storied college career which brought his name into the national spotlight. Jimmermania, as the media dubbed it, swept over the nation as people were wowed by the Brigham Young University point guard's seemingly infinite shooting range and fantastic scoring performances. Unlike Tebow, Fredette, who was picked 10th in the NBA draft, never saw much of any success at the professional level. He was out of the NBA within five years, many of which were spent on the bench.
Fredette's recent career has taken him overseas, where players such as former NBA All-Star Stephon Marbury have found a second wind. Playing for the Shanghai Sharks, Fredette has found the success which evaded him in the NBA, averaging 38 points-per-game in his first season overseas in 2016.
The path to becoming a folk hero in sports however, does not necessarily begin in college, nor does it need to end in disappointment. While Tebow and Fredette had to deal with early expectations, NBA guard Jeremy Lin rose from relative obscurity before making a name for himself. Lin found decent success in playing at Harvard but ultimately went undrafted. After a forgettable rookie season playing just 29 games for the Golden State Warriors and 20 more for the Reno Bighorns of the NBA D-League (now the NBA G-League), Lin's title as an NBA player was questionable at best.
The following season, Lin was signed by the New York Knicks but sat on the bench for weeks or played occasional minutes in blowouts. As injuries and poor-play plagued the team, the Knicks put Lin into a game against the New Jersey Nets even amidst talk of waiving him. Knicks Coach Mike D'Antoni called Lin's number, and he responded with 28 points and 8 assists off the bench.
What ensued in the following weeks was christened Linsanity. One good game turned into a stretch of unexpected success as Lin began to take over the headlines. One game, it was a buzzer-beater against the Raptors. Another, dropping 38 points against NBA superstar Kobe Bryant. While Linsanity lasted just a few weeks, Lin managed to go from fringe NBA player to appearing on back-to-back covers of Sports Illustrated.
Despite struggling with injuries since his initial rise to stardom and never fully living up to the astronomical standard that Linsanity may have set, Lin continues to be a valuable NBA player, now for the Atlanta Hawks.
Folk heroes can come from many backgrounds across many sports. Bartolo Colon, who continues to pitch two-decades into his career, has become a folk-hero in the world of professional baseball. Colon, a large man who goes by the nickname "Big Sexy," has long received attention for his comedic at-bats. While few pitchers are known for possessing an ability on offense, Colon's tenures in the National League have been met with laughter, causing many to revere him with equal parts ironic praise and awe. In 2016, while hitting for the New York Mets, Colon made MLB history, becoming the oldest player to hit his first home run at 42 years of age.
In 2017, John Scott, a little-known enforcer for the Arizona Coyotes, was part of a joke campaign that eventually got him voted into the NHL All-Star Game. Despite being traded from his team and pleas from the NHL not to accept the invitation, Scott went to the All-Star game and became an alternative hero to some before the game ever started. Many criticized the NHL for not going along with the movement.
What happened next went from ironic internet joke to heartwarming moment, as Scott, whose wife was expecting twins, scored two goals in the game and was carried off by teammates as the MVP. Scott played just one more NHL game before he retired.
Becoming a folk hero in the cutthroat world of sports can come at any second. Whether it's a college career that bleeds into the pros or a fluke set of circumstances which turn the unknown into household names overnight, the legend of these players lives on in a way altogether different than those who win MVP trophies and championships.
Written by: Bradley Geiser — sports@theaggie.org