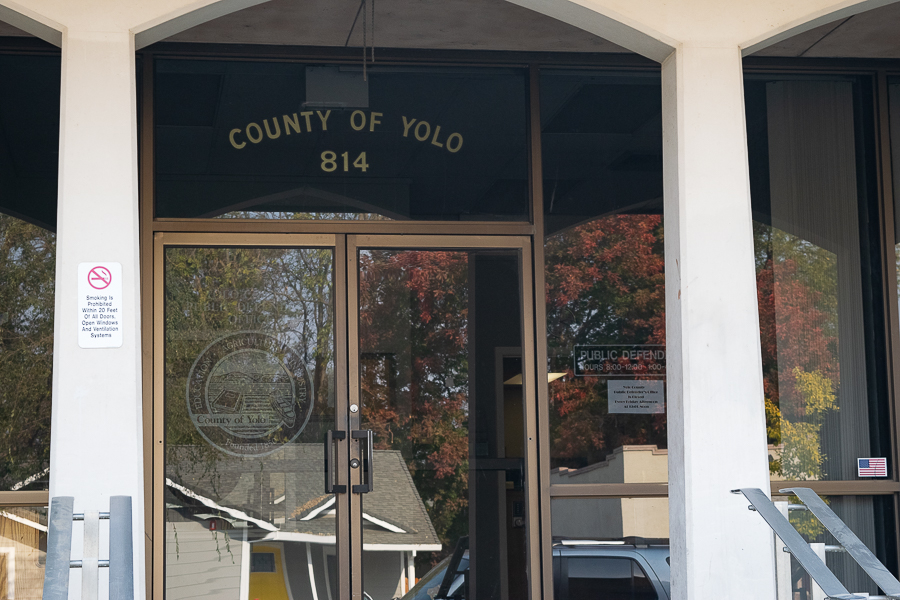 Yolo County Public Defender's Office hosts annual clothing drive
The Yolo County Public Defender's Office Social Work Program is back with its annual clothing drive to help ease the transition from Yolo County Jail back into the community.
Emily Kochly, an adult social worker for the Yolo County Public Defender's Office, stated that this is the office's third year hosting the clothing drive, which dates back to 2015.
"The clothing drive started in response to seeing a need for basic necessities upon release from the jail as a part of our release planning services," Kochly said. "We were often asked by clients for basics or warm clothing, and we felt like that was a need that we could fulfill."
The program started on Nov. 1 and will continue until Feb. 28. Mercedez Durgin, a fifth-year social work major from California State University, Sacramento, elaborated on her experiences with the program as an intern at the office.
"A good memory I have is that one of my clients that I have helped was very thankful to receive clothing," Durgin said. "He essentially went into the jail without anything, without shoes and he thanked me probably around 10 times that I was able to give him shoes and some warm clothes."
Kochly emphasized how inspired she was by the people who come to donate and help out with the program.
"I'm inspired by the community's response to our population," Kochly said. "We serve marginalized and underserved individuals within the community. All of our clients are indigent. Many of our clients are homeless, and to see the community acknowledge how hard life can be for our clients on a day to day basis and want to help is really inspiring. It's been wonderful to see the community step up and it encouraged me to host the clothing drive each year."
In addition, Durgin was inspired by how supportive the community was, as well and their feedback.
"What inspires me is how well the community supports our clients and the people that are being released," Durgin said. "We have a good amount of feedback from people who want to help support and donate to the clothing drive reaching out to us already."
Kochly elaborated that they look for items that can still be worn.
"Last year, we always asked for gently used items and a few items that we ask to be new like socks and underwear," Kochly said. "Something that jumps out to me is that last year we got from people who came and donated brand new coats and sweatshirts, which was unexpected and really heartwarming. Moreso, to give those kind of items — like a really nice coat to somebody who just got out of jail and realizing that they may be spending their first night on the street — they're very, very appreciated, and you know that they are a little more safe and warm with those kind of supplies."
Tracie Olson, the Yolo County public defender, added that there are certain struggles the homeless population faces that are taken for granted, according to Davis Enterprise.
"Our homeless population faces a constant litany of daily living challenges," Olson said. "Basic things such as where to get clean water and where to safely sleep through the night are a daily, harsh reality for those that have no place to call their own."
The new goals for this year include fundraising for more supplies and basic necessities as the drive is interested in giving away more than clothing.
"We hope to replenish what we gave away from last year and stock up on winter necessities," Kochly said. "In addition to this program, we're also going to be starting a fundraiser, which will happen in February of 2019. The goal is to gather funds so that we can supplement someone's sizes if we do not get those donations, and we can purchase from Goodwill or the dollar store. We will also supplement the closet with other necessities like bus passes or food cards — things to help people get to court or so that they do not go hungry. We want to provide more services to those in need."
Olson stated that their mission was to alleviate the needs of their clients.
"By providing weather-appropriate clothing and other supplies to our neediest residents, we hope to provide a degree of protection from the elements, lessen their need for emergency services and give them a degree of physical and emotional warmth they do not always receive," Olson said.
Written by: Stella Tran — city@theaggie.org