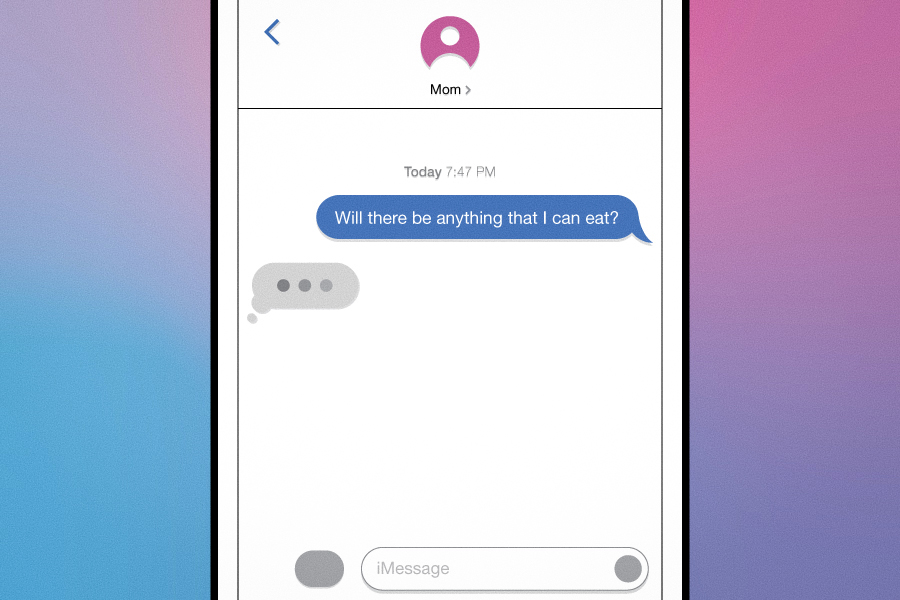 Exploring options for plant-based Thanksgiving
Thanksgiving is a time to appreciate the company of family, give thanks and enjoy a traditional American dinner. Popular dishes include turkey, ham, stuffing, gravy, mashed potatoes, green beans, cranberry sauce and more. Turkey is usually the main course at these meals across the country, which can complicate things for vegetarians and vegans alike.
About 5 percent of Americans consider themselves vegetarian and 3 percent consider themselves vegan, according to a Gallup poll conducted in August 2018. While plant-based dieters certainly don't represent a majority in America, they have a presence in this country. Although some dishes like mashed potatoes and other vegetables are usually vegetarian, the holiday of Thanksgiving has never been geared toward people abstaining from meat or those who cannot consume it.
For vegetarians and vegans, Thanksgiving dinner does not have to consist completely of sides. There are currently many meat alternative options on the market, and there are many dishes that can easily be made free of animal products so as to ensure the inclusion of vegans and vegetarians in celebration of this holiday.
Tofurky is a company that produces a cornucopia of vegan options year-round. Near Thanksgiving, it offers many turkey alternatives such as a plant-based roast and wild rice stuffing, a plant-based roast and gravy, a plant-based holiday feast and a year-round ham roast. The roasts themselves are made with both vital wheat gluten and tofu. The company website includes recipes using the Tofurky roast and a store locator to find its products, which can currently be found at Nugget Market, Whole Foods, the Davis Food Co-Op, Savemart and Safeway.
Field Roast is a company that produces many different vegan products but specializes in what it calls "grain meats." None of its products contain soy, and they use vital wheat gluten as a main source of protein. It provides a variety of roasts that can easily be used as an alternative to turkey or ham for Thanksgiving. These roasts include their celebration roast, hazelnut cranberry roast en croute, celebration roast with traditional bread stuffing & mushroom gravy, classic meatloaf and a smokey forager's roast. Its products are not as widely carried as Tofurky, but its website includes a store locator, and can currently be found at the Davis Food Co-Op, Nugget Market and Walmart.
Gardein is another company that creates entirely vegan imitation meat products. Its Thanksgiving offerings include a holiday roast, savory stuffed turk'y and a turk'y cutlet. These three options all include soy protein isolate and vital wheat gluten. Its website contains a store locator as well and their products can be found at the Davis Food Co-Op, Safeway, Nugget Market and Savemart.
Side dishes are usually a safe bet for vegetarians and vegans, but even dishes that usually contain animal products can easily be altered. Stuffing can be made with vegetable broth and dairy-free butter to remain vegan. There are currently many vegan butters offered at stores, such as the brand Earth Balance, which is a comparable substitute for butter in many dishes. Other dishes such as sweet potatoes and green beans can very easily be made either vegetarian or vegan. In terms of gravy, Simply Organic sells vegetarian brown gravy pouches, and Pacific Foods sells organic vegan mushroom gravy.
Thanksgiving is certainly not the most ideal holiday for vegans and vegetarians, especially for those who are the only ones with dietary restrictions in their family. Eating meat in America is a common practice, especially considering how small of a minority vegans and vegetarians are in the United States. This can make participating in Thanksgiving and other meat-centric holidays like the Fourth of July and Christmas awkward for those wishing to refrain from eating animal products.
There's a wide range of meatless options to choose from for Thanksgiving, which helps to ensure that vegans and vegetarians can have a savory and satisfying meal while enjoying all the other pleasures of Thanksgiving. These options are certainly not exact replacements for turkey, meaning they most likely won't taste identical to turkey, but they can provide a substantial and filling entree for those abstaining from consuming meat this holiday season.
Written by:  Ethan Pearson — arts@theaggie