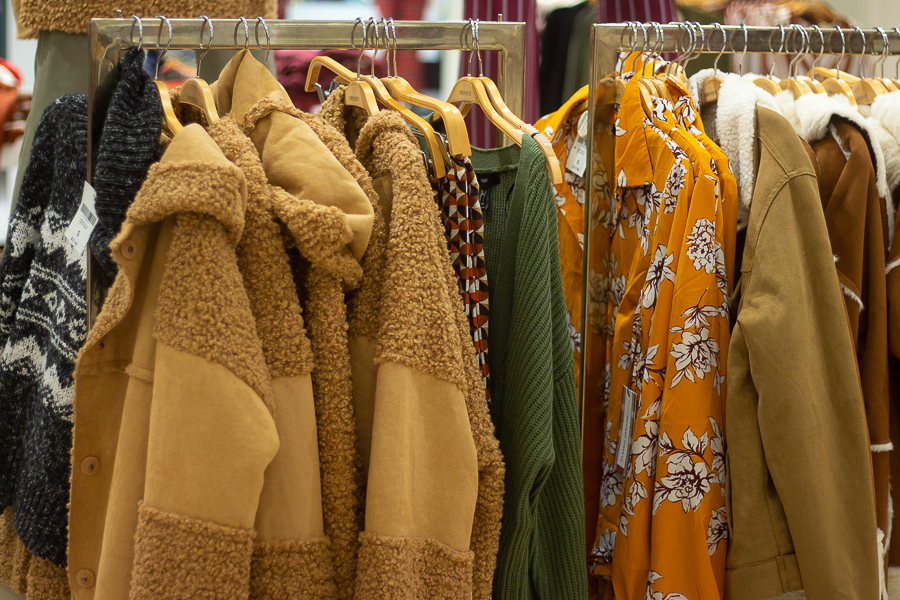 Nine ideas to help keep up a fashion sense
It's that time of the year again, when it's much too cold outside to even care about which sweater is being thrown on. Even though the winter season can diminish the pep in one's step, there is no reason why it should dim wardrobes. The cold often makes people prioritize staying warm over having a fashion sense, but there is no need to put one above the other. Here are some tips to help you keep up a stylish wardrobe amidst the cold weather Davis will soon have.
Accessories are a must when ears become victim to early morning frost, and the best way to fight this, while still looking good, is beanies. Wearing a beanie with a topper, like a puff or a pom pom, will give the outfit a warmer feel than just a regular beanie. Normally, a regular knit beanie is perfect for bad hair days, but in the winter, it's perfect for a put-together outfit. While beanies are an essential part of winter, any type of hat can add a little something different to an outfit. A baseball cap with a bomber jacket creates a casual, everyday look. With the cap, it's easy to keep that pesky rain out of your eyes. However, be careful not to look down too much –– we don't want any crash collisions outside the library.
For cold and rainy days, scarves are the perfect go-to. Scarves make an outfit pop, whether it's a bright color or a detailed pattern, and protect necks from the cold and wind, which causes dry skin. Choose a thick wool scarf to offset a lighter, sleeker coat. Avoid pairing thick bomber jackets or puffy layered coats with thick scarves to avoid looking bulky. If the day is especially chilly, a blanket wrap scarf is the perfect answer.
There are a lot of options to choose from when picking a jacket, but a leather jacket is always one for the books. The black jacket's sleek design never fails to make a statement. The bold look can be worn easily with a plain, long-sleeved tee and jeans. Adding pins to the jacket can create a little flair.
The right gloves keep your hands warm and cozy. When riding a bike or walking around in Davis, gloves are just what you need to brace yourself for the chill.
Once it gets into the 70s, it's safe to say that it isn't cold enough for a bomber jacket to work, but it is safe for some cute printed socks. Roll up those jeans to show off a pair of brightly colored or different patterned socks. Patterned socks always make an outfit fun –– whether it is multiple printed flowers or an intricate painting of "Starry Night," having different colored socks are sure to make people smile as they walk by.
Shoes can always make a statement and ankle boots are sure to call attention, not just because of the sound the heel makes as you rush out of class. Make sure to check the weather before deciding which booties to put on. Suede ankle boots are a must for when it's cold. However, when it is pouring rain or there is an occasional hail, it's best to stick to ankle boots that are made out of a material specifically for rain, like leather or rubber. Combat boots are a solid gold find in thrift shops, and when they're lying around in the Target sale section, it's even better. These boots serve looks for all genders, whether the style for the day is edgy or chic. Combat boots are sure to help with ongoing rainy weather for anyone heading to their dreadful morning classes.
Duster coats are a recent fashion trend taking over. When the weather gets a little warmer, but still not warm enough to ditch the long sleeve, try pairing a long, colorful duster with a plain long sleeve. If the day seems a little colder, a black turtleneck will go perfectly with a tan or navy blue sleeveless duster. If the day is a little warmer, go with a cream colored turtleneck and a pink sleeveless duster or vice versa. When wearing a duster, try sticking to booties instead of the thicker boots.
Accessories and jackets are a must for the weather, but which jeans you wear can make or break an outfit. When things need to be changed up a little, patterned jeans add the perfect something-something. These jeans have come back in style as of late. Adding a pair of patterned jeans to a plain long sleeve is the way to go for a simple yet fashionable look. Striped black and white jeans go well with a cream colored top, whereas green plaid jeans match perfectly with a black long sleeve and combat boots.
When it's just one of those days and a last minute outfit is desperately needed, a cute sweater is always the way to go. Throw on an oversized comfy fleece sweater and a pair of leggings and the outfit is done. This lazy outfit is sure to be an easy yet stylish one if worn right. With leggings, comfort is always the biggest pro, but putting on that oversized shirt or sweater makes the outfit a little cozier and a lot nicer.
These tips and ideas will make this winter a more stylish one. Although it may seem like it at times, the rain won't last forever, and it will be smooth sailing into spring once again.
Written by: Itzelth Gamboa — arts@theaggie.org