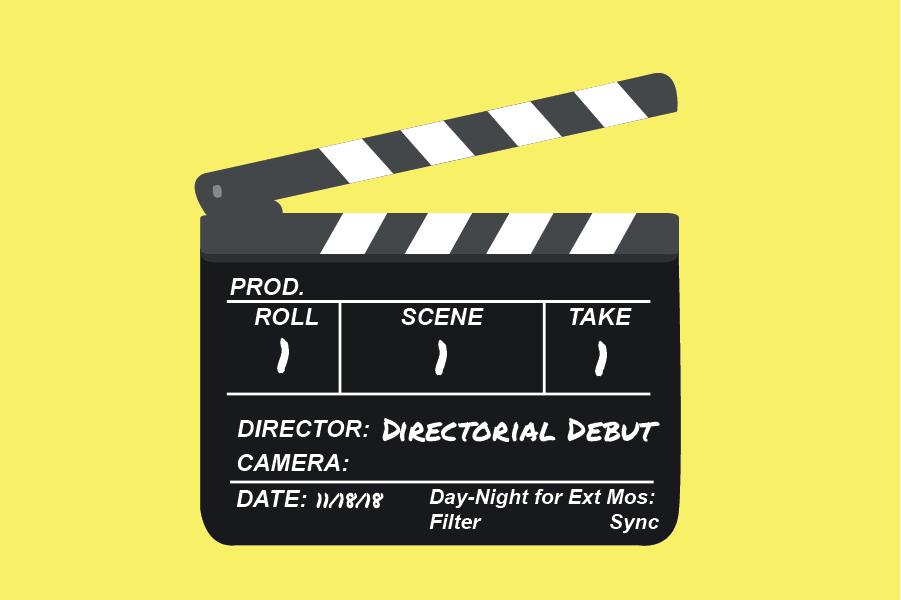 Directorial debuts that extend beyond the screen
There is a unique feeling of excitement that accompanies walking into the theatre to watch a movie you have been eagerly waiting to see. Usually, by the time the movie comes out, the pressure is so high that it either ends up exceeding or disappointing whatever expectations you had.
With directorial debuts, the pressure is even higher. This year has seen a lot of excellent new movies interspersed with many blockbusters, remakes, and awaited sequels. Familiar names have arrived with a large amount of directorial debuts that seemed to gain more attention than other films.
This special attention comes from the excitement of seeing someone new choose how they want to portray and present their own vision of a story. It's often unexpected and unique. There are many interesting choices and style implementations that fall within expected directorial conventions, while also experimenting and attempting to create a director's own style. Occasionally this experimentation goes too far, and the audience, who watch with a more critical eye, are careful to notice when a new director might be trying too hard. However, when done well, the audience is even more fulfilled as the movie has validated the exciting potential of many more movies from this new director.
Adding to the already rising pressure, this year introduced many directorial debuts from actors and figures that people were already familiar with. Movies like "Eighth Grade," directed and written by Bo Burnham, "Mid90s," directed and written by Jonah Hill, "Wildlife," directed and written by Paul Dano and "A Star is Born," directed and written by Bradley Cooper, provided insight into the creative vision of actors beyond their onscreen roles.
Moving behind the camera, it is clear that these movies reflect each actor's personalities in a more introspective way than their performing ever could. The audience, who watched Bo Burnham's stand-up, followed Jonah Hill since "Superbad," respected Paul Dano for his performance in "There Will Be Blood" (or better yet as Dwayne in "Little Miss Sunshine") and admired Bradley Cooper as a critically-acclaimed actor and People's Sexiest Man Alive in 2011, already had expectations for these new directors before their movies debuted. For these new directors, their movies are more personal, because they show the audience what they were never able to show while playing another role.
Bo Burnham, whose movie features an eighth-grade girl to depict his own experiences with anxiety and adolescence, discussed his personal connection to the story with Rolling Stone:
"My experience, the way I describe it, is that my nervous system is like a bull and I'm riding it […] and I just have to hold on to it and not get thrown off and break my neck," Burnham said. "Being in the world with anxiety is like riding that bull and looking around and everyone's an equestrian. Kayla doesn't even say the word anxiety. She thinks, I'm the only one feeling the way that I'm feeling."
As the audience watches eighth-grader Kayla struggle with anxiety, they also come to understand the anxiety that Burnham has struggled with his entire life. The movie is more than an exploration into modern day adolescence, but an insight into Burnham's relationship with the world around him.
In "Mid90's," Hill beautifully portrays L.A. skate culture of the 90's. He wrote about the importance of this film in his "Inner Children" issue with A24:
"I really believe everyone has a snapshot of themselves from a time when they were young that they're ashamed of," Hill wrote. "For me, it's that 14-year-old overweight and unattractive kid who felt ugly to the world, who listened to hip-hop and wanted so badly to be accepted by this group of skaters."
"Mid90s" is a direct insight into the psyche of Hill and his childhood insecurities and experiences. While Hill never skateboarded himself, he found solace in the fashion, music and attitude of skating culture. The movie reflects almost a fantasy of Hill's in which he gets to live out his childhood dreams of being accepted into the skateboarding community by depicting the friendship and camaraderie of a group of skaters. If the movie had been directed by anyone else, it could have told a similar story, but it would have lacked Hill's own vulnerable expressions of insecurity and isolation.
For Dano, who has always been respected as a serious and esteemed actor, his directorial debut came with different expectations than the comedic characters who follow Burnham and Hill. In his interview with Independent. Co, Paul Dano expressed his preference for directing over acting.
"So much of your work you do before you arrive," Dano said. "So when you come to set, you might be carrying that spirit with you, and even though I'm engaged with a great actor across from me, and we're doing a scene and we're collaborating, we're communicating […] I don't know, it's just different" Dano said. "Directing is like playing in a band […] You're in concert with everybody, and it's so collaborative, and you're really trying to get the best out of everybody. You're being a bit of a parent almost."
As the story of "Wildlife" unfolds, Dano's attention to colors, detail and camera angles is shown in a manner that confirms his serious consideration for every moment of the film. This movie echoes the thoughtful, emotional and understated persona that Dano has, but it is done in a manner that only Dano himself could have presented. It is an embodiment of Paul Dano. There is no mask. It's as if Dano has chosen to direct a film he would have been cast for, but this time he used his directorial authority to make the decisions and choices that he would have made for himself in other roles if given the chance.
For Cooper, "A Star is Born" received immediate attention and mainstream acceptance because of his name and his casting of Lady Gaga. However, the film served as a much deeper and personal project for Cooper about addiction, fame and family.
"In terms of this story being personal, a lot of it has to do with my father […] there's a lot of things in the movie that no one else would know, but they were little things that I did, created, in order to keep my father close," Cooper said in an interview with NPR.  
In many ways, Cooper articulates what most of these actors have been trying to explain. These movies are personal, often in ways that the audience will never be able to fully understand.
Although every director inserts themselves into their movies in the same way that these actors have expressed, the difference is these debuts challenge and attempt to exceed the expectations and classifications of personality and persona that they have accumulated through their fame as actors. These films are both for the audience and for the actors themselves as they try to define and understand themselves apart from the identities already assigned to them.
Written by: Rosie Schwarz — arts@theaggie.org