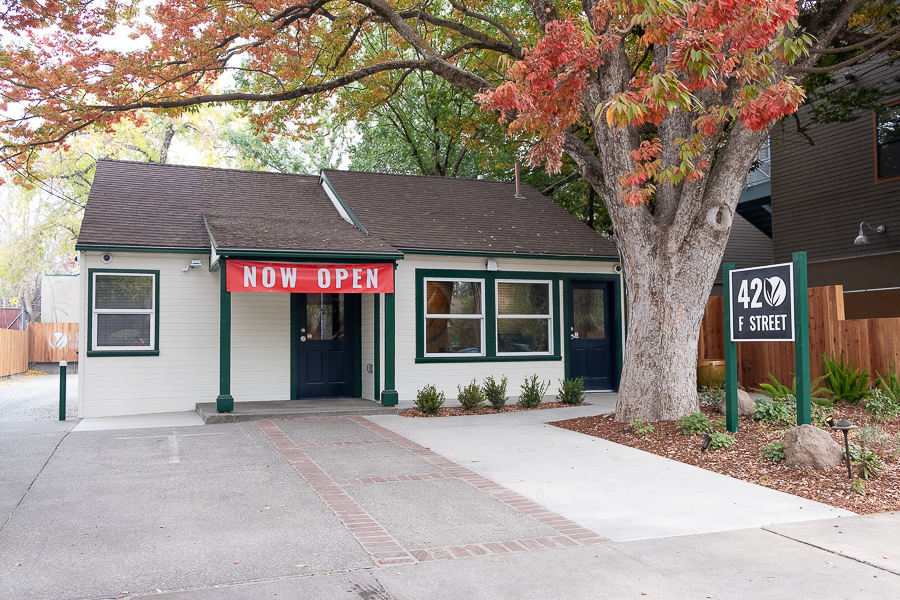 F Street Dispensary is locally owned, operated
Local brothers Rob and Mike Read have opened F Street Dispensary, Davis' first downtown cannabis dispensary. The dispensary has been open for a month and hosted its grand opening from Nov. 17 to 18.
F Street Dispensary underwent a yearlong application process prior to city approval, competing with 13 other dispensaries for five conditional use permits. It is currently the only dispensary located downtown.
"[The reception has] been really good," Rob Read said. "People are excited that there's finally a downtown dispensary open and they're excited about the product we have."
During the application process, Rob Read began working with Consult Your Community, a UC Davis student-run, nonprofit organization that provides consulting to local businesses.
Devika Watave, a second-year economics and history double major, joined Consult Your Community during Spring Quarter of last year and has since worked among a team of four students to help Rob and the dispensary.
"Regardless of what [city council's] decision was, we wanted to put our best foot forward and try to help him in any way that we could," Watave said.
Now that F Street Dispensary has been chosen and the dispensary has opened, Consult Your Community's work has transitioned to helping the dispensary navigate UC Davis policies and find effective ways to appropriately engage with students.
Rob Read talked about the importance of working with the UC Davis community.
"We are excited to serve students and we know there's an opportunity there, but we don't just want to do it in a way that is against how the university feels we should," Rob Read said.
University policy has affected the dispensaries approach to marketing, as all businesses must adhere to university advertising rules. For example, flyers are prohibited unless they advertise nonprofits. Also, the dispensary cannot partner with clubs that receive funding from ASUCD, as those clubs are subject to federal law.
In addition to mutual support with Consult Your Community to find appropriate advertising solutions that follow these university guidelines as well as state and federal laws, the dispensary has also worked with King Hall Cannabis Law Society and the National Cannabis Bar Association. Rob Read spoke at their Cannabis Careers Panel and Networking Event, a weeklong panel that allowed cannabis industry practitioners to talk to students about the legal challenges a dispensary faces.
"We are very grateful to be in a college town that my brother and I love very much," Rob Read said. "Even though neither of us attended UC Davis — we went elsewhere — we wanted to get out of our hometown. We love the university [and] we're big supporters."
Watave noted that another challenge the dispensary has faced is worries from neighbors about how the dispensary will affect their own businesses.
"During the application process, there were a lot of people who spoke out about not wanting a dispensary opening near their businesses because it might affect their customers," Watave said.
Rob Read claimed some neighbors had unrealistic expectations for the dispensary.
"The neighbors' biggest concern is parking," he said. "That and, you know, worrying about people lighting up pre-rolled joints right as they've left, and we told them the whole time that that's not what we expect to happen. That's not what happens at other dispensaries, and we're not seeing those things come to a reality."
Rob and Mike Read have had a long relationship with the neighborhood.
"We've owned the property with another family for 23 years, so we're not new to the neighborhood or the town, and we have a vested interest in making sure that cannabis sales are done in a professional, legal way that reflects the values of the community," Rob Read said. "That's very important to us."
F Street Dispensary manager Jonathyn Newson said he appreciates the opportunity to be part of building the business from the ground up and to right some of the wrongs he's seen in the cannabis industry.
"I'm coming from a place that's been around for a while — they're kind of in their ways," Newson said. "I like that [F Street Dispensary is] open to doing what's right for the customer."
According to Newson, the first month of operation has been a success.
"I've seen everybody from all walks of life, every demographic here," Newson said. "Everybody seems to have a smile on their face, so [it] seems good."
Written by: Anne Fey — city@theaggie.org