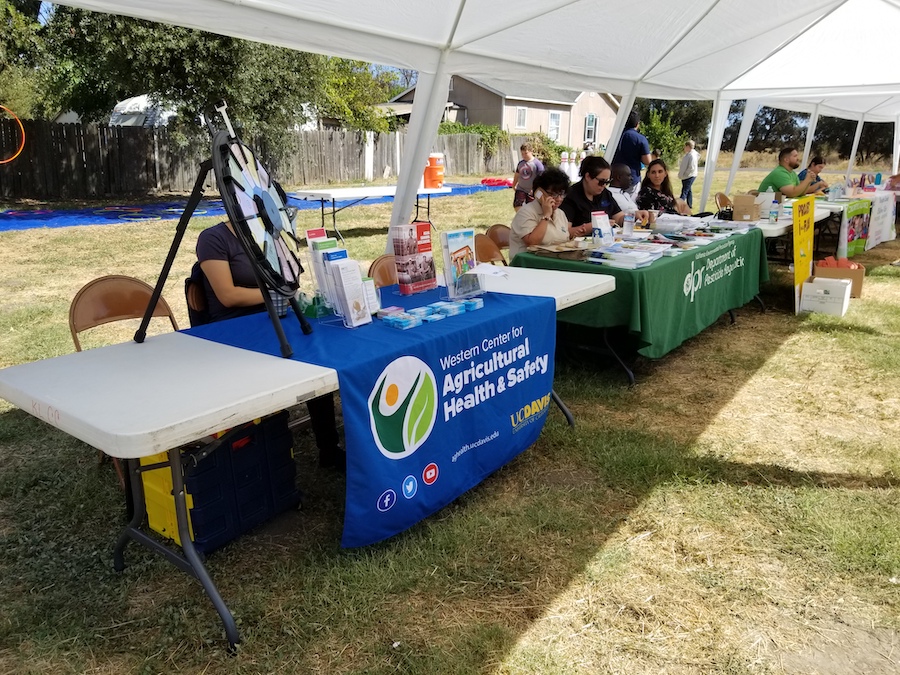 UC Davis students work alongside Knights Landing Community members to address health concerns step-by-step
Often while driving on Sacramento highways, large diesel-fuel trucks carrying loads of tomatoes can be seen. But these tomato trucks and agricultural machinery leave the Knights Landing community with more than produce. Residents have raised a growing number of health concerns, from the pesticides sprayed blocks away from their homes to high cancer rates. UC Davis researchers aim to address these concerns to aid the community's efforts to make Knights Landing a healthier place to live.
Skye Kelty, a fifth-year pharmacology and toxicology Ph.D. candidate, investigates lung cancer association with air pollutants. Naphthalene, a volatile organic compound produced by combustion, a solvent in pesticide sprays and an active ingredient in mothballs, presents a risk for farm workers exposed to diesel-fuel trucks and farming equipment such as tractors and agricultural burning. Kelty works with lung and liver cell cultures to model human interactions with naphthalene exposure, searching for impaired signaling pathways leading to cancer.
"It's like surveying arsenic in water," Kelty said. "We know that arsenic is a toxic metal found within other communities. Here, we want to see if naphthalene is present or not present in community spaces. The data from our lab will help determine how the EPA and California regulate chemicals for safety thresholds and how we apply them to agricultural communities."
Community members encounter crop dusters and tractors spraying pesticides across agricultural fields blocks away from their homes. Daniel Moher, an environmental toxicology researcher, and Tiffany Jow, a fifth-year neurobiology, physiology and behavior undergraduate researcher, measured pesticide usage in Knights Landing in comparison to other agricultural regions.
"Crop dusters go up without warning," Moher said. "One lady described that you get very worried when you see an airplane spraying chemicals into the sky. A lot of the public data available is not user-friendly, so it's difficult to find out information about what chemicals are spread around this community."
Moher and Jow found that Knights Landing was exposed to four times as much total pesticide pounds and eight times as much carcinogenic pesticides compared to organic agricultural regions such as Capay Valley.
"Our MPH students found sixty-two percent of residents live near a farm field, running the risk of pesticide drift where pesticides blow over to people's houses and they have no control over what is happening," Jow said.
One significant pesticide identified in their study was chlorpyrifos.
"Chlorpyrifos is also potentially carcinogenic pesticide," Jow said. "It is known to have neurotoxic and developmental effects on infants and fetuses."
From 2011 to 2015, over 5,000 pounds of chlorpyrifos were applied each year onto fields. The Knights Landing elementary school stands two blocks away from the fields.
Knights Landing is losing trust in its water supply. A community member survey conducted by Promotoras, a passionate female community of leaders and advocates, found sixty-six percent of community members use bottled water out of fear of contaminated public water systems.
Another component of Kelty's research lies in environmental sampling, through dust and water collection within homes with the help of Promotoras.
Kelty, her research team and the Promotoras encountered sensitive social barriers while engaging the Knights Landing community in their research study, including home ownership, mental health and chronic health conditions. They were challenged to design a comprehensive health survey for rural communities to assess and monitor their health.
Kelty and her research team collaborated with Knights Landing One Health Center to host festivals to create spaces to share ideas, stories and research findings to improve overall health.
"We are committed to leaving long-term resources by building a community garden and other projects," Kelty said. "We're working on county and nonprofit partnerships to put our general data and public health survey in the hands of people that can implement solutions for this community. We also want to use Knights Landing as a model for what other rural communities may be facing — to inspire action about environmental pollution. We are developing tools on our website, including how to get a researcher out to rural communities, to let them know that we hear their experiences and we're here to validate them."
Written by: Foxy Robinson—science@theaggie.org