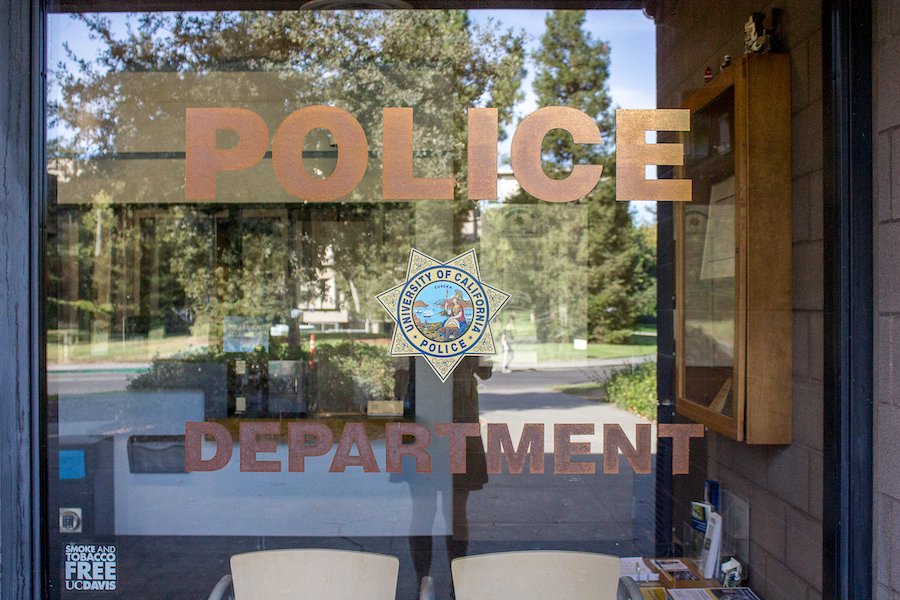 UC Davis Police Department offers two cadet programs for UC Davis students, staff, faculty, community members
The UC Davis Police Department offers its cadet program for students interested in law enforcement. The program has been offered to students for the past five years and was created by UC Davis Police Officer Ray Holguin and former UC Davis Police Chief Matt Carmichael in order to connect with students interested in law enforcement.
The cadet program is free to all students as long as they meet the minimum eligibility requirements. According to the UC Davis Police Department website, the cadet program begins on January 12, 2019 and runs until April 20, 2019.
"We thought we'd focus on this academy being in addition to students' education not instead of, so we focused on seniors who were graduating and/or grad students," Holguin said. "We opened it up to only take 25 of the top cadets."
Holguin added that the program is scholarship-based, meaning at the end of the program, the top one or two cadets are sent to real police academies within California.
"Right now, we're using Sacramento Police Department Academy and Napa Valley Academy," he said.
Holguin also mentioned that two students, who were part of the graduating class of 2018 and the cadet program, were actually hired by the UC Davis Police Department to become police officers by the end of this year.
The cadet program has a number of minimum qualifications that UC Davis students need to meet.
"You have to be a senior in good standing with the university, graduating no later than June of the year," Holguin said. "The cadets that are coming in this year have to be graduating by June of 2019. With that being said, if they didn't pass a class or they have to take an extra quarter, we're not going to kick them out of our academy, we just can't sponsor them into a police academy. We want them to get their four-year degree first — that's their priority."
Holguin also explained the process potential cadets will go through, which includes an interview assessing a candidate's level of interest in law enforcement and reason for applying to the cadet academy.
"We want to make sure that their commitment to time is there," Holguin said. "We preliminary accept them if we feel it's a good fit for both of us. Then we have them get fingerprinted, which we pay for. They have to pass a simple fingerprint background check. If they pass that, then we bring them on to be a cadet."
The cadets will meet for an hour of physical fitness on Tuesday and two hours of either physical fitness or classroom work on Thursdays. They will also need to commit to meeting from 9 a.m. to 4 p.m. on Saturdays.
Holguin described the program as a "pre-police academy" and linked the program to actual police academies.
"Police academies are run by POST, which is police officer standing and training," Holguin said. "We take those learning domains that they've learned in the police academy, and we apply it here. We bring in different instructors who are experts in their fields throughout the academy. For example, when we do search and seizures and laws of arrest, we bring in the district attorney's office from Yolo county to come in and present that. We introduce them to pepper spray and taser and all the laws."
According to Holguin, the cadets that participate in this program are involved in lots of community outreach.
"Throughout the year, the campus community invites us to help them out with different events that the cadets will be part of," Holguin said. "Last year, we got asked by a student who was doing a cigarette butt abatement. They needed to do some surveys to see what the next direction is on the zero tolerance on cigarettes, so our cadets went around and collected cigarettes throughout the year so they could do some statistical stuff."
A community outreach event that Holguin implemented a few years ago involves the cadets going to Fourth & Hope, a homeless shelter in Woodland.
"We feed the homeless," Holguin said. "[But] I take it a step further: I make the cadets figure out what the menu is going to be, how we're going to create the menu, we're going to cook it, we're going to set it up, then we're going to feed them and go out there and sit with the homeless population and talk and communicate with them. We really engage in our community."
Addressing students who may be unsure about applying to the cadet program, Holguin said the program is a great opportunity to learn what the police do and build a bridge with the police department.
"They can get a better understanding of why we do what we do and how we do what we do," he said. "It's also a great opportunity if you have any insecurities or confidence issues — this will help build that. We're going to teach you self-confidence in the physical fitness part. We're going to test you to test yourself. You're going to see self-improvements."
Holguin emphasized that people from all different backgrounds should consider applying to the cadet program.
"We really want everyone in this program to be from people who are interested in being a police officer to people that are in forensics to people that are anthropology majors who are interested in what we do and know that it will give them some insight," he said.
Another program run by the UC Davis police department is the Police Community Academy, which is scheduled to start Jan. 16, 2019 and ends on March 13, 2019. The police department described this academy as a "nine-week course" that is "open to all UC Davis students, staff, faculty, as well as citizens in the community."
"It's more like a seminar," Holguin said. "There's no homework, but every week we introduce a new topic. We bring in the district attorney, we do a tour of the jail, we bring in our canine, we talk about search and seizure, use of force. It's a great opportunity, no homework, and we give you two units for it."
Students can apply for the cadet program through an application posted online and can also register for the community academy online.
Written By: Sabrina Habchi — campus@theaggie.org