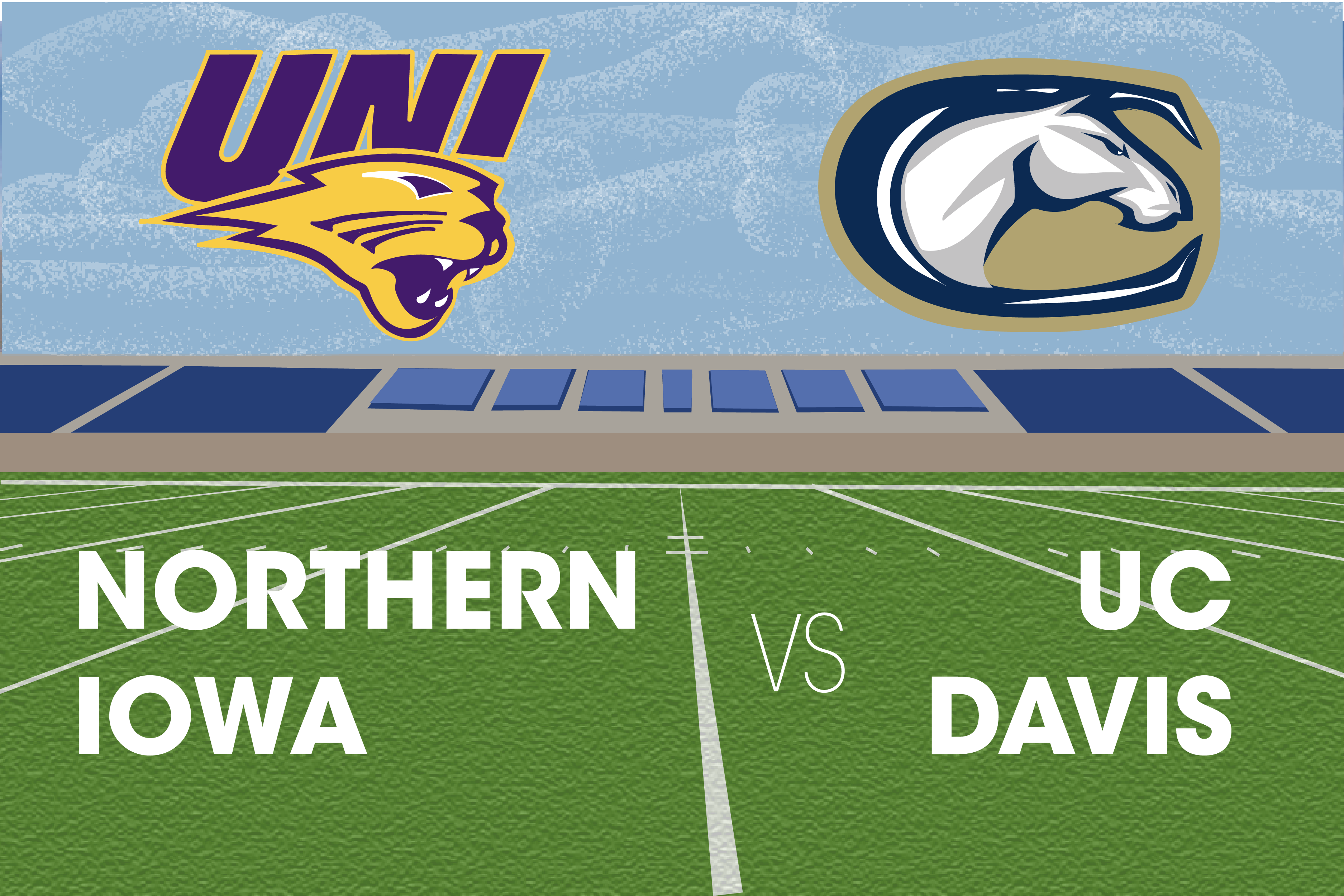 Aggies will take on Northern Iowa on Saturday at 4 p.m.
Aggie Stadium will host its first-ever FCS playoff game on Saturday afternoon when the UC Davis football team takes on the Northern Iowa Panthers in a second round matchup.
UC Davis students are encouraged to come out to the stadium early for a special student tailgate starting at 1:30 p.m. Some of the attractions for this free event include live music from DJ Gio, food trucks, free Pepsi products, $2 pizza and $3 beers (for students aged 21+). In addition, tickets to the game are free for students, thanks to the partnership between UC Davis Athletics and ASUCD. Tickets can be picked up in advance at the CoHo or Aggie Stadium ticket office.
"It's a big day for the program and school, so we look forward to sharing that day with everybody," said junior linebacker Nas Anesi.
Early weather reports indicate a rain-free day with mostly sunny skies, much to the delight of UC Davis head coach Dan Hawkins.
"Let's pack this thing!" Hawkins proclaimed. "It's not finals yet, let's go! The weather's going to be great. It's been a little rainy lately, but it's going to clear up."
Saturday's affair will be televised nationally on ESPN3, giving the entire nation a chance to see what UC Davis is all about.
"Let's really show the country what kind of great community and school we have here, and put on a show for everybody," said offensive coordinator Tim Plough.
After a wildly successful 9-2 run in the regular season, the Aggies earned the No. 6 seed in the FCS playoffs and a first round bye.
Meanwhile, Northern Iowa was victorious in a first round game last weekend, edging Lamar University 16-13 in a low-scoring slugfest.
"I think they do a really good job of running the ball and have a very physical o-line, one of the best we've seen so far this season," said junior linebacker Nas Anesi. "We look forward to the challenge of being physical and it being a hard-nosed game."
The Panthers finished fourth in the Missouri Valley Conference this season with a mark of 6-5. Their biggest victory of the campaign was a 24-7 triumph over South Dakota State, the fifth-seeded team in the tournament.
This is the fourth time in the last five seasons that Northern Iowa has earned a berth into the FCS playoffs, advancing to the second round three times and making a run to the quarterfinals in 2015. All in all, this is UNI's 20th FCS postseason appearance.
"When you get to this point in the year, there's only 16 teams left in college football playing right now," said junior quarterback Jake Maier. "They're one of the elite. We have a lot of respect for them in what we've seen on film."
In fact, Northern Iowa has participated in this tournament eight times in the past dozen seasons, showing remarkable consistency year in and year out.
"They're used to the schedule, the grind, and going on the road," Hawkins said. "They're used to playing football in December. It's new for our guys and something we set out as a goal when we started a long time ago."
Without divulging their game plan, the Aggies have shown confidence in the strategies they've been constructing this week.
"We feel like our gameplan does a great job of attacking them where they might be weak in other areas," Maier said. "We're hopeful we can execute that plan."
The team has closely studied Northern Iowa on film this week and picked up on some trends, many of which will influence their plan of attack on Saturday afternoon.
"They like to drop a lot of people in coverage, so we'll prepared for everything," said senior wide receiver Keelan Doss. "If they try to switch up their game plan, we'll adjust to that as well. At the end of the day, it's just going out there and executing our game plan and getting ready to go."
The week-long break, combined with the Thanksgiving holiday, was not only a chance for UC Davis players to rest and heal their bodies, but also a rare opportunity to return home and spend time with friends and family. Outside of the team's regular season bye week in late September, players have not had the freedom to leave campus for an extended period of time and truly take their minds off football.
"During the football season, you don't get a lot of time to see your family because you're always out there grinding," Maier said. "Anytime you get a break to be with your family and the people that've been supporting you all season long, it's really special."
Even with this brief intermission in the season, Hawkins has been impressed with his team's focus in practice this week and commended its level-headed nature throughout the long season.
"We try not to have a parade or have a funeral, and just really learn to take it all in everyday and hang in there and get better," Hawkins said.
This type of attitude has continued to pay dividends on the field and will ensure that the team keeps its composure in a high-pressure environment on Saturday despite the lack of playoff experience on the roster.
"None of us have ever been in this situation at all," Maier said. "The guys have really been motivated all season to get to this point. Now that we're finally here, we just have to remind ourselves that it's the same game we've been playing for the last 11 weeks. If we do that, we'll be just fine."
Throughout the fall, Maier has been a huge proponent of pushing his teammates to yearn for more and never be satisfied with where they're currently at.  
"Just having that championship standard is really what we've been focusing on," Maier said. "Just coming out here everyday and practicing at the highest level we've been at all season long. We're always trying to climb to the next level."
Plough took notice of this attitude from the first day of the offseason and gives a lot of credit to the players for taking charge of their own destiny from the very beginning.
"Once the last game ended a year ago, they worked for this moment and they deserve all the credit," Plough said. "We [the coaches] are kind of just along for the ride, if we can help in any way. It's a great feeling to be a part of as a former Aggie and it gives me a great deal of pride to see those guys play the way they do."
Anesi also credited the mental aspect of the game as a pivotal reason for the team's drastic improvements on the defensive side of the ball, compared to last season. After giving up an average of 32 points per game last year, the UC Davis defense cut that number down to 27.8 this season, which is the fourth-best mark among teams in the Big Sky. It also finished second in the conference in both sacks and interceptions.
"It's just the mindset," Anesi said. "Everybody's on the same page and wants to achieve the same goals. With that unified mindset, we were able to accomplish a lot of things and people start to realize how much potential this team has and how talented we are."
No matter what happens on Saturday afternoon, this will undoubtedly go down as one of the best seasons in UC Davis football history, and a true turning point in the program's transition to the Division-I level.
If the team manages to secure a victory, that would likely set up a rematch with Big Sky foe Eastern Washington, who handed the Aggies their only conference loss of the season. Nevertheless, as the Aggie players would surely tell you, the only game that matters right now is the next game on the schedule — Northern Iowa.
Written by: Brendan Ogburn — sports@theaggie.org