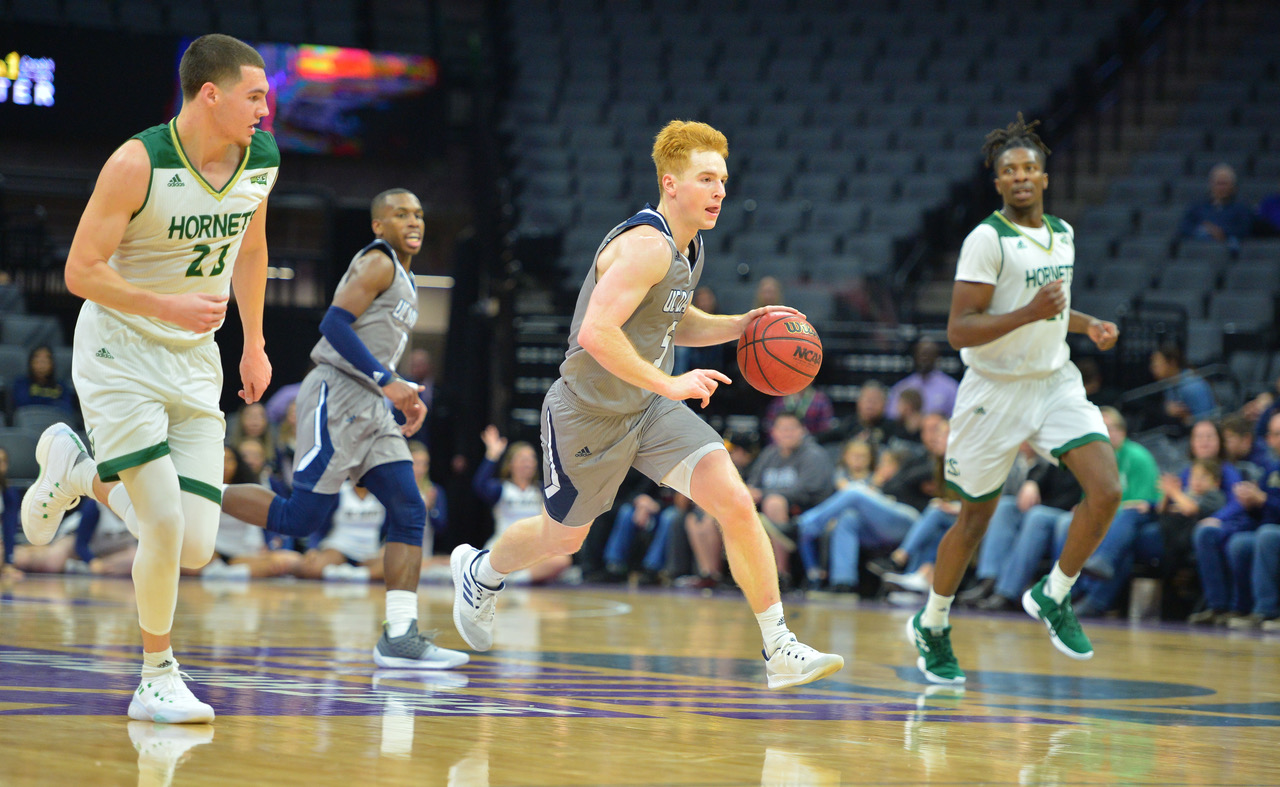 Despite late lead, Aggies unable to put Sac State away
Since opening in 2015, the Golden 1 Center in Sacramento has been home to the men's basketball's version of the Causeway Classic. It's a rivalry which, on paper, offers regional bragging rights and the satisfaction of owning the loser until the following year. As UC Davis entered with a 1-4 record, the Aggies hoped to use the game to get back on the winning side and build momentum before conference play commences.
Sacramento State, on the other hand, came into the game having played (and won) just one game outside of a friendly exhibition versus Bethesda. In front of a local crowd and playing on the same floor that a handful of NBA stars competed on just 24 hours before, both teams came out wanting to win.
It was a slow start for both teams, with each struggling to find momentum. Each team scored just four points in the first five minutes of the game. An early drive by junior guard TJ Shorts II looked to swing momentum the Aggies' way but was waved off by the referees who called an offensive foul.
The teams continued to exchange baskets, with Sacramento State amassing a series of miniature leads which peaked at 28-20 following a three-point basket from sophomore guard Ethan Esposito. The Aggies would respond, however, with a 7-2 run, cutting the lead to three at half time.
Despite the early struggles, the Aggies were eventually able to take a 36-35 lead thanks to a three-pointer from junior guard Stefan Gonzalez. The two teams continued exchanging baskets for several minutes thereafter until senior guard Siler Schneider managed to extend the Aggie lead to four. Schneider would come up big again after Sac State tied it up, hitting a pair of threes to open up a six-point lead. UC Davis Head Coach Jim Les praised Schneider's fearlessness during those big moments.
"He's a kid that likes the moment," Les said. "He's willing to take and make big shots for us."
Sac State responded once more, scoring five straight points before botching a fast break opportunity and turning the ball over on the ensuing possession. With just 10 seconds left, senior guard Marcus Graves would give Sac State the lead for good on a fast break layup. Schneider was unable to tie the game, missing a floater on the following possession. UC Davis ultimately lost 58-55.
Les credited the Hornets' late-game surge to their ability to do what needed to be done and not back down.
"Give Sac State credit," Les said. "They made the big plays down the stretch when they needed to. We struggled a little bit on both ends of the floor […] We needed one more defensive stop and couldn't come up with it."
Both teams struggled with sloppy offense throughout the game. Sac State amassed 21 turnovers while UC Davis committed 19 of its own. According to Sac State Head Coach Brian Katz, being able to win despite these negatives is what allows a team to succeed.
"You've got to be able to win ugly," Katz said. "Because you're not going to be able to win great offensively every night, but if you defend and rebound you can win ugly, and we won ugly today."
Schneider led the Aggies with 15 points on 6-14 shooting to go along with two rebounds and two assists. Shorts was next with 11 points on 5-14 shooting to go along with six rebounds, three assists and five turnovers. The Hornets saw a balanced effort, with Graves, Esposito and junior guard Izayah Mauriohooho-Le'afa pitching in 11 points of their own.
Having entered the season with five losses in their first six games, Les believes the team must improve as a unit and not point fingers.
"I think, when all is said and done, that it's going to be a good team," Les said. "We all need to be better. Me as the coach — as the head coach needs to be better, and we also have to play better. It falls on all of our shoulders, but I like the character in that locker room."
The Aggies didn't have long to dwell on the heartbreaking loss, with Indiana University waiting in the shadows three days later. The Aggies lost 76-62 to the Hoosiers, putting their record at 1-6 overall.
The Aggies will have a chance to come back on Nov. 29, at 7 p.m. when they take on Northern Arizona. The game will also be televised on Big West TV.
Written by: Bradley Geiser — sports@theaggie.org