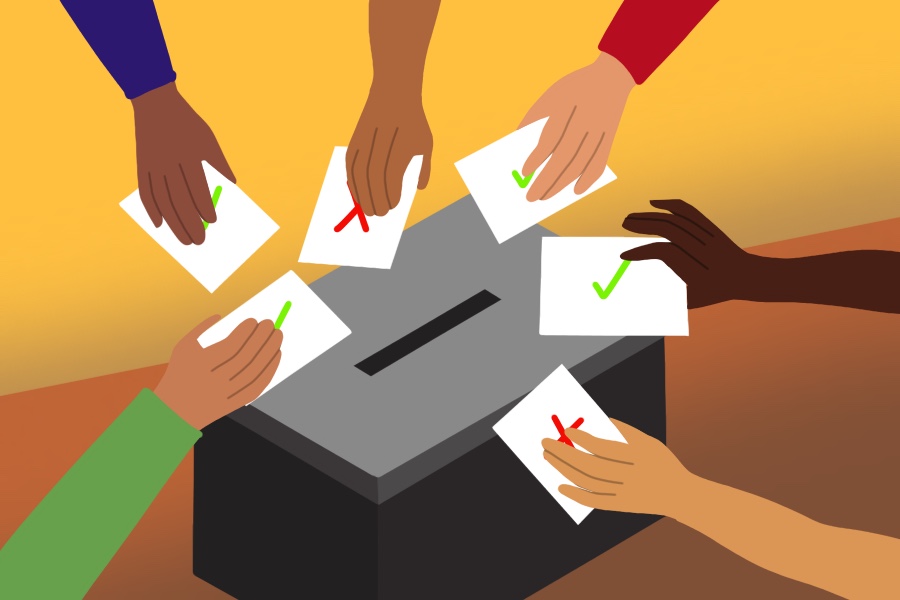 Davis voters give the go-ahead on Measures L and M, funding schools and housing developments
Lawn signs supporting Measures L and M were a common sight around Davis leading up to the midterm elections, and this widespread support was reflected at the polls on Nov 6. Both measures passed, pushing forward two plans to improve housing and schools in Davis.
Voter turnout in Yolo County saw a slight boost in 2018, with roughly 50 percent of registered voters casting ballots, according to data from the Secretary of State's office. This is an increase from the 46 percent of Yolo County residents who voted in the last midterm election in 2014.
Measure L was the closer of the two races, with 56 percent voting yes on the measure and 43 percent voting no, according to Yolo Elections Office reports. Passage of the measure gave the green light to the West Davis Active Adult Community, one of the largest land development proposals in the city's recent history. The WDAAC is a housing project that will build a new community of roughly 500 homes for seniors on farmland near Covell boulevard.
Developers can begin planning the project in earnest, now that the WDAAC has been given voter approval. Dave Taormino, the developer behind the WDAAC, said this process will take about eight months to complete before construction can begin.
"We're in the process of preparing maps and completing the studies that follow from the the election, in terms of drainage, floodplain work and also the tentative maps that define each lot's dimensions and where utilities go," Taormino said. "It's our goal to be under construction of the sitework and infrastructure by early summer of 2019."
Supporters of Measure L hoped that new housing for seniors will free up more homes in Central Davis, allowing a new generation of families and student renters to move in. It will be a few years, however, before prospective homebuyers and renters see any relief.
"I would expect in 2020 […] that you'll see resale homes also on the market from the buyers of our homes," Taormino said. "Over a two to three year period, I expect about 260 resale homes will come on the Davis housing market."
In the meantime, construction on the WDAAC could be a new source of traffic on Covell near Highway 113 for Davis commuters. Taromino believes, however, that any congestion will be minor.
"There will be obviously some additional traffic during the construction timeframe from trucks and what have you," Taormino said. "But they typically won't be there at the busy times, when typical commuter are going to be active."
The other major city decision made by Davis voters was Measure M, a bond measure proposed by the Davis Joint Unified School District. The measure passed easily, with about a 73 percent yes vote citywide. Measure M approved roughly $150 million in funds to improve elementary, middle and high schools in the Davis area.
The DJUSD administration thanked voters for the approval with a statement released on their website, promising to use the new funds to improve facilities and security in local schools. Some of the proposed improvements include updating science and tech labs, athletic facilities, classrooms and school access for students and staff with disabilities.
Local Davis schools are in need of modernization to meet 21st century standards, according to the statement. Some of the facilities that will be replaced or renovated date back to the 1950s and '60s.
"Many of the classrooms and buildings in Davis schools are over 50 years old and require updates," the statement read. "Old plumbing and electrical systems need replacement and academic facilities need earthquake safety upgrades to provide a safe, healthful learning environment for students."
Measure M will fund several projects, although funds can't be used toward administrator and teacher pay.
"The Board of Education has evaluated the facilities needs of the District, and has identified projects to finance from a local bond measure at this time," according to the text of the measure.
Increasing employee pay remains a priority for the school district going forward. Davis teacher salaries still lag behind nearby schools, according to administrator reports.
Written by: Tim Lalonde — city@theaggie.org