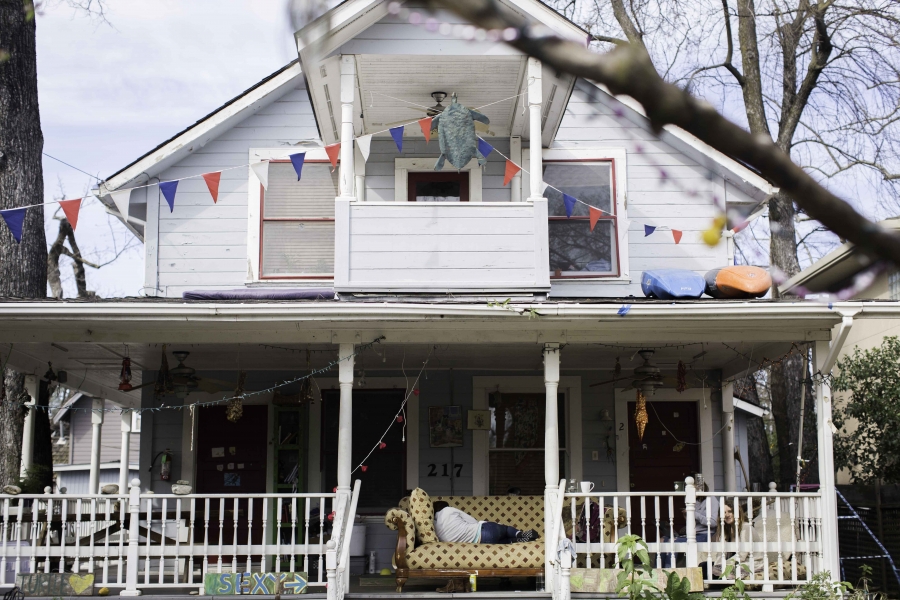 Students find a sense of community in cooperative living
Campus culture often encourages students to focus on themselves — to better improve their personal situations and therefore, be more successful coming out of college. There's a small group of students on our campus, however, who have dedicated themselves to the betterment of their own small communities: Co-ops. A co-op is defined as an autonomous association of persons united voluntarily to meet their common economic, social and cultural needs and aspirations through a jointly-owned and democratically-controlled enterprise. More simply put, cooperative housing is a group of people who choose to live together and create a community which thrives on mutual cooperation.
Davis has many co-ops located on campus and downtown that serve as living options for students interested in this way of life. Many of these on-campus co-ops are a part of the Solar Community Housing Association (SCHA), a university nonprofit run by residents of co-ops on campus. It's mission statement is "SCHA is committed to providing low-income cooperative housing that works to confront and critique systems of oppression through ecological awareness, inclusive self-governance and alternative economic models." One co-op that falls under SCHA is the Tri-Cooperatives located behind Segundo. Davis alumna Francesca Tettamanzi was a resident of the Tri-Cooperatives and feels this mission statement was central to her college experience.
"Living in the Tri-Cooperative impacted me because it allowed me to walk into leadership roles," Tettamanzi said. "This was really important to me because as a student, I feel we are constantly fighting to get to a certain place in life, and the Tri-Cooperative allowed me to gain experience that I can apply to my adult life."
Social justice is also a central idea emphasized in the SCHA mission statement. Tettamanzi believes this expectation enhanced her college experience and her ability to view the world with a wider scope of understanding.
"Living cooperatively made me work with people who did not necessarily come from the same places or have the same perspectives as me, and I think that taught me the valuable skill of cooperating with people different than myself," Tettamanzi said.
Not all Davis co-ops are affiliated with SCHA, however, and as a result, these co-ops must find the best way to function independently. One of these co-ops is located in Downtown Davis and is known as Turtle House. Turtle House functions based on the people living in it, making mutual respect and cooperation from its residents vital to its survival. Fourth-year psychology major John Lynch has found both a home and a community living at Turtle House. Lynch believes the culture at Turtle House is very much dependent on the residents living there on a year-to-year basis and their specific demands.
"When you are dealing with cooperative living you are dealing with 20 different identities, 20 different incomes, 20 different schedules and 20 different people with different needs," Lynch said.
Lynch also believes the culture of Davis has a significant impact on its co-ops. Turtle House in particular has events in which residents show art, or perform music —  events that lend themselves to the culture and vibe of the space.
"Davis fosters an environment that is often progressive, artistic and environmentally friendly," Lynch said. "Turtle house is a space that facilitates events related to this for us, like being able to have shows in the basement."
Lynch argues that the sense of agency given to residents is empowering in itself. Because each resident is at the core of its function, Turtle House is a space which reflects the needs of the people in it.
Assistant professor of communication, Seth Fry is an expert on cooperative living and has dedicated much of his undergraduate and postgraduate life to understanding the in's and out's of cooperative living. Having attended the University of California, Berkeley for his undergraduate degree, Fry lived in various co-ops and went on to be a founding member of a graduate co-op at the University of Indiana, Bloomington. He has since gone on to study co-ops all over the United States and around the world. Fry shares Lynch's belief that cooperative living can be incredibly empowering and can introduce students to an alternative way of living.
"My journey with co-ops started with going to parties, but it ended up leading me down a path of political and economic empowerment, both because of its affordability and because of the experience it gives you being an effective participant in democracy," Fry said.
This is especially relevant for young people living in the current political climate. Fry believes that those who participate in democracy in everyday life are better able to make informed decisions when it comes to voting.
"To prevent democracy being taken over by Demagogues, we need citizens who are savvy and know how to vote against corruption," Fry said. "In my mind, people who live in co-ops have the day-to-day experience that make them informed of both the upsides and the downsides of democracy."
Cooperative living is not only an effective way to find a community within UC Davis but has many real-world implications that students often overlook. By fostering a way of living based in growth and responsibility, students receive much more out of co-ops than simply a place to live.
Written by: Miki Wayne  — features@theaggie.org