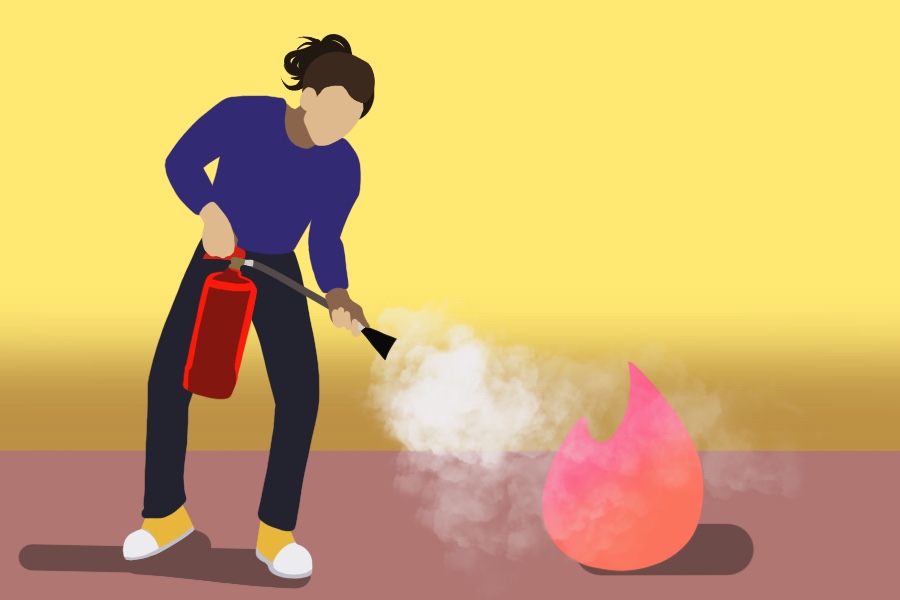 Davis students and faculty comment on the use of Tinder in college
Back in August, the popular dating application, Tinder, created a new feature that made it easier for college students to connect with each other. When Tinder was first introduced back in 2014, the app was used primarily on college campuses to encourage students to engage with one another in various ways. Since then, Tinder has gained the reputation of being an app used for hookups and a place to look for potential partners.
Associate professor Paul Eastwick teaches PSC 51: Love, Lust, and Human Evolution, an undergraduate class focused on human relationships.
Some view Tinder as a platform to find partners for potential hookups, but Eastwick details why he believes that Tinder is a viable way to start a relationship whether it's serious or casual.
"I think Tinder is absolutely a good way to meet a potential partner," Eastwick said. "The best thing that Tinder, and really all online dating platforms can offer, is the ability to introduce you to people that you might not have otherwise met and that's something they do really well, they expand the pool of possibilities for you."
Eastwick explained how the idea that Tinder is not a strong foundation for a relationship is not necessarily true.
"Those early intentions, before you meet a person face to face are overrated," Eastwick said. "That's the sort of typical course that relationships take, is that they meet somebody and they sort of figure it out from there, and sometimes 'figuring it out' means that you hook up and it doesn't really go anywhere and sometimes 'figuring it out' means its takes a while and you realize you really like the person, so in that sense anything that expands peoples pool is a perfectly great way to meet a partner."
Although there are a multitude of dating apps available, Tinder seems to be one of the most widely used dating application in college. Eastwick explains why he believes this might be.  
"I think most users of Tinder are using it because it's fun to use in the moment," Eastwick said. "From my understanding, it's sort of rewarding to swipe through and get matches […] and because of that, I think Tinder feels more like a game which makes it more enjoyable in and of itself. The eHarmony that I remember from a few year ago was kind of like 'a thing you had to do'. You would get a few profiles a day, and you would have to look through them and see what you thought, which is not meant to be as much goofy and fun as Tinder is."
Since Tinder was released in late 2012 to a few college campuses, there has been a significant increase in the amount of users. Eastwick offered a potential change to the app that might make it more successful in helping users find partners.
"I think the most successful dating apps are like to be the ones that leverage people's existing social networks," Eastwick said. "Essentially, what it's doing is not only introducing you to people that you wouldn't have met otherwise, but also pointing you to the ways that your social networks may overlap and having friends in common and having the support of those friends for your relationship is generally a good thing […] hopping to a brand new social network is a harder thing to do."
Up until the start of Fall Quarter, third-year managerial economics major Stephen Fallon was an avid user of Tinder.
"I think Tinder's intended purpose is for people to meet new people and where you go from there is up to your discretion," Fallon said. "From my personal experience, I always like to just go with the flow and that's just kind of like my trademark, just because you can meet some really cool people off of Tinder from just talking to them, but then there are also some people that you just do not vibe with."
Fallon describes his experience as a ex-Tinder user.
"I was so against Tinder before I got it, and once I finally downloaded it, it was like the dam broke down," Fallon said. "On the first week, I was averaging 6 hours a day, that's how bad it was […] so when I say I had Tinder, I had Tinder. It was an awesome way to kill time, and I felt like God when I was swiping through like 'no, yes, yes, no.' Then when I got back to school I had more responsibilities and I was like 'what the hell am I doing with my life' so I deleted the app."
After matching with a person on Tinder, both individuals have the opportunity to message each other, start a conversation and possibly meet in person. Fallon explains when he felt he was willing to meet up with someone in person and how long they stayed in touch for.
"It depends on the eagerness of the person," Fallon said. "I've had like one girl that I exchanged maybe three messages with and we met up, but it was really weird. And then I was talking to this other girl for over a month and a half and then we finally met up, but it was way better to meet up with someone that I waited longer for because it felt like I had already known her so we didn't have to do all the, 'Where's your family from?' shit […] On average I would say that I keep in touch with my matches for three weeks, but then there are some that I have been friends with for over six months."
Personally, Fallon could never see himself starting a serious relationship with someone he met on Tinder.
"I don't think that Tinder is a good way to start a relationship," Fallon said. "But I know someone who literally got married to someone he met on Tinder, so I guess it can happen […] I think in general [Tinder] should be used for people you want to meet casually and talk to, but I guess the best way to be in a relationship is to fall ass-backwards so I guess I will play the devil's advocate for that."
Fallon detailed how he used Tinder more at home than while he was at college.
"I think I use Tinder a lot more at home because I am constantly new meeting people through clubs and organizations [on campus]," Fallon said. "Whereas at home, i'm not trying to see the same people from high school, that just sucks, so instead it's like 'oh this person is five miles away, do you want to grab coffee?'"
Lillian Cheung, a second-year undeclared major, explained why she uses Tinder and what type of people she hopes to engage with on the app.
"I personally use Tinder to meet new people and potentially meet someone I can consider having a casual or serious relationship with," Cheung said. "As a bisexual female, I've been exploring my interest in girls more lately, but I still don't know how to approach girls so Tinder is a way to meet them. As I'm becoming more comfortable with myself and my sexuality, Tinder is a way to meet people and explore what I like and don't like."
Cheung explained how she uses Tinder more than other dating applications because of its widespread advertisement on a college campus.
"It's more popular because we hear about Tinder more than any of the other dating apps and it's been normalized in society," Cheung said. "I heard about Tinder first because of the phrase 'swipe right' and it became an ongoing joke in society to say you would swipe right on someone if you thought they were cute."
Third-year mechanical engineering major Reese Short explained why he is an advocate for Tinder although he has never been a user.
"I'm an advocate for the hookup generation," Short said. "People don't like to talk about it, but everyone has needs and Tinder establishes a pretty easy way to come to an ideal that you are both going to consent to something. So you both essentially go and read the situation with the person and you mutually match and then you can talk on Tinder first and say 'this is what I want' and you can basically set those boundaries before you even meet up with a person.'
Being on a college campus with over 35,000 students it can be hard to form close relationships, Short explained. Tinder gives people the chance to have that one-on-one interaction without feeling intimidated to talk to someone in person.
"It's easier than going up to people and talking to them in person," Short said. "In high school, you were in such a small area and you knew everybody and everyone knew each other. But here, I haven't had a class under 150 people yet, and I can see how someone could be intimidated by that. [Tinder] just gives people the confidence to go talk to someone and meet someone new."
Written by:  Sneha Ramachandran — features@theaggie.org