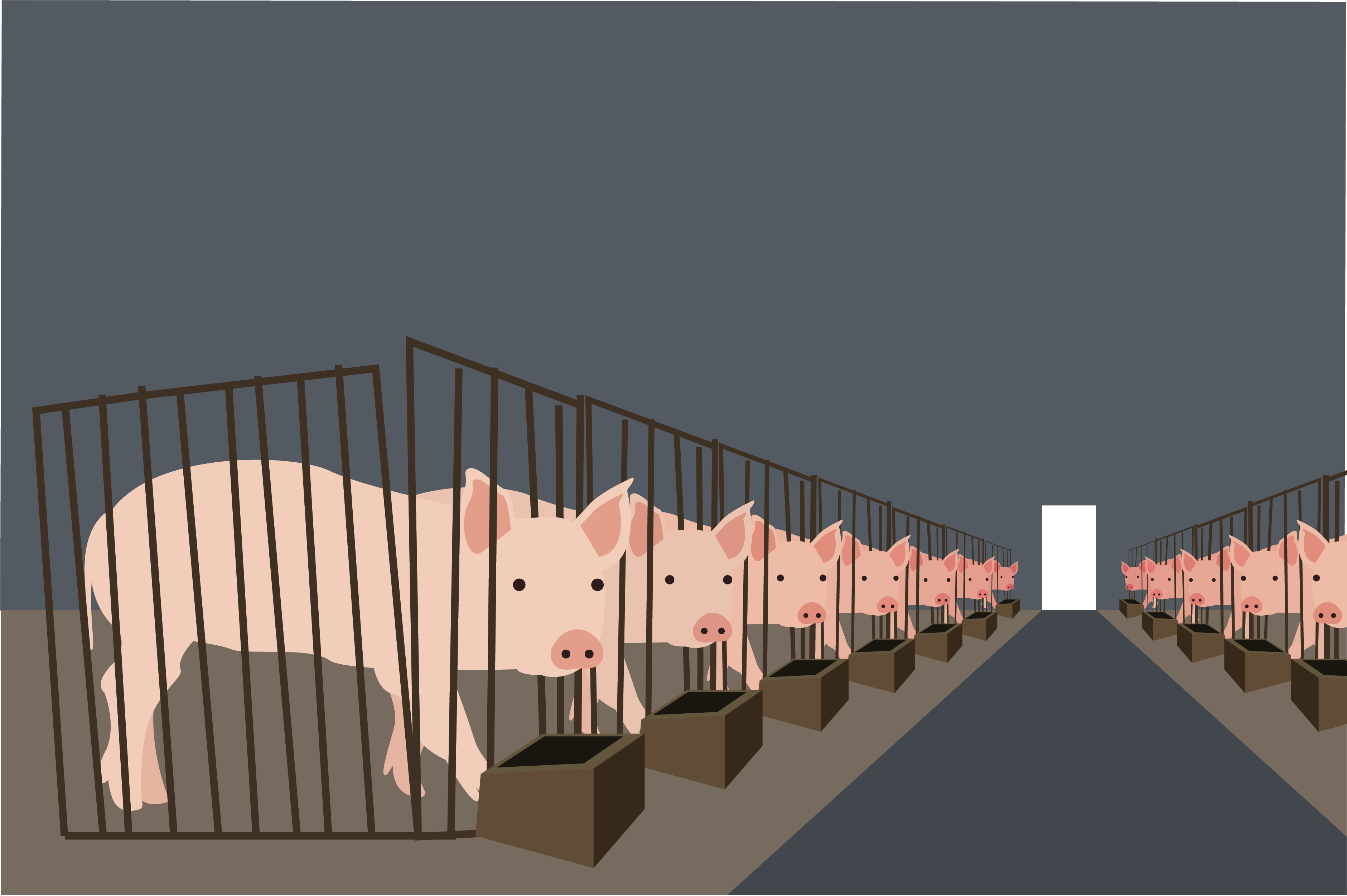 Farms outside of California, agricultural research at UC Davis affected
Proposition 12, also known as the Farm Animal Confinement Initiative, passed on Nov. 6 by a 61 to 39 percent vote. It established minimum space requirements for breeding pigs and egg-laying hens. Additionally, it banned the sale of veal, pork from breeding pigs and eggs from hens that don't meet the space requirements.
While this was seen as a victory for many animal rights' groups, such as the Humane Society of the United States, many agricultural groups are worried about the impacts of Prop. 12.
The Farm Animal Confinement Initiative was an extension of a similar ballot initiative that was passed in 2008 and named Proposition 2. This banned the confinement of breeding pigs, veal and egg-laying hens in a manner that did not allow them to turn around freely, lie down or fully extend their limbs.
"Californians know that locking farm animals in tight cages for the duration of their lives is cruel and compromises food safety," said Wayne Pacelle, the president of the Humane Society to the LA Times. "All animals deserve humane treatment, especially those raised for food."
Prop. 12 now quantifies the amount of square feet that is permissible for marketable meat. By 2020, Prop. 12 will ban the confinement of calves in areas with less than 43 square feet per calf. Egg-laying hens must have areas with more than one square foot of floor space per hen. By 2022, breeding pigs must have more than 24 feet of usable space, and all eggs must be laid by cage-free hens.
According to Erica Sanko, the executive director of the California Pork Producers Association, there is a misconception that surrounds Prop. 12 and its requirements for pork production. While local farms will be affected, there will be a larger national impact on pork producers that import pork into the state of California.
"This applies to any hog farmer regardless of location — California or out of state (i.e. Iowa)," Sanko said via email. "California imports much of its pork products from across the United States, where a significant majority of pork is produced using conventional production methods that are not required to comply with Proposition 12. Therefore, hog farmers who produce pork that will be sold in California will have to change their production housing practices to comply with the minimum square-feet requirements."
According to Sanko, many pork producers in California had already changed their practices in 2008 when Prop. 2 was passed. But a study done in 2010, according to Sanko, estimated that the cost of transitioning the broader pork industry to the new system is between $1.9 billion and $3.2 billion.
"There is a significant cost to hog farmers when changing from one housing system to another," Sanko said. "Those costs will be passed on to California consumers in the form of higher pork prices."
Additionally, according to the California Legislative Analyst's Office, the measure will likely cause the prices of veal, pork and eggs to rise.
"This measure would likely result in an increase in prices for eggs, pork, and veal for two reasons," according to the website. "First, this measure would result in many farmers having to remodel or build new housing for animals—such as by installing cage-free housing for hens. Second, it could take several years for enough farmers in California and other states to change their housing systems to meet the measure's requirements."
According to Alison Van Eenennaam, an extension specialist for animal biotechnology and genomics at UC Davis, it is unclear to what extent the proposition will affect the agricultural research at UC Davis.
"Cage free [is] worse for chicken welfare, environment and increased costs relative to furnished caged alternatives, as clearly shown in [a] sustainable egg coalition study," Eenennaam said. "We will have to see how [the California Department of Food and Agriculture] decides on impact to the University of California Research."
According to a blog post by Eenennaam, scientific and agricultural research was struck out of the language included in Prop. 12, and therefore, the research at UC Davis might be affected.
"The implications of this change to the research exemption on things such as teaching, scientific or agricultural research, especially for genetic and nutrition research (we need individual cages to collect observations or phenotypes on each animal, and to record which egg comes from which hen), may well not be discovered until after the ballot votes are cast when agriculturalists and scientists go to perform specialized research on calves, pigs, or poultry," Eenennaam said in her post.
Sanko believes that pork producers are most likely to make decisions on how their pigs are contained.
"Producers make housing decisions thoughtfully based on pig behavior, genetics, daily health care needs and life stage," Sanko said. "The changes may result in: increased aggression and competition between sows, increased negative effects associated with environmental extremes, increased exposure to hazards that result in injuries and limited access to appropriate food and water."
Written by: Hannan Waliullah — city@theaggie.org