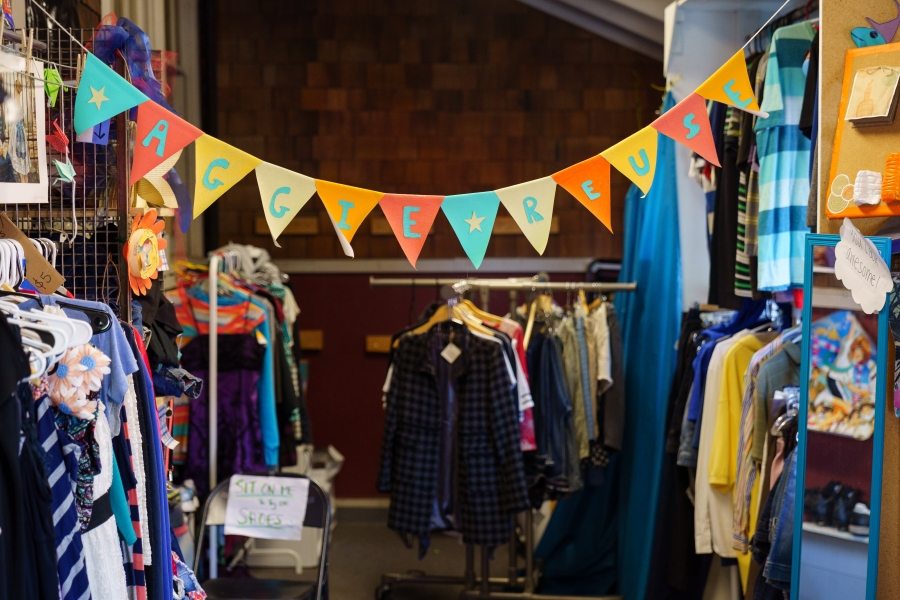 A conversation with the director and store manager at the Aggie Reuse Store
The Aggie Reuse Store can go unnoticed if you frequent the Memorial Union but seldom stop by the Silo, but thrifters frequent this on-campus resource for its large array of second-hand items for student-friendly prices.
Angela Ruan, director of the Aggie Reuse Store, talked about what students can expect when they walk into the store.
"Some popular items are textbooks, books, clothing, shoes, houseware, office supplies, electronics, board games, DVDs," Ruan said. "But we also get a lot of treasures that can't be put into a category like crystal lamps or a cardboard cutout of Jack Sparrow."
Trisha Patrice Madayag, the store manager of the establishment, described the location as a useful place to find affordable and quality products.
"The store is a great resource for cheap and quality stuff that other students probably just don't have space for anymore," Madayag said. " It's an awesome place to find great deals and meet awesome people."
Not only is it the UC Davis campus thrift store, but it is completely student-run. Interns are hired at the beginning of every quarter.
"Everybody in our 60 person team are all full time undergraduate students, all coming from different majors and in different years," Madayag said. "All of our ideas and our events are created by students […] A lot of cool things we have done in the past – our concert, Spring Fling Jams, our fashion show and our fast fashion campaigns are all brainstormed by and executed by students."
The store holds various social events throughout the year to engage and encourage students to get involved in the thrift store and learn more about the essence of it, which, according to Ruan, is to "divert items from going to the landfill and find a way to reuse or 'upcycle' it or, in [her] opinion, give it a second life."
Ruan encouraged students to check out the store and its various social festivities.
"We have a lot of cool events, like workshops, sales, events, campaigns open to the public throughout the quarter where we highly encourage everyone to come out in their free time." Ruan said. "We usually have scheduled sales throughout the quarter and lot of flash sales."
All the items in the store are either made by the upcycling team, donated or procured from the lost and found. Madayag talked about what students can expect for the winter specials at the store this year.
"We have a lot of heavy coats ready to be put into the store," Madayag said." We also have a ton of scarves and umbrellas."
In addition to coats and umbrellas, items such as chemistry books and lab manuals are some of the best sellers at the store. While some other items like books to read for leisure don't sell much.
"We have a lot of great books, but there are just a lof them to go through that customers sometimes just graze over them," Madayag said.
The store receives adequate funding from the ASUCD, along with a variety of other sources.
"We believe we get adequate funding from ASUCD to operate well." Ruan said. "However, as our teams and our ideas get bigger we have recently realized we may soon outgrow our budget. However, this has caused us to be more creative with our resources, like reaching out to other organizations for donations or partnering with other organizations. We also try to apply for grants, such as TGIF, to help fund our big ideas."
Next time a student checks the weather forecast just the night before their 9 a.m. class the next morning, only to realize they don't have an umbrella or a raincoat, it might just be a good idea to make a quick stop at the store to check out the freshly stocked winter gear.
"For sure [check out] our umbrellas and gloves," Madayag said. "No one really knows when the rain comes at times, so a lot of people come in desperate to keep their backpacks and laptops dry."
Getting involved in this sustainable, completely student-run store is quite an easy task as opportunities for students to apply as interns are ample and accessible to students of all classes on campus.
"If a student wants to really get involved with Aggie Reuse Store, applying to be an intern
is a great way to do it." Madayag said. "If students want to get involved but not apply, the upcycling and marketing teams also hold workshops several times during the quarter where you can make crafts and/or become more environment."
Just like any other campus organization, the Aggie Reuse store provides a great sense of community to some students who begin working or interning there, along with valuable life and work skills. Ruan shared her story, in particular.
"Many members of the store can tell you that I frequently tell this story." Ruan said." I would say Aggie Reuse Store is where I first found my community at UC Davis and where I first felt like I belonged."
Ruan's first quarter at UC Davis was devoted to staying in her dorm and studying. When she eventually switched her major to managerial economics, she pushed herself to get more involved, ultimately finding the Aggie Reuse Store. There, she found friends that she doesn't believe she would have otherwise met due to their different majors.
"Through the Aggie Reuse Store, I got exposed to other opportunities to get involved and I would say it is where I developed my confidence and my identity," Ruan said. "Since I first joined the store, I have seen how my community has expanded as a result. It has been a vital part of my college career. I can honestly thank the Aggie Reuse Store for everything I am today that I am proud of. I hope to create this environment for current and future interns and hope they can also find a community and have access to resources in their time here."
Written by: Rabiya Oberoi  — features@theaggie.org