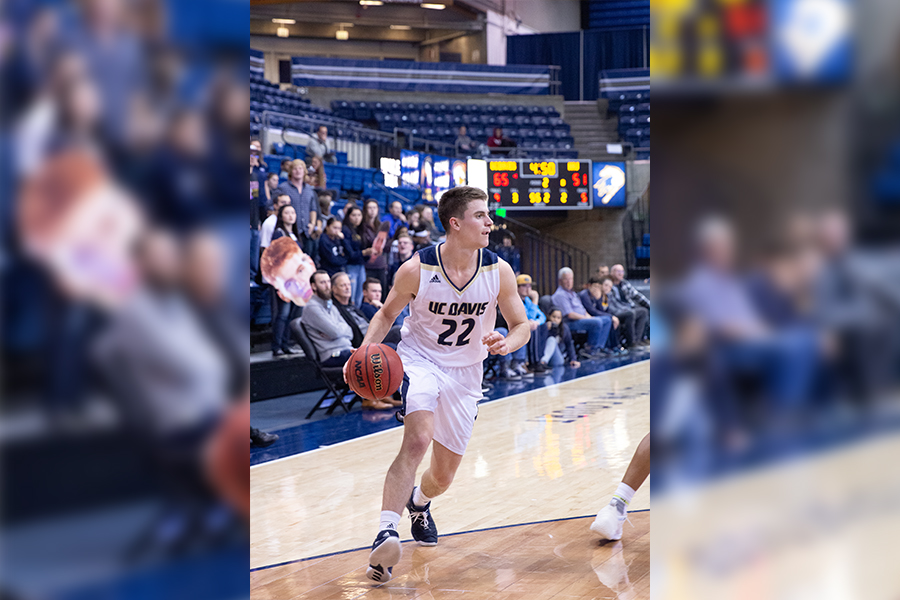 After rough road trip, men's basketball triumphs over Northern Arizona
With just one win in its first seven tries, the UC Davis men's basketball team came back home with hopes of getting things back on track as the season approached conference play. With three straight losses and a 1-4 record on the five-game road trip, any sign of improvement would be valuable to the Aggies going forward. On the other side, the Northern Arizona Lumberjacks entered the game with a 2-2 record and hoped to take advantage of their struggling opponent.
When the whistle sounded, the Aggies began the game intent on correcting the mistakes that had haunted the first portion of their season. Beginning with a layup from senior guard Siler Schneider almost a minute into the game, the Aggies moved the ball well, repeatedly finding the player in the best position to score. This challenged the Lumberjack defense, while the Aggie defense helped to stifle NAU on the offensive end. Head Coach Jim Les talked about how the offense and defense worked together.
"Our offense was part of our defense," Les said. "[NAU is] a top 100 team in terms of pace, so they wanted to play a helter skelter, get up and down the floor [game], and I think our offense slowed that down. And it's hard to run if you're taking the ball out of the basket. And I thought that our attention to detail on what they were trying to do offensively was really good."
The strategy paid off. The Aggies began the game on 12-2 run, thanks in part to a pair of early threes from junior guard TJ Shorts II and first-year guard Caleb Fuller. With the early lead and just days after losing a late-game lead to rival Sacramento State, however, the Aggies' next challenge was to secure the victory. Shorts explained what he thought made the difference.
"I felt like we just locked in more on the defensive end," Shorts said. "Some of those other games where we had the lead and let it go, when we go back and watch the film, we see that there's a lot of lapses on the defensive end — a lot of simple mistakes that build up, and next thing you know, they're on a 10-0 run, so when they were kind of going on a run late, we knew we needed to get one stop at a time."
After a deep three-pointer from red-shirt freshman guard Luke Avdalovic, Northern Arizona cut into the lead with a series of miniature runs, lowering the Aggie lead down to four on multiple occasions. At halftime, however, the Aggies entered the locker room with a comfortable 39-28 lead, thanks in large part to the efforts of Shorts II and Fuller, who led the Aggie scoring with nine and eight points, respectively. Shorts II also found his teammates well, dishing out four first-half assists.
The beginning of the second half proved to be much scrappier –– there were many exchanged baskets, players diving for the ball and fastbreak opportunities. As the Lumberjacks began to cut into the lead, Shorts II once again took it on himself to make sure that the lead was safe, scoring eight of the team's next ten points, including a pair of three-point baskets to give the Aggies a 60-44 lead with nine minutes left in the game.
At 65-47, the game appeared all but over, but the Lumberjacks put up one last fight with a 9-0 run, before Shorts II responded with another well-timed three to put the Aggies up 12, icing the Lumberjacks and ensuring a 73-57 victory.
After a tough but hard-fought loss to Indiana, this was a victory to hang the team's hat on, according to Les.
"I think it's a good step," Les said. "I thought, actually, that Indiana — despite the result was a step, and this was another positive step, but sandwiched in-between the games were what I thought were really good practices […]  We've had a couple good days, and that showed up here tonight, and I was glad. [The Aggies] deserved that result based on the preparation coming in."
Shorts II finished the night with 21 points to go along with seven assists and six rebounds. Fuller, who set a new career-high in scoring, finished with 13 points to go with five rebounds. With Schneider adding 12 points of his own, the three top scorers combined to shoot 19-32 from the field, proving too much for the Lumberjacks.
Reflecting on his night, Fuller credited his team and coaches for being prepared for every game.
"As a freshman, I haven't obviously had a season here yet," Fuller said. "But I know I have 100 percent trust in my teammates, 100 percent trust in my coaching staff — so I know what they know works, and I've just been buying into that."
The Aggies take the court again on Wednesday, Dec. 5 to face Northern Illinois University. After that, UC Davis will begin an 11-day break. Shorts pointed out that this extended time off does not necessarily mean that the team will be relaxing.
"We're just going to get back to doing us on the practice floor, which is where you build your habits." Shorts said. "Coach always stresses, 'What you do in practice is what you'll do in the game,' so we've got to have […] 15 or 16 practices between that. We've got to have 15 or 16 really good practices going into the next game after that."
The Aggies' next home game is on Sunday, Dec. 16 at 2 p.m. against William Jessup University. The game will also be televised on Big West TV.
Written by: Bradley Geiser — sports@theaggie.org