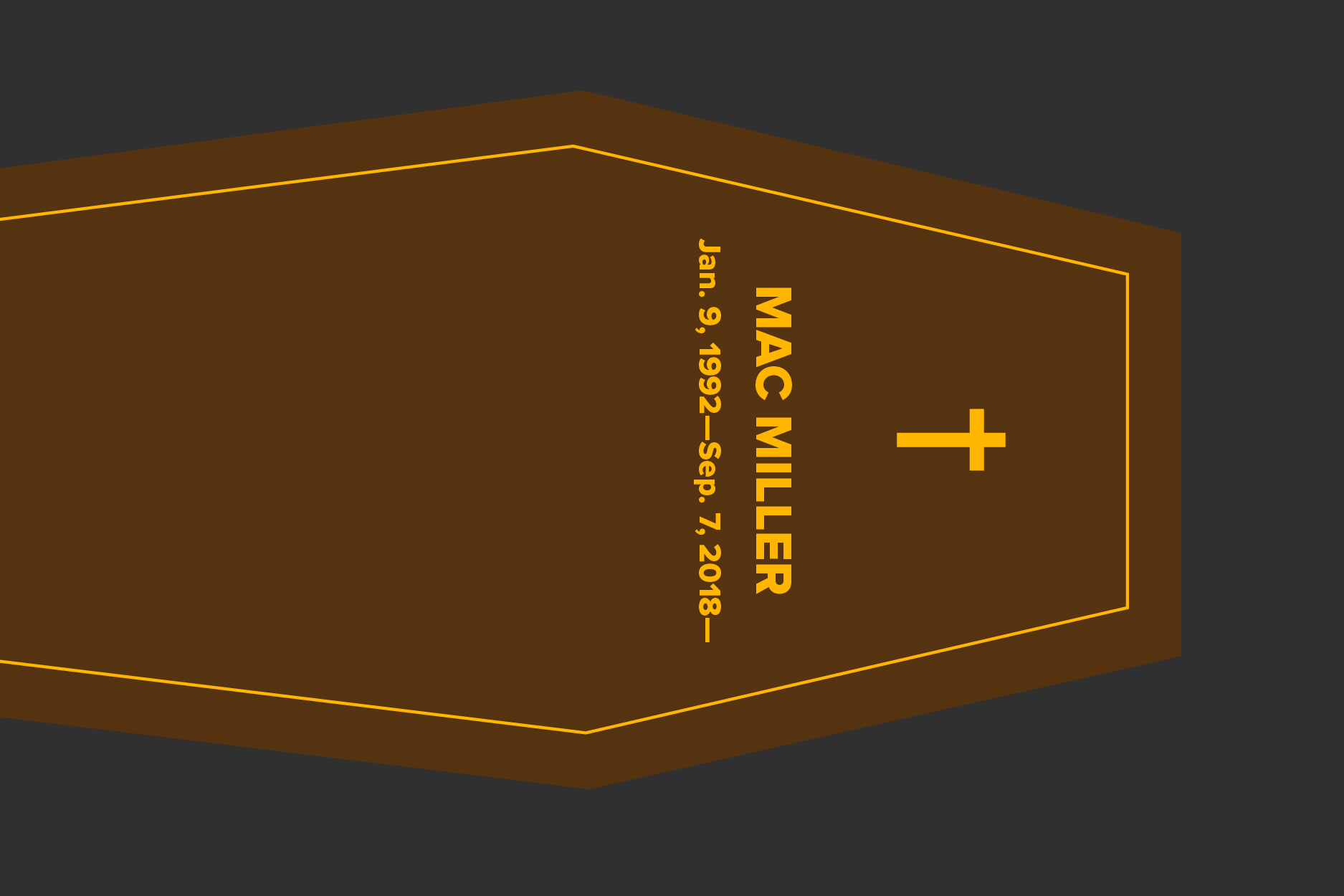 Mac Miller and Lil Peep were taken by their greatest flaws
American society is obsessed with pop culture. Being a celebrity in America entails a life of presumed fame and fortune as well as embodying the persona of a cultural icon. It is this lifestyle that many people yearn for — hoping to one day make it on late night talk shows, receive millions of likes on social media and be wanted and validated by the public sphere.
Living as a celebrity is accompanied by a heaping amount of external validation, which many think may be the solution to their problems. However, looking at past and present celebrities and their lifestyles and demises, it is clear that although celebrities live lives far differently than most people, many of them still struggle with depression and drug usage.  
Due to the frequency of celebrity deaths at the age of 27, "the 27 club" was coined to signify these recurring tragedies. Some of this club's members include Jimi Hendrix, Kurt Cobain, Janis Joplin, Jim Morrison, Brian Jones and Amy Winehouse. The 27 club is only supposed to include people who died at the exact age of 27, but the most important takeaway from this club is that many celebrities die in their 20s, a shockingly young age. Many celebrities have lost their lives within the past year or so. It is important that their impact is not forgotten and that their demise is understood and discussed.
Gustav Elijah Åhr, better known as Lil Peep, just posthumously released a new album titled "Come Over When You're Sober Pt. 2." Lil Peep, who was known for his genre blending rap and alternative rock style, died two weeks after his 21st birthday on Nov. 15, 2017. He died of an accidental fentanyl-Xanax overdose, only three months after releasing his debut album titled "Come Over When You're Sober." His music admitted suicidal thoughts and focused on personal drug use, difficulty with depression and past relationships. Some of the lyrics from his songs exemplify these themes: "drugs in my nose, good drugs in my cup," "Do I make you scared? Baby, won't you take me back?," "You don't wanna find out, better off lying
You don't wanna cry now, better off dying." Lil Peep seemed to be heading toward the peak of his career. He had achieved the modern American dream of becoming a prominent and well-defined member of pop culture, so his deep internal struggles and eventual death are confusing and concerning.
Malcolm James McCormick, a commercially successful rapper from Pittsburgh commonly known as Mac Miller, died on Sept. 7, 2018, at the age of 26. Like Lil Peep, he died soon after the release of his newest album, "Swimming," which was released on Aug. 3, 2018. His fifth studio album was well received, earning a score of 7.5 from Pitchfork Magazine and an aggregated score of 78 on Metacritic. Miller died due to an accidental overdose of a mixture of fentanyl, cocaine and alcohol. Much of the lyrical content of "Swimming" contains themes of self-help, growing as a person, failing as a person, personal quandary and his perceptions and confounds with fame.
Miller was regarded as an outstanding rapper after cultivating his craft for more than 10 years, and the release of "Swimming" proved that he was nowhere near the end of his musical capabilities. During Miller's time as a rapper, he released many popular albums and mixtapes that defined him and his style while also encapsulating his talent and musical drive. Some of these include "K.I.D.S.," "Blue Slide Park," "Watching Movies With the Sound Off" and "The Divine Feminine."
On Oct. 31, 2018, a memorial concert called "Mac Miller: A Celebration of Life" was held in remembrance of Miller. The concert featured a culminating cast of prominent musical figures, including Chance the Rapper, John Mayer, SZA, Schoolboy Q, Travis Scott, Miguel, Vince Staples and many more.
The deaths of Mac Miller and Lil Peep are nothing but tragic and ultimately perplexing from the public's perspective. These two artists were commercially very successful, and they made meaningful music that resonated with millions, so how could it be that they both died of drug-related causes at such a young age?
The personas created by artists are just that — personas. It can therefore be hard to separate the real human being from a carefully crafted image of a human being. Both Lil Peep and Miller spoke very openly about their dealings with depression and drug usage. Despite the lives they created for themselves — full of fame, fortune and musical success — the two rappers also battled drug abuse.
"I was not happy and I was on lean very heavy. I was so f–ed up all the time it was bad. My friends couldn't even look at me the same. I was lost." Miller said in an interview with Complex Magazine and in the same interview, he seems to have foreshadowed his own end "I'd rather be the corny white rapper than the drugged-out mess that can't even get out of his house. Overdosing is just not cool. There's no legendary romance. You don't go down in history because you overdosed. You just die." These aforementioned late musicians both admittedly used drugs heavily, which can be an indicator of a larger issue.
If people who have achieved the celebrity lifestyle and all of its luxuries are unable to cope with the detriments of mental illness, how is the average non-celebrity supposed to deal with these troubles? On a daily basis, over 115 people die in the United States due to opioid overdoses, according to the National Institute on Drug Abuse. Even celebrities who have resources at their disposal are overdosing on drugs, pointing to the opioid epidemic in America. Many have been affected by the devastating effects of opioid dependence.
Because Miller and Lil Peep gained such a following during their lives and delivered powerful music to many, their legacies will be remembered. Although they may have met a dismal end, their music will be accessible forever, and they can be remembered as great musicians.
Written by: Ethan Pearson — arts@theaggie.org