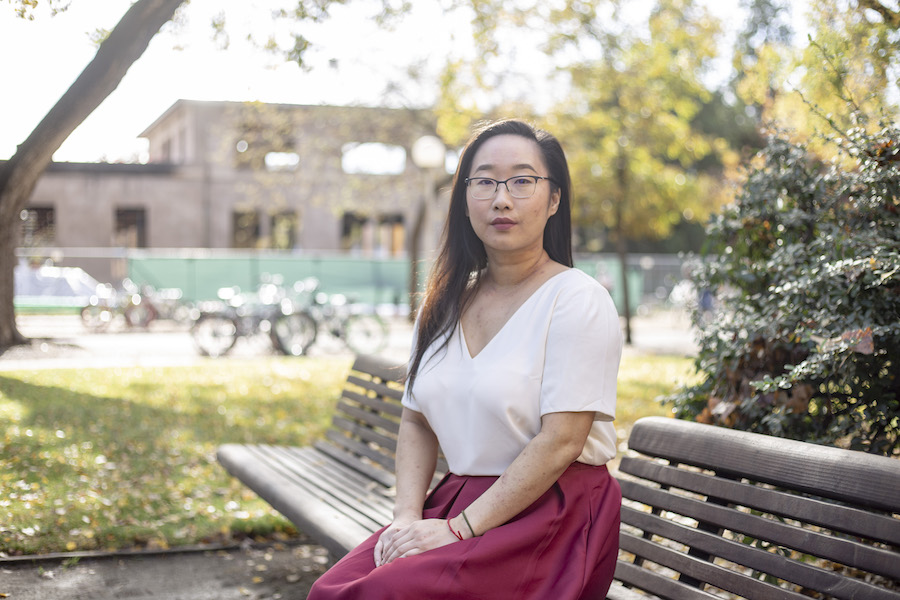 Yee Xiong speaks out against UC Davis after experience at Southeast Asian Youth Conference
Yee Xiong, a UC Davis alumna from the class of 2015, recently made headlines in Oct. 2018 for winning a prolonged legal battle against a man she accused of sexual assault.
While Xiong has maintained that UC Davis handled her sexual assault case appropriately, when she returned to campus last year to perform a spoken-word piece about her assault at the Southeast Asian Youth Conference, she said a university official forced her to leave the event due to the subject matter of her poem.
Xiong alleged that she was subject to both verbal and physical harassment and her freedoms of speech and expression were violated. Xiong has demanded a formal apology from the university for the way that her performance was handled and has said that she has not yet received one.
Responding to the allegations in a Nov. 7, 2018 email sent to The California Aggie, Mayra Llamas, the executive director of the Community Recruitment and Retention Center, confirmed Xiong was asked by a coordinator of the conference to leave the event "to avoid further triggers and distressing the youth whose emotional safety was our main priority."
"The University respects Yee's bravery in coming forward and regrets that its request caused offense to Yee," Llamas' email stated.
Xiong's Story
Xiong is currently employed as a volunteer coordinator at Empower Yolo, an organization devoted to helping victims of sexual violence. A former Asian American studies and design double major, she was active in campus life as a UC Davis student, and worked for Southeast Asians Furthering Education.
Southeast Asians Furthering Education, or SAFE, is a community program at the Student Resource and Retention Center that "centers hxstories* and experiences tied to the Vietnam War, Khmer Rouge, the Secret War and Pathet Lao," according to the SAFE website.
But Xiong's involvement in sexual assault awareness advocacy didn't begin until later on in her college career. Xiong was sexually assaulted by Lang Her, a friend and fellow student, on July 9, 2012 at a house party after a night of heavy drinking. She was incapacitated during the incident but soon reported it to the police and the Title IX commission on campus.
The following account of the legal battle that ensued when Xiong brought charges against Her was corroborated by Yolo County Chief Deputy District Attorney Jonathan Raven.
The first trial related to the incident occurred in 2015, three years following the alleged assault itself. During this process, Her's defense attorney accused Xiong of dramatizing her experience in a ploy for attention, and the attorney also insinuated that she had borderline personality syndrome.
The trial ended in a hung jury, with the verdict 4-8 in Her's favor. The re-trial in 2016, resulted in a second hung jury, 10-2, this time in Xiong's favor.
Her pleaded guilty to harm or intent to create bodily injury and was sentenced to one year in jail. Due to the protracted nature of the case, Xiong felt compelled to accept Her's lighter sentencing.
Minutes after she left the courthouse with her family, Her's legal team served Xiong with a defamation suit from Her's legal defense team, threatening to sue Xiong because one of her siblings had referred to him as a rapist on Facebook. Xiong returned to court in 2017 to fight the defamation suit, which the judge tossed out in a matter of minutes.
Xiong has now successfully sued Her for sexual battery.
Returning to UC Davis
The grueling legal battle Xiong endured heightened her commitment to raising awareness about consent culture within the Southeast Asian community.
Xiong comes from the Hmong community in Yolo County; according to a 2010 census report, California has the largest Hmong population in the United States.
Xiong's former colleague at SAFE, Lyia Jalao, who was also present at the conference when Xiong was asked to leave, said that, in some Southeast Asian communities, there is a culture of shaming and silencing those who have been victims of sexual assault and other forms of physical and psychological violence.
In the six years since her assault, Xiong has become an activist and advocate for sexual assault awareness and has remained involved with SAFE.
Although Xiong is satisfied with the way that the university handled her rape case, she remains deeply affected by the incident that occurred when she was invited to speak at the Southeast Asian Youth Conference on Feb. 11, 2017.
Jalao, who was present at the conference, described the event, organized by SAFE, as "empowerment and leadership-based" and a venue for "showcasing academic and artistic expression" for high school students in the Southeast Asian community.
SAFE invited Xiong to perform a spoken-word piece highlighting her experiences as a sexual assault survivor. Xiong said that, before the performance, she issued a disclaimer as well as a trigger warning, given that verbal accounts of such behavior can re-activate traumatic memories for those who have had similar experiences.
During her performance, she witnessed a high-school aged student leave, upset by the content of her poem, and then return around five minutes later. But immediately following her performance, Xiong was asked by an employee of SAFE, who asked The California Aggie that her name be withheld from this piece, to not participate in the Q&A session as was originally planned.
When Xiong conveyed that she felt that this would be a disservice to the other students in the audience who may have wanted to ask her about her experience, she was told that the students were "unable to digest" the topic and that she had "triggered [all] of the students in the audience." Xiong alleged that the staff member "refused to leave [her] side" until she left the building.
When contacted about the incident in an email, the unnamed staff member stated that she did not escort Xiong out of the event but that Xiong left "after the recommendation was shared with her."
Xiong said the experience left her feeling "dirty, disgusted, violated and humiliated," especially since she had been invited to the conference to perform a piece centered around the issue of sexual assault.
Jalao was present at the conference and has confirmed Xiong's account of the events.
"There's a long history of shunning from the [Southeast Asian] community and a complete dismissal of victims and survivors and their stories," Jalao said. "We wanted to show […] that there's this beautiful resiliency that we all have, and no matter how hard it may be, we need to provide a platform for survivors to showcase their strengths."
But Jalao's hopes for the event were not brought into fruition.
"This was a great opportunity for UC Davis students and high school students to see that the institution supports survivors, but that never happened," she said. "It was two steps backward and not forward. All of the cultural shame and dismissal was repeating […] in an institution that touts moving forward and advancement and all of these positive traits, it's not what happened at all."
Jalao said that usually when Xiong has performed her pieces, it has been for adult audiences. From what she gauged, the coordinators of the event were "very enthusiastic."
"[But the staff member] said that Yee's performance had not been okayed or approved and that had they known what the content was they would have said no," Jalao said. "Yee explained […] that she'd been welcomed by the student coordinating the event and that there hadn't been an issue with the content […] [and] explained that she wouldn't leave."
With respect to the content of the poem, Jalao noted that the piece was not "lewd" and described the sequence of events as "embarrassing."
"She'd performed it many times, and she didn't go into graphic detail," Jalao said. "Her piece highlights consent […] [Xiong] was unceremoniously kicked out and everyone was really confused. We felt that the college students who'd coordinated this wanted to talk about consent."
Seeking An Apology
Expressing similar dismay to Jalao, Xiong said she did not receive a formal apology from the university despite having filed a hate and bias report that included a statement from her on-campus victim advocate.
Xiong related her concerns to the then-Vice Chancellor of Student Affairs Adela de la Torre, and a follow-up meeting was scheduled to address her grievances. Present at the meeting were the unnamed staff member, Llamas and Sheri Atkinson, the current vice chancellor of student affairs.
Xiong said she was later informed by a board member at the SRRC, whose name she was unable to disclose, that the minutes from the meeting had been destroyed.
In a follow-up letter to Xiong and provided to The California Aggie dated May 30, 2017, the SRRC responded on behalf of the university.
"This is not something we take lightly, and we will continue to have ongoing conversations with student staff and career staff to prevent experiences like yours, and your colleagues, in the future," the letter stated, adding that a sub-committee was in the process of being formed to create "best practices" for youth conferences, like the one Xiong participated in.
The letter acknowledged that these conferences are "high risk events" but also said they are "often very rewarding" for participants.
"Our aim for this sub-committee is to continue to work on reducing the risk of these events and ensure that all participants, invited community members, and student staff have a meaningful and safe experience," the letter stated. "With regards to career staff accountability, Sheri Atkinson has reviewed all materials and will follow up with any necessary appropriate action."
In an email sent to The California Aggie on Nov. 7, 2018, Llamas acknowledged that Xiong delivered a spoken word performance at the 2017 Southeast Asian Youth Conference and said the "nature of her presentation about her sexual assault and the presentation upset some of those attending, and most of those in attendance were minors."
"The safety and well-being of all our students and guests on our campus is important, and it remains a high priority for the University," she wrote. "For additional resources, please visit our Sexual Violence Prevention and Response site."
A 'Disappointing' Response
With no formal apology from the university, Xiong has described UC Davis' response as "disappointing."
"It breaks [my] heart to have a space that I worked in be so progressive and then change completely," Xiong said.
Xiong said that she wants upstander culture to be upheld, and that UC Davis students need to feel comfortable seeking help in any space without fear of judgement or retaliation. She also feels it's important that people become aware of the realities and obstacles survivors face and hopes her experience empowers people to stand up for what's right.
For both Xiong and Jalao, the incident is another example of the ongoing issue of victim-blaming and silencing that Empower Yolo addresses.
Jalao acknowledged that Xiong has "the strength" to deal with shaming, but there are others who do not have strength or support to rely on — "this is why victims don't come forward," she said. "This is why potential survivors become victims."
"There have been so many attempts to silence [Xiong], including people from our own community," Jalao said. "I'm so exhausted by that. I've worked with so many Southeast Asian women survivors who have escaped abuse only to find that it's happening within their community. Seeing this happen again from someone my age was extremely heartbreaking and disappointing."
Written by: REBECCA BIHN-WALLACE — campus@theaggie.org