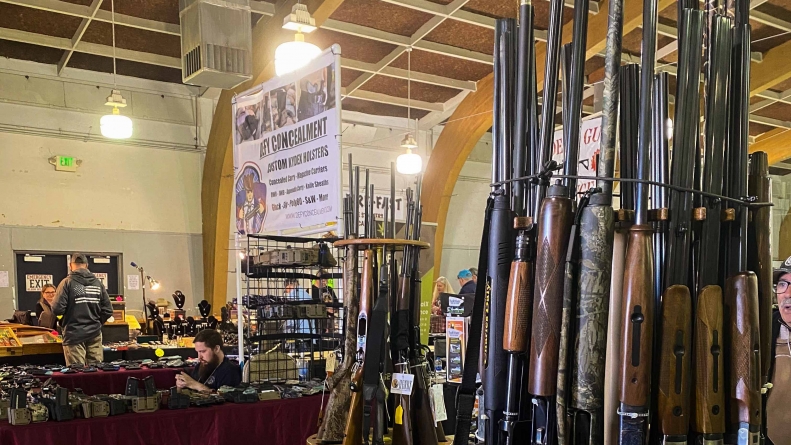 After shooting of Davis teenager, city confronts gun control climate
Photo Credits: Eden Winniford / Aggie.
In the two weeks after unintentional shooting death, Moms Demand Action presents in Davis, Dixon hosts gun show
On Feb. 6, 19-year-old Jerred Vargas was shot and killed, presumably in an unintentional shooting by his older brother. Davis Police Lieutenant Paul Doroshov provided details of the case.
"Based on the initial comments, it was suspected to be an accident," Doroshov said. "But we would investigate something like that just as seriously as anybody else who lost their lives to a gunshot, so the overall investigation is still ongoing."
The weapon was a semi-automatic handgun, according to Doroshov. At this time, it is unknown if the brother, who is in his 20s, owned the weapon.
Less than a week after this tragedy, gun-safety advocacy group Moms Demand Action gave a pre-planned presentation to the Davis City Council's Feb. 11 meeting. Co-lead Emily Ault referenced Vargas' death.
"I'd like to take a moment to acknowledge the recent, tragic unintentional shooting in Davis last week of one of our high schoolers," Ault said. "Our hearts go out to the family, friends and school community of the victim, to the first responders on the case and our community at large."
Moms Demand Action member Jill Crowley explained the mission of their group, which was established in Yolo County in September 2018.
"We are a grassroots movement of Americans fighting to keep guns out of the hands of dangerous people and create a culture of responsible gun ownership," Crowley said.
Dixon, which is nine miles from Davis, later held a firearm show on Feb. 15 and 16.
At the firearm show, Solano County Deputy Sheriff Joseph Pinder ran a booth explaining the application process for a concealed carry permit. Pinder described his view on civilians carrying firearms.
"It gives you the option to protect yourself, because law enforcement isn't always available," Pinder said.
John Arabia, a Vacaville resident and owner of the Dixon Gun Show, echoed similar sentiments about the protection that firearms can offer.
"While I grew up, my parents owned firearms," Arabia said. "I was in law enforcement. I like firearms and, in law enforcement, I think they're a tool."
Davis Mayor Brett Lee called for increased education on firearm safety at the Feb. 11 council meeting.
"Even without the very tragic incident of this past week, I think there is a good understanding that by having people be knowledgeable about some very simple steps they can take in terms of storage — that the community as a whole will be much safer," Lee said.
Moms Demand Action provides this educational opportunity with its Be SMART program.
"The Be SMART campaign promotes responsible gun ownership to reduce gun deaths," Crowley said. "It focuses on education and awareness about child gun deaths and responsible gun storage."
In the case of Vargas, it is currently undetermined if his brother received firearm training. Doroshov, however, still underscored the need for proper training of firearm owners.
"In general, I would always urge people to take some kind of gun safety class if they decide to purchase a gun," Doroshov said.
Despite the varying views on firearm ownership in the Davis area, Crowley reminded the city council that everyone can agree on some aspects.
"We all want our kids to grow up happy and healthy," Crowley said. "We each have the right to make responsible decisions about how to protect our home, [and] if we can prevent even one child [from] gun death or injury, it's our responsibility to do so."
The shooting has prompted calls for firearm education and Doroshov emphasized its devastating nature.
"It's just a tragic event for the family involved," Doroshov said. "Our hearts really go out to them, because it's unimaginable."

Written by: Eden Winniford –– city@theaggie.org