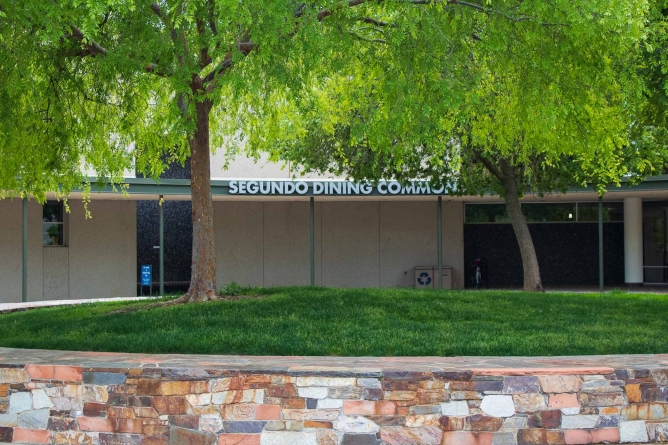 UC Davis Police Chief Joe Farrow gives more information on machete incident
Photo Credits: Quinn Spooner / Aggie File. An individual riding a bike wielding a machete was spotted near the Segundo Commons and ARC area on Monday, March 9. Police searched for the individual but only recovered the machete.
Identity of man seen with machete in his backpack remains unknown
The California Aggie recently sat down with UC Davis Campus Police Chief Joe Farrow to discuss an earlier incident on March 9 in which a suspect approached campus with a machete for unknown reasons. The suspect was first seen off campus in South Davis, where two people reported to the Davis Police Department that they saw an eighteen-inch "sword-like" machete in his backpack. They said that the suspect was behaving "erratically."
The Davis Police Department notified the UC Davis Campus Police (UCDPD) after the suspect headed down a bike path toward Segundo, coming from the direction of I-80. Students on campus received a WarnMe notification about the incident. Farrow explained that they wanted to send out the WarnMe alert before the suspect reached campus so that people were aware of what was going on.
"The common thing about these WarnMe [alerts] is that we want to warn our campus about a pending situation, a bad situation," Farrow said. "We respond and we try to deal with whatever the issue may be. And I thought that the on-duty supervisor made a really good call by putting the WarnMe out before [the suspect] got on our property."
Campus police followed the suspect by car, but he discarded the machete and disappeared into a trail only accessible by bike or on foot.
"We got a glimpse of him and he saw us and immediately pulled off and went down some trails off campus," Farrow explained.
Although the suspect was listed as a Hispanic male with short hair, a mustache, a white t-shirt and blue jeans on a black bike, Farrow explained that UC Davis Campus Police remain unsure of the man's appearance since he disappeared so quickly. Since the incident, the suspect has not been found.
"Nobody has any information on him, we had no cameras or anything that caught his profile," Farrow said. "The Davis [police] went back and interviewed the callers that called in in the neighborhood and they didn't know who he was."
Farrow also noted that the police would not arrest somebody carrying a machete unless it appeared that they planned on harming someone with it.
"The mere fact that you have a machete wrapped up in a pack in plain view is not necessarily a crime in itself," he said. "The suspicious circumstances attracted the police's attention. It's not necessarily a crime just to have the knife."
Following the incident, Farrow said that UCDPD "re-directed the WarnMe system," alleviating people's fears about a possible attack.
"We figured then that maybe [the suspect] was either transient or didn't live in the immediate area," he explained. "He could have been 100% harmless and just riding a bike with a machete, or [worst-case scenario] he could have been a burglar. The good news is, we kind of have the description. And the officers [here know], and the Davis Police Department knows."

Written by: Rebecca Bihn-Wallace — campus@theaggie.org