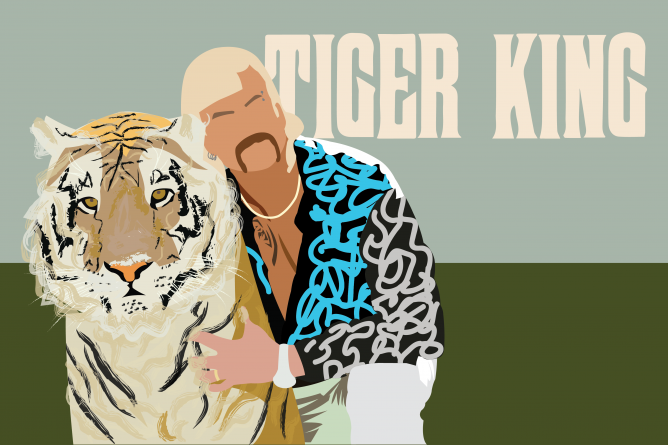 Photo Credits: JOELLE TAHTA / AGGIE
Absurd, addictive documentary about big cat people
Netflix released "Tiger King" on March 20 — a seven-episode, true-crime miniseries about the feud between big cat breeders Joe Exotic and Bhagavan "Doc" Antle, and big cat rescuer Carole Baskin. During the COVID-19 crisis, Americans have asynchronously gathered to fall in love with an animal-abusing, but emotionally available criminal.
Joe Exotic has become the unexpected escape we didn't know we needed from the now three weeks of social distancing. We are faced with a pandemic crippling the economy and jeopardizing our futures, just as many of us approach graduation.
The series is a game of identifying the lesser of three evils coupled with a personality quiz that helps you discover your distinct brand of crazy. Each of the three main characters has their demons. Exotic is emotionally manipulative and conspires to murder, Antle is running a sex cult and Baskin probably killed her husband (yet somehow believes she's a saint).
I chose Antle when I found out he provided the tiger for the iconic Britney Spears performance of "I'm a Slave 4 U" during the 2001 MTV Video Music Awards. He appears on stage with Spears for an extended part of the performance. And yes, we almost lost Britney.
The series touches on the fight, led by Baskin, against the federal government ban on the ownership of exotic animals. I'm assuming that Baskin's fortune, which she inherited from her deceased husband, will support her if her livelihood becomes illegal. A livelihood that, when put under the spotlight, looks a little too similar to the people she's trying to put out of business.
Watching "Tiger King" has helped me better understand how Donald Trump got elected. Joe Exotic ran for presidency in 2016 and failed. He then ran for governor as a Libertarian in the state of Oklahoma and received 18% of the vote in the primary race.
"Tiger King" is one big "Florida man" meme, and we're here for it. The Internet has become saturated with "Tiger King" inspired posts. My favorite is the meme of Trump whispering into Jared Kusher's ear with the caption, "Release the tiger documentary."
This series shows us that there are crazier things than sitting at home to avoid contracting a novel coronavirus — and that's big cat people. There's so much we could try to unpack from this series, but two things are sure — Carole Baskin killed her husband, and bread and circuses are alive and well.
Written by: Josh Madrid — arts@theaggie.org