Winner: The Office, Only Gary May can save us now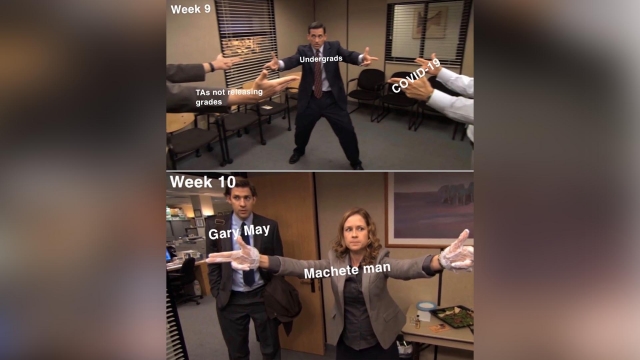 By the end of week 10 of Winter Quarter, UC Davis had been hit by a perfect storm of new situations: the machete man on campus, the COLA movement withholding grades and the quickly escalating situation with COVID-19 caught many in the UC Davis community completely by surprise.
Each day seemed to bring a new event into the lives of those on campus, and so students regularly turned to the Facebook page "UC Davis Memes for Egghead Teens" to express the mix of emotions they were feeling. The student body voted for "The Office: Only Gary May can Save us now" as the best meme of the year.
The meme features a scene from the popular mockumentary-sitcom "The Office," in which characters Michael Scott, Andy Bernard, Dwight Schrute and Pam Beesly are in a hang-gun stand-off with one another.
The meme's creator, fourth-year economics major Joshua Melton, placed a label on each character, having them represent the "machete man," "TAs not releasing grades," "COVID-19" and "undergrads." Watching over this is character Jim Halpert, representing "Gary May."
"So I was watching The Office, and this episode was on with the Mexican standoff, and I thought that was sort of applicable to what was going on on campus right now," Melton said. "I know there were the protests that were going on about the COLA [cost of living adjustment] that the TAs were not getting across all the UC campuses, and then there were rumors that COVID-19 was was getting closer to campus and then, just to top it all off, the next week we had the machete man on campus. Then a lot of people were being pretty critical of the chancellor for not doing much on any of those fronts."
With 1,200 reactions and over 100 comments, the meme seemed to resonate with members of the Facebook page. UC Davis class of 2019 Alumnus Michelle Melton said she thinks people were able to connect with the meme because it captured the feeling that students had when faced with all of the events of the year.
"So much happened within a year — a pandemic, the machete guy," she said. "I think that people laugh at that, people find humor during trauma [and] during stress."

Written by: Priya Reddy — features@theaggie.org