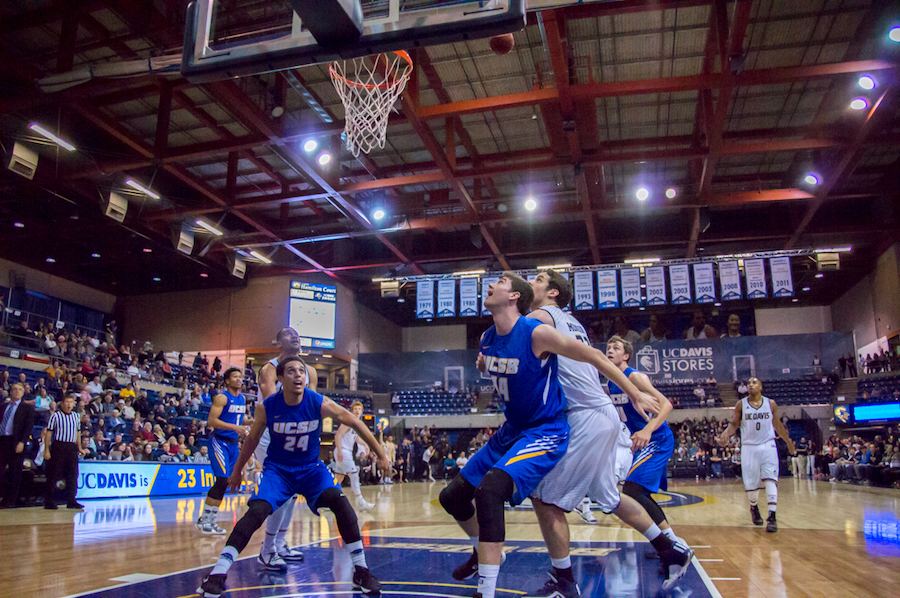 UC Davis men's basketball team loses 72-66 to UC Santa Barbara
The stats were above average, and the Aggies outplayed the UC Santa Barbara Gauchos in many ways, but changing their defensive tactics left room for open players on the opposing team to make buckets, setting the Aggies on the path to a loss.
The UC Davis men's basketball team is not known for intense double-teaming, but on Thursday, Feb. 11 the Aggies were left with no other choice.
Previous Big West Conference player of the week, Michael Bryson of the Gauchos, put up 16 points for the win against UC Davis, while junior guard Darius Graham from UC Davis put up 19 points, sinking every shot in the first half and nearly all in the second after feeling the pressure of the final two minutes of the game.
"We made them work for a lot of the stuff they had to get," Graham said. "But it's the second effort plays, I feel like they played harder than us tonight and that can't happen."
The Aggies were making a comeback early in the second half, but every shot was matched by a Gaucho point.
"We are not always going to be the most talented team on the floor but we always have to hold each other accountable for playing hard, rebounding the ball, getting the 50/50 balls and we felt collectively that we didn't do that today," Graham said.
UC Davis only recovered five second-chance balls during the second period, while UC Santa Barbara picked up 15 and made two fast breaks.
"We've been doing a decent job on the board, but I just didn't think we were physical enough," head coach Jim Les said. "They were quicker, more aggressive to the ball and I told the team that that was really disappointing, that we allowed that to happen."
Double teaming is not a common strategy for the Ags, but it was deemed necessary after the halftime locker room chat, in order to shut down the offensive firepower that the Gauchos were displaying. However, despite their efforts, the Aggies lost to the Gauchos 72-66, both teams walking away with a 5-5 Big West Conference record.
"If you tell me we were going to shoot 43 [percent] from the floor and make 11 threes against the matchup zone, I'm thinking we're walking out of here happy," Les said.
The Aggies continued on their losing streak in the doubleheader Saturday, Feb. 13 against Long Beach State, which was recapped by sports reporter Aaron Sellers. They return to the road on Thursday, Feb. 18, where they will play Cal Poly, a team with a 5-6 Big West Conference record.
Written by Veronica Vargo – sports@theaggie.org