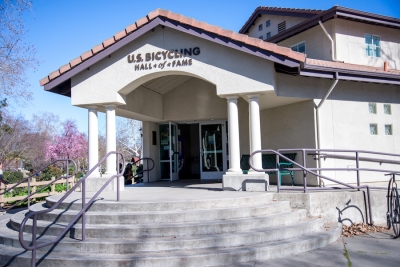 Herbert Tiemes speaks at U.S. Bicycling Hall of Fame
On Feb. 9, Dutch bicycling expert and famed former traffic planner Herbert Tiemens spoke at the U.S. Bicycling Hall of Fame, where he discussed Davis' progressive biking culture and how it compares to hallmark biking cities in Europe such as Utrecht, Netherlands.  
"I'm not surprised Davis attracts someone like Tiemens. I know the Netherlands has a strong bike presence in general, and it's very interesting to think of Davis as a comparison," Davis resident Heather Bryant said.  
Working closely with the Dutch Cycling Embassy, Tiemens is frequently dispatched to cities across the globe to discuss bicycling culture and its benefits for both citizens and the environment.  
Bob Bowen, the president of the U.S. Bicycling Hall of Fame, explained that the Hall is continuously trying to encourage bicycling, so having Tiemens there as a speaker did just that.
"The U.S. Bicycling Hall of Fame is striving to assist in advocating for bicycle infrastructure, and incorporating cycling into the fabric of many other communities, just like what we have done in Davis," Bowen said.
Bowen hopes that Davis will exemplify the importance and benefits of pro-biking societies for the rest of the U.S.
Just last year, Davis unveiled America's first protected bicycle intersection, modeled after intersections in the Netherlands, at the Covell Boulevard and J Street crossroad.
Steve Tracy, vice president of Davis Bicycles, a nonprofit group with the mission of encouraging bicycling in Davis, was the primary organizer of Tiemen's talk.
"Davis is the premiere bicycling town in America, and Herbert wanted to come see how high the bar was set," Tracy said. "It's a great honor for the city, and an even better encouragement for the future."
Tiemens has always had a passion for cycling. On his website, he explains that since learning to ride at the age of six, bicycling has always been a part of his life. After a long career of city planning in the Dutch city of Houten, where he implemented safer roadways for bicyclists, he now works for the city of Utrecht as a senior policymaker and bicycle program manager.  
According to his website, his interests include "integrated spatial plan development as well as complete street design," which is essentially the combination of roomy road infrastructure coupled with alternative roadway options like bike paths.
Tiemens' visit only proves that Davis' efforts to create a pro-bicycling culture have paid off and that the city's small town vibe can grasp attention across the globe.
Written By: Tristen Thalhuber– city@theaggie.org