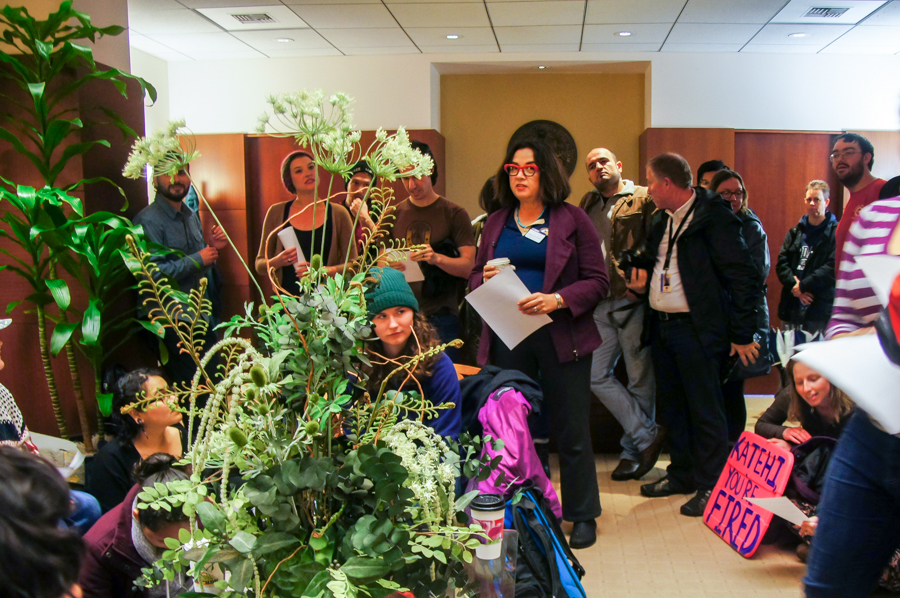 Protest follows recent criticism of Katehi's appointment on boards of two for-profit companies
At noon on Friday, March 11, approximately 40 UC Davis students, faculty and staff flooded the Quad in support of firing university Chancellor Linda P.B. Katehi. The protest, titled Fire Katehi, follows the recent controversy over the chancellor accepting paid board positions for two for-profit companies, sparking widespread criticism from students and state assemblymembers.
The protesters made their way across campus from the Memorial Union to Mrak Hall, where they sat in the Office of the Chancellor demanding Katehi's resignation. They also called for her replacement to be selected and approved by UC Davis students and workers. The demonstrators taped resignation forms across the office walls and chanted phrases such as "Rain or shine, Katehi must resign" and "Katehi, you're fired."
"It's my job here as a TA to advocate for students. My students are working-class and people of color. They are the ones that are mostly affected by Katehi basically incentivizing our tuition and expensive textbooks," said Marco Rosales, a Ph.D. student in the history department. "As the chancellor of a public university, it's her job to stand for public education and stand for education that has the interest of students and doesn't have profit motives as her main interest."
Adela de la Torre, UC Davis vice chancellor of student affairs, spoke on behalf of the chancellor who was not present for the sit-in. Torre, who explained that there is a long process involving the UC Board of Regents and UC President Janet Napolitano to a fire a chancellor, remained tight-lipped on the recent controversy.
"[Katehi] is not here, but I will relay any message to her. All I can do is listen and talk to you right now," de la Torre told the crowd. "My opinion is that students have the right to voice their opinion. I think [the situation], is in the context of what I do. I work with students every single day."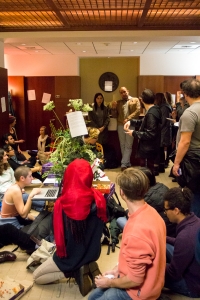 Duane Wright, a graduate student in the sociology, shot back at Torre's statement, arguing that the firing process is inherently corrupt because it lacks student and worker involvement.
"We have to change who selects and who fires [Katehi]. It should be up to the students and the workers," Wright said. "You say you work with students. I work with students all day. I make less than $20,000 and my tuition is paid because I have a union, but I still have to take out loans to pay my rent. I don't have an extra job where I can moonlight and make an extra $400,000."
Roughly an hour into the sit-in, Emily Prieto-Tseregounis, Chief of Staff of student affairs, informed the demonstrators that Katehi would not be able to address the demonstrators because she was in a meeting. Pizza was also brought in to feed the demonstrators while they sat.
"A lot of the [university's] leadership is at an undisclosed location having a monthly leadership meeting. It's supposed to be over at five," Prieto-Tseregounis said. "We don't know if she will come."
In February, Katehi made headlines after news was released that the chancellor accepted a position on the board of Devry Education Group, a for-profit higher education corporation, for which Katehi would've been paid $70,00 annually. Days later, news was released that Katehi received $420,000 in income and stock as a board member for private textbook publishing company Wiley & Sons from 2012 through 2014.
Other controversies brought up during the protest included Katehi's history with overseeing the pepper spraying of UC Davis students by campus police in 2011 and a historic lack of action taken in regards to sexual assault cases.  
Amid the criticism, Katehi stepped down from her role on Devry and issued an apology to the campus. In her apology statement, Katehi vowed to donate $200,000, the amount of stock proceeds she made while serving on Wiley & Sons, to a scholarship fund for UC Davis students.
"I take my responsibilities as chancellor of UC Davis, and to the entire University of California, very seriously and sincerely regret having accepted service on boards that create appearances of conflict with my deep commitment to serve UC Davis and its students," Katehi said in the statement.
Written by: Jason Pham – campus@theaggie.org