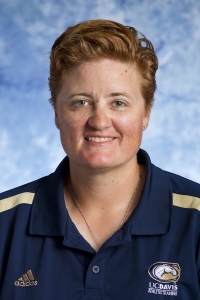 Football is one of the most watched sports at UC Davis, drawing in thousands of attendees every fall. It is also a high-risk collision sport that requires a team of four athletic trainers, two physicians and 10 sports medicine interns to keep the 100 student athletes active and healthy. Leading this team is Julieta Guzman, the UC Davis football team's head athletic trainer.
"Julieta is the person pretty much in charge with football," said Tina Tubbs, director of sports medicine at UC Davis and one of the four athletic trainers for football. "She's highly skilled […] in athletic training, trauma and knowing exactly what to navigate [when an injury happens]."
There are no off days during football season. On weekdays, the players are in practice and those who need rehab receive treatment from Guzman and her team. On Saturday, the stadium lights are on and the medical team is on the sidelines of the game, ready to respond to any injuries and observing the players for potential health problems. Sunday is recovery day, and Guzman's team helps players recuperate from the previous game.
Aside from her duties as an athletic trainer, Guzman is also the liaison who facilitates communication between all the entities within the football team. She updates the coaching staff about the progression of recovering athletes, discusses referrals for MRI's and ultrasounds with the head team physician, Dr. Melita Moore, and ensures that student athletes make their doctor's appointments on time. In addition, she has to document every injury and treatment in a medical software, an important task that protects the university from a liability standpoint and provides athletic trainers detailed information about an athlete's medical history.
"It's a big load," Guzman said.
Guzman is well-qualified for the job, having completed a graduate assistantship at Stanford University, where she treated the track and field and football teams. She also worked as an assistant athletic trainer for the UC Berkeley football team. Ron Gould, formerly in charge of running backs at UC Berkeley and the current head coach of UC Davis football, was so impressed by her work during their time at UC Berkeley that he sent his running backs to be treated specifically by her.
"The fact that he entrusted me with those high-profile athletes [and with getting] them back […] to where they need to be, because their body is their investment going forward into the National Football League […] he must have really respected me and thought of me in high regard," Guzman said.
It was through this trust and respect that Guzman found herself working for the Aggies. When the position of head athletic trainer for football at UC Davis opened up, Gould, who by then was the head coach for UC Davis football, offered her the position. She accepted it, and has been here ever since.
Transitioning from UC Berkeley to UC Davis was not without its challenges, and Guzman had to find ways to work around a lack of certain facilities and resources. Although equipment like underwater treadmills are not available at UC Davis, she used her creativity to come up with alternative programs that utilized the resources at hand, such as Hickey Pool and Aggie Stadium. She has also learned how to fabricate various splints and casts, a skill gained from observing techniques that physical therapists, casting technicians, surgeons and other health professionals use. The splints that she makes are protective but also functional, allowing the athlete to continue to practice while wearing them.
"[The difference in facility resources] forces me to be a better athletic trainer and get creative and use the resources I have," Guzman said.
Since rehabilitation is gradual, it often takes months from the time of injury to full recovery. In between, the athlete makes daily trips to the athletic trainer, who plans out the steps necessary to get the athlete back on the field.
Russell Reeder, a junior linebacker who entered the football program the same time as Guzman in 2013, has been going through rehabilitation with her on a daily basis for the past twelve weeks.
"Getting to know her personally, she is really cool and understanding. [The rehabilitation] has been really helpful," Reeder said. "Looking back, it's great how far my recovery has come […] We really don't give her enough credit."
As with many others working in the sports medicine field, there is a certain amount of passion that drives Guzman in her work. Every treatment that she gives and every decision she makes is based off years of being involved in football both as an athletic trainer and as a fan of the game. The preparation that goes into every Saturday night game, the camaraderie that the players develop and the high stakes of every game inspire her.
"To take an operation as big as football and put it out there every Saturday and watch these guys just have a great time and have fun, to me it's the most exciting thing to be a part of," Guzman said.
Written by Julia Wu – sports@theaggie.org